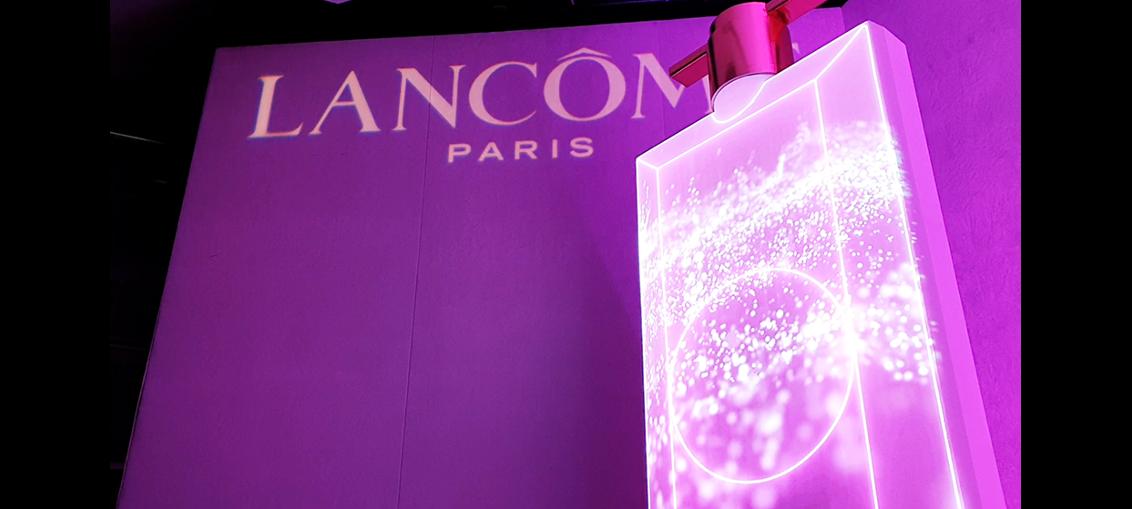 G
reen Hippo's Hippotizer Media Servers helped to deliver a glittering press launch show for cosmetics and perfume brand Lancôme in London in September. Produced by
Michael Bell Brand Communications
,
the event included custom video content and projection surfaces designed and delivered by UK-based projection mapping specialist, Motion Mapping Ltd.
Motion Mapping fielded a deceptively simple set-up: two Hippotizer Amba Media Servers, one as a main server and the other as backup, plus two high-powered laptops for show control and on-site media processing.
"The laptops are useful for last-minute on-site changes," explained Motion Mapping's Stuart Harris.
"By running the file conversions on a separate laptop, I can convert the content quickly, without affecting the Hippo – you just drop it in and it's ready. Then we run everything through the Amba, a DP [DisplayPort] output to one projector."
Achieving this level of economy calls for efficient handling of content, ensuring files sizes are fully optimised for the displays, and for smart thinking about how the visual mix is assembled.
Harris said, "Because we produce the content, we know exactly what we need. A question I get asked a lot is, 'how are you doing all this through a single Amba?'. And this is where our strength lies: if you plan ahead, keep things simple and not over-complicate it, you can run a lot from a smaller machine."
He added,
"It's a compact set-up. I bring everything in a small flightcase. People sometimes laugh and say 'that's a cute little case', but then they realise how much power one little case can have."
For the introduction of Lancôme's new Idole perfume, Motion Mapping provided a 3m high polystyrene model of the bottle as a perfect, centre-piece projection surface. "Polystyrene is a great medium for projection mapping," said Harris. "With the lights on, it's just plain white polystyrene, but with projection it completely transforms."
For this, Hippotizer's integrated 3D projection mapping tool set, SHAPE, which allows users to edit 3D model in real-time, was central to Motion Mapping's workflow. "We prefer to use SHAPE for pretty much everything we do," said Harris.
"We think in 3D rather than 2D, which gives us a lot of flexibility. SHAPE really speeds up the processes, making things so much easier."
For Harris, Hippotizer offers the tools he needs to make last-minute changes quickly and efficiently – a powerful advantage in any production environment. "Hippotizer helps extremely," said Harris. "Other systems we've used are quite slow for last-minute changes. And it's great for the client – I very rarely say 'no', because I know I can just go straight to the Hippo and do whatever's needed.
"Just knowing that it will work the way you need it to is a great advantage."