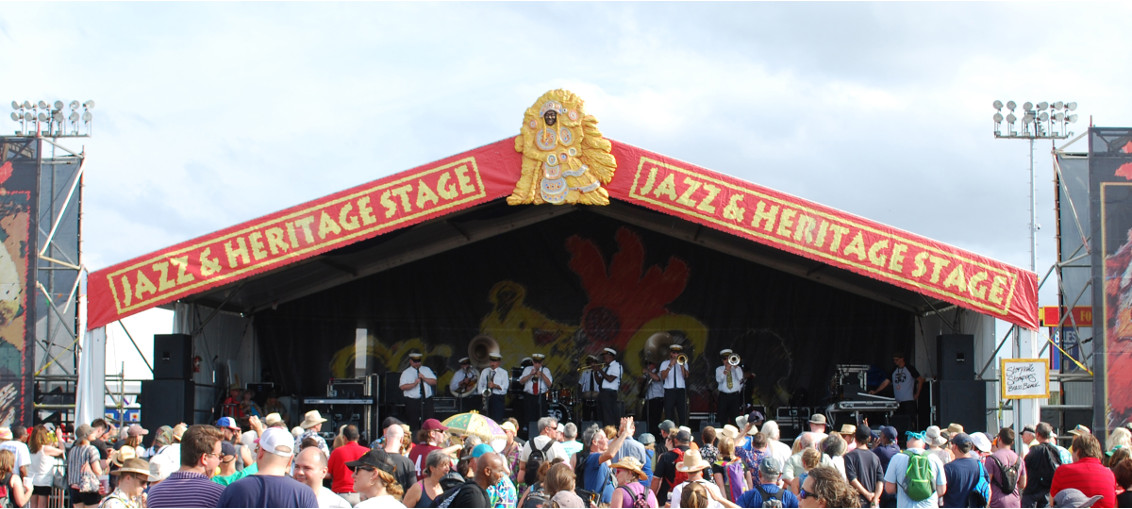 The Storyville Stompers Brass Band performs at the 50thannual New Orleans Jazz and Heritage Festival on the Jazz and Heritage Stage, featuring a ShowMatch compact line array system from Bose Professional supplied by Propaganda Group. 
The 50th annual New Orleans Jazz and Heritage Festival drew an audience of 475,000 people to enjoy a diverse range of artists performing on more than a dozen different stages. This year's festival featured A/V production company Propaganda Group of Louisiana, USA, (a supplier to this event for many years), as one of its rental sound system providers. Propaganda Group owner Brian Hrabar and his team were responsible for supplying the audio system for the Jazz and Heritage Stage and other locations.
A key element of Propaganda Group's audio setup for that venue – which needed to provide clear, powerful sound for a wide array of musical styles – was the new ShowMatch compact line array system from Bose Professional.
In alignment with Bose DeltaQ technology principles, 2 x 8-box main arrays included 4 ShowMatch SM5 5-degree boxes, 1 SM10 10-degree box and 1 SM20 20-degree box per side. 4 ShowMatch front fills were on deck. A total of 15 SMS118 subwoofers on the ground were configured in cardioid arrays by groups of three, to provide a high degree of directional control for the low frequency energy.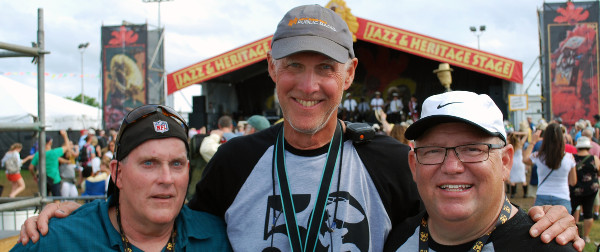 Jeffrey Gex, an audio industry veteran whose credits include work with the Neville Brothers, Yes and more, oversaw the system as Front of House Engineer at the Jazz and Heritage Stage for Propaganda Group. "Having that many subwoofers available while trying to stay below 100 dB was challenging," remarked Gex, noting that the sound needed to be powerful in the defined audience area while not bleeding over to the other stages, "but the cardioid preset for the subs seemed to really work."
"It was well-controlled, focused, right in the middle. If you walked around the edges of our audience area, you'd notice that it tapered off to the sides pretty nicely."
The Bose ShowMatch system enclosure's unique electro-acoustical design includes four two-inch compression drivers complementing a pair of high-powered, long-excursion eight-inch loudspeakers. These high-frequency drivers are crossed over at 750 Hz, which helps to keep the crossover point out of the vocal range.
This system design characteristic is intended to provide improved system clarity, by not transitioning between the eight-inch drivers and the two-inch drivers when input to the system in the center of the vocal region changes in frequency.
Artists served by Propaganda Group on the Jazz & Heritage Stage included the Storyville Stompers Brass Band, Big Chief Juan & Jockimo's Groove, Caesar Brothers Funkbox, Mariachi Jalisco and many more. "This was my first time mixing on the Bose ShowMatch system," noted Gex. "It performed well throughout the festival."