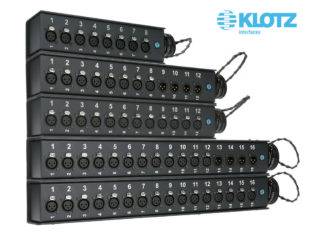 After a minor facelift with the discreet addition of KLOTZ new logo, the boxes now conform even better to their CI. They are also virtually invisible on stage – a major advantage in visually sensitive environments such as trade shows and corporate events.
The housing is now slightly wider to allow space for horizontal and vertical labelling and for individual labelling tape up to 19 mm wide. Klotz own labelling is now laser engraved.
Klotz has retained the slim, compact and space-saving design, with its high-quality and rugged feel despite the weight-saving aluminium construction.
The internal cabling is digital-ready, designed for characteristic impedance of 110 ohms. The stage box can handle both analogue and digital signals.
Klotz new StraightLink floor stage boxes are now available for 8, 12 and 16 channels with RMP connector (25p., 37p. and 54p., male) in line with their F/M multicore philosophy.
During the year further products (AES/EBU cables, analogue multicore cables, pigtail adapters, further stage box models etc.) will be added to the range. The StraightLink product family – a high-quality, coordinated and ultra-professional system is designed to make life on the road that little bit easier.