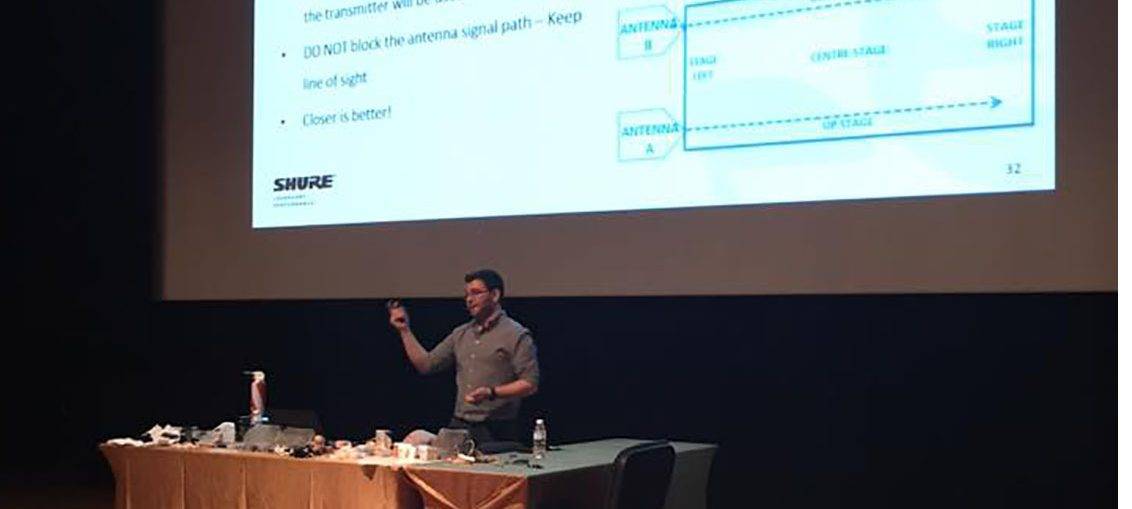 Pictured: Theatre veteran Andy Yiannaki going over microphone antenna placements
Electronics & Engineering together with Shure recently organised a Theatre Miking Seminar that was held at the National Gallery auditorium in Singapore.
The auditorium was just about packed with people during Shure's recent Theatre Miking Seminar – everyone had gathered to listen to sound designer Andy Yiannaki give his seminar on theatre miking. As a professional sound designer, Yiannaki specialises in theatre recording and theatre miking techniques, and has been involved with major European theatre shows since 2008.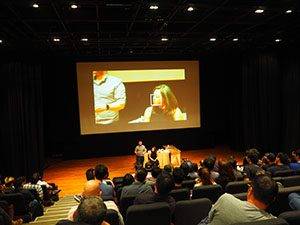 During the three-hour-long seminar, Yiannaki took the audience through the pros and cons of various miking techniques, and how different microphones like lavaliers, booms and headsets were better suited for different conditions and situations.
The seminar also comprised of technical tips and tricks that Yiannaki was all too happy to share, regaling the crowd with stories from when he worked with theatre productions such as Memphis and Merrily We Roll Along.
From colouring the microphones to make sure they would blend into the artists' skin tones, to salvaging the audio from a sweat-soaked mic and devising a makeshift ear hanger, his creative (and sometimes unorthodox) methods had the audience hanging on to every word.
The seminar also had a special demonstration – with the help of local theatre artiste Kimberly Chan, Yiannaki was able to show exactly how different microphones would result in differing audio quality, and how each should be fitted to ensure optimal sound.
A question-and-answer session held towards the end of the seminar also saw the sound designer addressing different issues raised by professionals in the rental and staging industry, such as what to do if artists performing a duet experienced a change in levels due to each person's microphone picking up the other's feed.