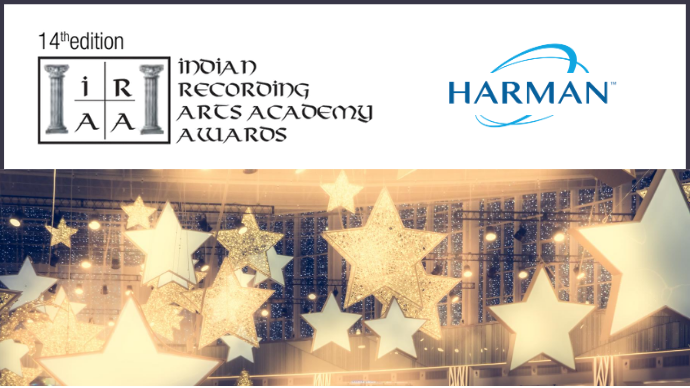 The Indian Recording Arts Academy Awards (IRAA) is proud to announce that HARMAN Professional Solutions, India has committed its support to the prestigious award platform, which is now in its 14th consecutive edition.
For the first time ever, the IRAA Awards will take place as a digital-only ceremony. Following the ceremony's postponement in May due to the Covid-19 pandemic, the IRAA committee and Jury Members, motivated by IRAA's spirit in recognizing excellence and discovering best work and talent in sound recording technique and creative sound recording, decided to continue with the awards in its digital avatar and invite nominees to accept their awards virtually. Complete details of the online event will be announced soon.
With 50 award categories across four segments, the IRAA Awards celebrates and recognizes technical excellence and expertise in the field of music recording and production since 2006, thereby uplifting standards of excellence in sound recording and production in India that define independent and popular music culture. The IRAA awards, which has gained aspirational value through the years has become an eagerly looked forward to annual event.
"The great work done by folks in music, soundtrack recording, and mixing in India along with the innovation and creativity in music composition and tracks must be recognized and celebrated. We at Harman Professional Solutions India are pleased to support the Indian Recording Arts Awards (IRAA) and appreciate the efforts put in by Palm Technology to recognize the talent of studios and engineers in the country, for the fourteenth year in a row," said Aditya Todi, Senior Director of Sales and Marketing, HARMAN Professional Solutions, India and SAARC.
"IRAA is a very important forum. I believe its value contribution to recording arts in Indian music and cinema industry is critical to being creative to world standard, which today resonates on global platforms. IRAA endeavours to true talent. My vision and perseverance has persisted in embedding strength to IRAA, especially with the fraternity itself. I stand impressed with India's sound engineers whose contribution indeed has built IRAA to this level of esteem. HARMAN sponsorship and joining the vision is recognition of IRAA as a neutral and independent forum and certifies HARMAN philosophy to recognize talent. Recording arts is at the pinnacle of professional audio and sound technology and indeed HARMAN is at the frontier edge in these technologies. I am now confident IRAA will build further and play its true role in the coming years. Kudos to Harman for joining this mission," said Anil Chopra, Founder & Chairman of IRAA.
A 12-member jury comprising of top audio engineers, music producers and arrangers from across the country supports the IRAA committee's efforts and vision. Besides IRAA Honorary Chairman – Pramod Chandorkar and IRAA Director 2020 – Yogesh Pradhan, the jury comprises of Aditya Modi, Ashish Saksena, Bishwadeep Chatterjee, Indrajit Sharma, Jim Satya, Mujeeb Dadarkar, Sreejesh Nair, Shantanu Hudlikar, Vijay Benegal and Vijay Dayal.
The nomination categories for this year's awards can be found on : http://iraa.in/Category.aspx