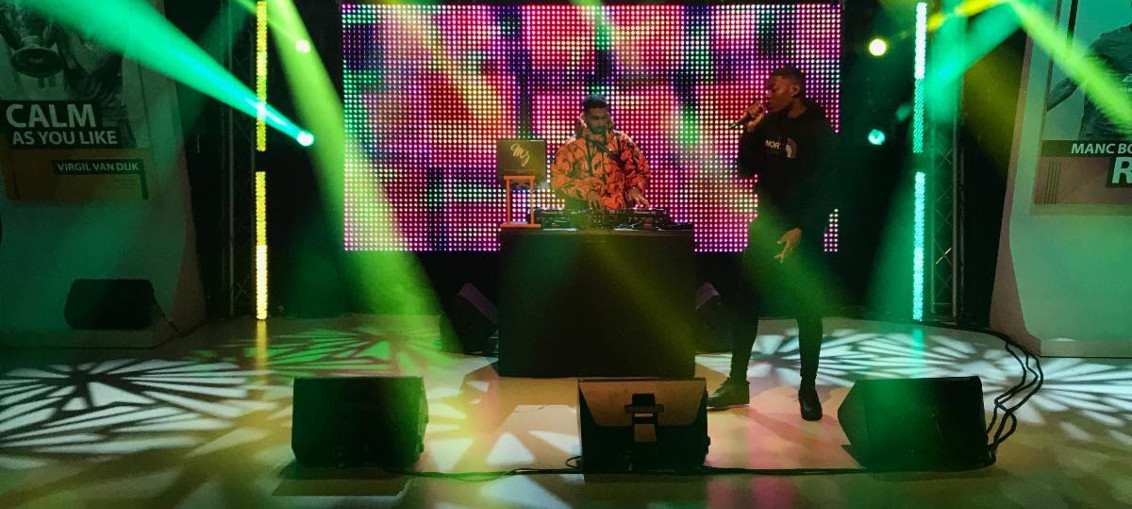 Image © Malcolm Reed
Lighting Director Malcolm Reed used Green Hippo's Hippotizer Media Server technology to manage the visuals for rapper Jay1's performance on the UK's popular football show, Soccer AM.
Filmed at London's Sky Sports Studios, the 90-minute show, which airs on Saturday mornings, includes a section where music artists from across the country are invited to perform their latest songs in front of a live studio audience.
Backing Jay1's performance was a Martin LC 2140 5m x 2m LED screen fed by a P3 system controller.
Visuals for the Jay1 performance, partly created by Reed and partly by the band, were simple but effective, based on band logos and a mix of custom and stock graphics.
Green Hippo's Amba Media Servers were supplied to the production by specialist entertainment technology suppliers, A.C. Entertainment Technologies. Reed previously used Green Hippo's Grasshopper Media Servers, but has since upgraded to the compact and powerful 1U Amba to make use of its capabilities.
"One Amba unit, with its data splitter allowing up to four HD outputs, replaces two Grasshoppers," he said.
"The Amba Media Server allows us to split content across various outputs," Reed continued. "We have a Christie Digital projector projecting wide screen images on to the floor of the performance area, while the two spare outputs give us options to run other kit too. For Jay1's performance, the screens were driven by the P3 system controller directly from the Amba."
He added, "Green Hippo's Media Servers work well with MIDI control, or running from a lighting desk. Running them on a lighting desk gives a much smoother transition between multiple layers and outputs."
Reed, who has worked on Soccer AM for more than 20 years, is an experienced Hippotizer user, having favoured Green Hippo's Media Servers since 2009. "I feel very comfortable with Hippotizer," he said. "The reliability is great, and their support network is outstanding. I us­e Hippo on every show."