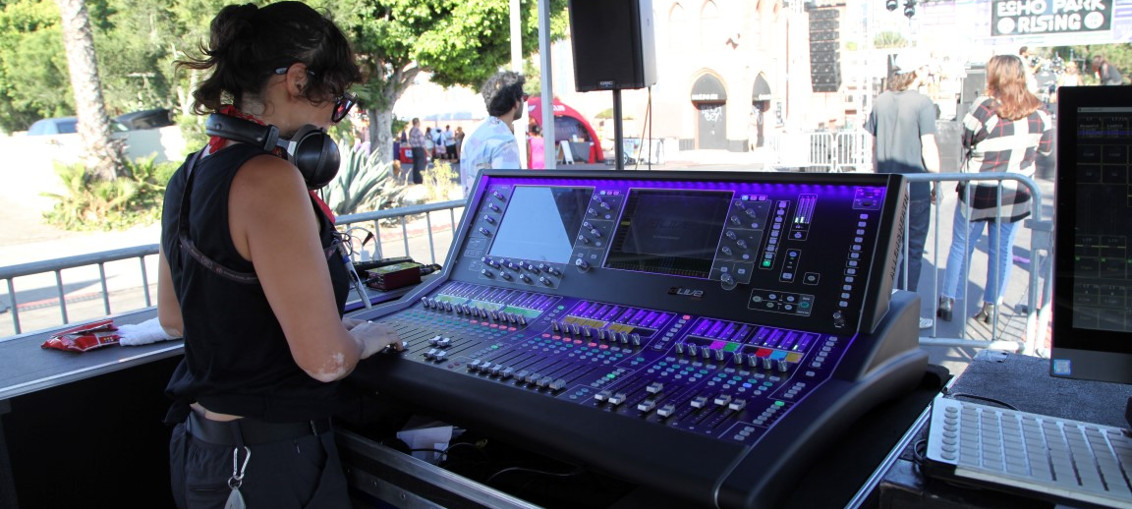 Echo Park Rising main stage FOH engineer Leticia Castaneda at the helm of an Allen & Heath dLive S5000.
Sandwiched between Silver Lake and Angelino Heights, Echo Park has emerged as one of the most happening neighbourhoods in LA, USA. Home to prospering and aspiring artists, writers, and musicians, it celebrates its community culture each year with Echo Park Rising, a sprawling festival which was recently named 'Best Music Festival' by LA Weekly.
This year the event's main Liberty Stage relied upon control provided by Allen & Heath dLive S5000 and C1500 control surfaces supported respectively by the processing and networking power of DM48 and CDM32 MixRack systems.
Standing at the confluence of Liberty and Reservoir Streets, the Liberty Stage featured a plethora of bands including many of the festival's must-see acts.
"The level of activity at Liberty Stage can best be described as that which you'd expect from what just may be the ultimate block party," explained Oscar Zambrano of AOP Entertainment, which managed production for the event. "Crowds ebbed and flowed throughout the day and night.
The bands that performed ranged from those just starting out to some of the hottest acts around. In turn, we had to be ready for anything."
The stage's PA was implemented and tuned by Brandon Operchuck and Kyle Gish of Huntington Beach, California-based Audio Geer. Allen & Heath's dLive S5000/DM48 mixing system managed the sound out front. Onstage for monitors, the aforementioned dLive C1500/CDM32 system took charge, expanded to handle 48 channels of input with the aid of a 96kHz Allen & Heath DX168 I/O expander.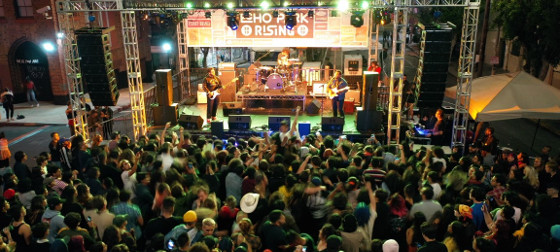 "Our consoles had to be user-friendly," Operchuck said of the mixing system choices that were made. "That way we could accommodate the less experienced guest engineers taking the helm at the beginning of the day. Conversely, we needed the horsepower and 96kHz sonic quality demanded of the riders submitted by the engineers serving the headliners at night.
The Allen & Heath dLive systems gave us both and couldn't have worked out better."
Beyond the guest engineers that rotated through both days of the festival, the majority of the acts had their house mix orchestrated by Lead Engineer Leticia Castaneda. During the few times she took a break, either Operchuck or Zambrano took over.
"She was a real trooper mixing an eclectic and nearly nonstop stream of acts over long days," Operchuck said of his colleague Castaneda. "The rest of us can only wish we had that kind of stamina."