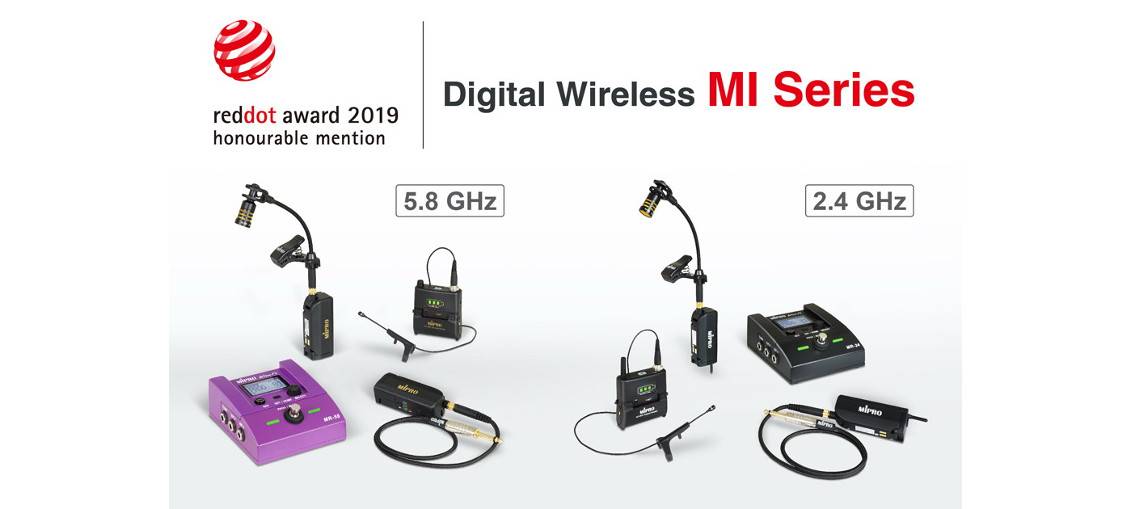 MIPRO has won an award in the Red Dot Award: Product Design 2019. Digital Wireless MI Series
received an Honourable Mention, which the jury awards to a particularly well-executed aspect of design work.
The MIPRO wireless musical instrument system is designed for easy to use and enables musicians the mobility to move freely and convenience when performing live on stage.
For MR-24 and MR-58 wireless pedal receivers, the large graphic LCD screen and the bright LED indicators are designed for clear identification of the programmed presets; the sturdy metal construction and the ergonomic foot switch are designed for durability.
Thanks to programmable presetting parameters, complex operations become user-friendly functions with easy foot switch steps.
Proprietary "Acoustic Response" and "Anti-Feedback" features modify an acoustical guitar signal to ensure true sound quality and eliminate undesired interference for amplification.
Various acoustic and electric instrument microphone packages are offered for flexible applications. Each transmitter is powered by one 18500 lithium rechargeable battery and can be recharged directly on the exclusive charging station.
"I would like to congratulate the laureates sincerely on their wonderful success. The fact that their products were able to satisfy the strict criteria of the jury bears testimony to their award-winning design quality. The Honourable Mention laureates won over the jury with an especially well- thought-through detail solution," said Professor Dr. Peter Zec, founder and CEO of Red Dot, in reference to the winners.