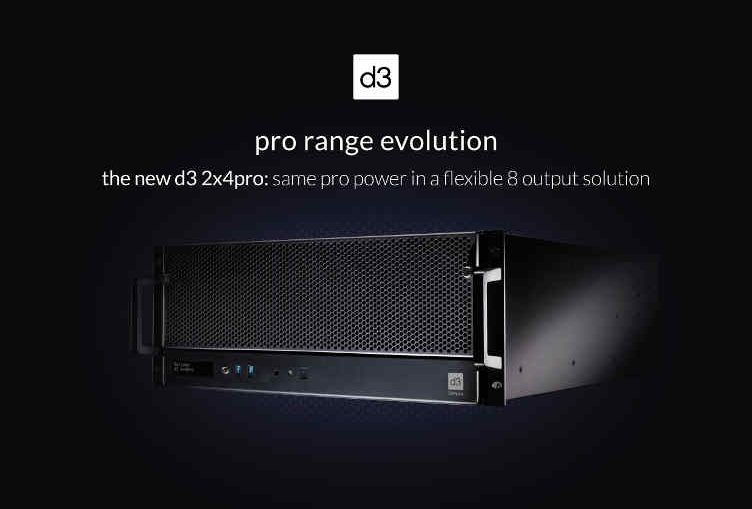 d3 Technologies has announced the 2x4pro, their newest media server. Similar to the flagship 4x4pro, the new server supports d3's popular interchangeable VFC (Video Format Conversion) cards, enabling users to drive up to 8 outputs as DVI, 3G-SDI or two DP1.2 from a single d3 2x4pro.
A
ccording to d3 Regional Sales Manager EMEA Sarah Cox, the 2x4pro is an evolution of the company's Pro range of servers. "It enables customers to join the d3 community or extend their d3 server portfolio, with a Pro product scalable up to 8 outputs. With the 2x4pro our customers will also be able to capitalise on their Video Format Conversion card investments with a product that hits the technical requirements for the everyday show or project."
d3 Product Development Engineer Thyge Haarberg adds: "The 2x4pro has decoupled sensitive components with a floating internal chassis and a new ruggedized VFC backplane offers increased stiffness and reliability." The new server also features a dual 10Gbit/s media network and 2TB of ultra fast solid-state storage.
The d3 2x4pro has been tested during road shows in the USA and Europe, and will be demonstrated to the public during ISE at booth 8-H312. The 2x4pro also ships standard with 2x DP1.2 output cards and can be upgraded to DVI or 3G-SDI.