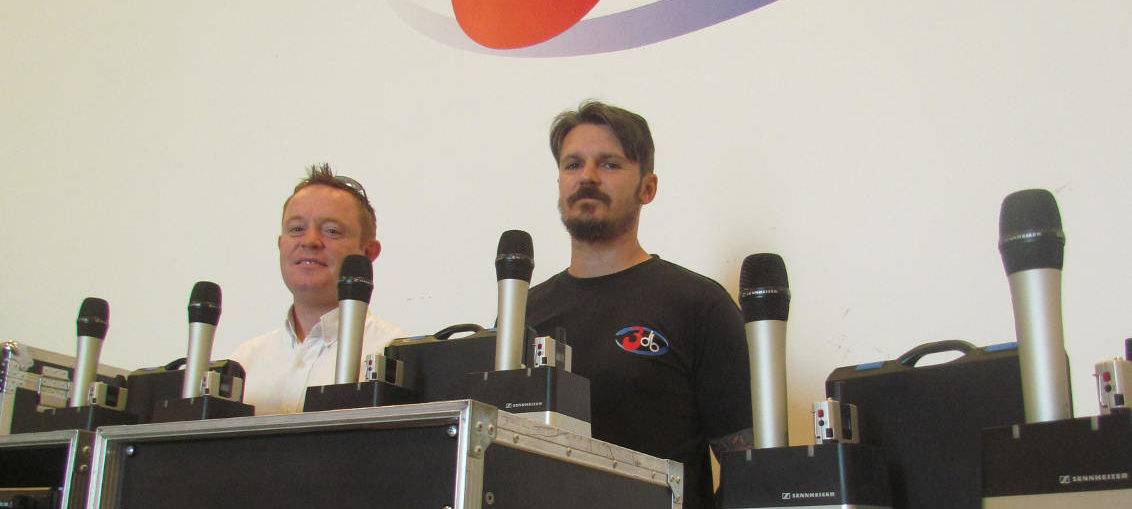 Eddie Mulrainey (L) and James Ghamlouch (R) of 3db with the Speechline Digital Wireless microphone systems
3db, a leading AV-rental company in Dubai, has upgraded its microphone inventory with the latest Speechline Digital Wireless microphone systems from Sennheiser.
S
elected for its rich feature set, unmatched speech intelligibility, and aesthetic appeal, the new system is being positioned by the rental firm as the solution of choice for blue chip corporate events and conferences and has already been utilized at the Emirates Airline Festival of Literature (EAFOL) in Dubai with excellent results.
Commenting on the sale, which makes his organization the first in the region to offer the Speechline Digital Wireless for rental, James Ghamlouch, Head of Audio at 3db said, "We've found that the system's clear focus and USP of speech intelligibility is the perfect fit for our customers' needs. Not just this, the Speechline Digital system boasts automatic frequency management and interference avoidance, which coupled with the fact that it uses the less congested1.9 GHz frequency range and has a multi-room mode, makes it the complete package."
He also praised the system's ergonomic design saying, "Aesthetics also played a significant part in our decision. We felt the SL Handheld DW was visually appealing, with a striking colour scheme, and was extremely well balanced in the hand. The SL Bodypack DW is compact and sleek whilst the SL Headmic 1 is not only extremely lightweight and unobtrusive but feels far more robust than other options on the market."
These features are backed up by Sennheiser's easy-to-use 'Control Cockpit' maintenance and monitoring software which gives technicians full control of the system and visibility into a range of parameters including battery health, available devices, and devices in use.
Other noteworthy features of the system include advanced 256-bit AES encryption, up to 15-hour battery life and convenient USB recharging, and automatic volume adjustment.