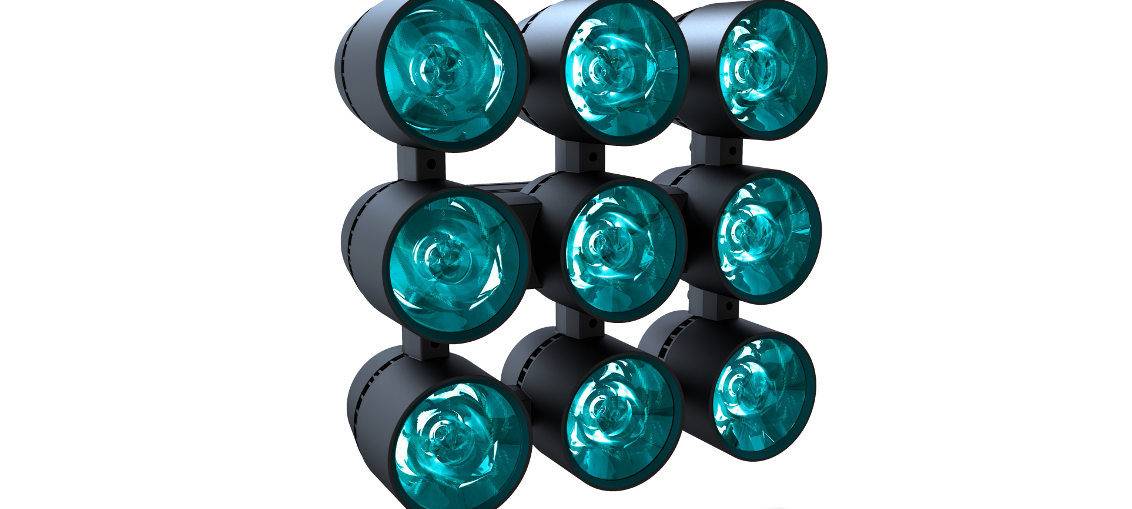 Designed in the same creative spirit as Ayrton's original IntelliPix-R, IntelliPix-XT is a versatile fixture that uses Ayrton's new, specially developed, 126mm diameter optics to produce extremely slender, 2° beams.
I
ntelliPix-XT is fitted with nine ultra-powerful, low-profile, RGBW multichip LED emitters, arrayed in a 3×3 matrix, that produce a fantastic parallel shaft of light – intense, sharp and incredibly coherent – over a long throw distance.
Each emitter can be controlled individually and, coupled with the new proprietary 126mm diameter optics, pushes the limits to deliver its slimline 2° full beam with a record-breaking centre-beam luminous intensity of 580 candelas per lumen.
The combination of emitter and 126mm optics with a next-generation power supply unit results in over 95% efficiency, ensuring IntelliPix-XT can run continuously at full power without any loss of performance.
IntelliPix-XT's minimalist physical design reduces the fixture's visual footprint, essentially making the luminaire semi-transparent. A highly adjustable yoke system enables each IntelliPix-XT unit to be used individually to generate complex assembled shapes.
Alternatively, when used in conjunction with its highly precise coupling accessory, multiple IntelliPix-XT fixtures can be perfectly positioned to create large-dimension 3D volumetric lighting effects in motion.
Ayrton's new IntelliPix-XT is the refined, sophisticated solution to matrix and effects lighting on a large scale.