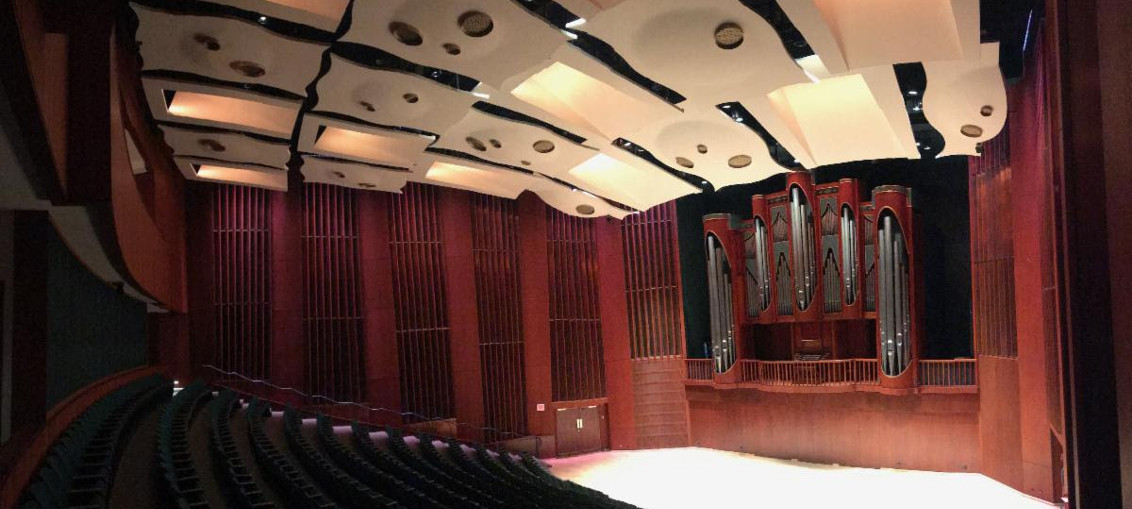 © David C. Brown RPT Assistant Director For Music Operations SMU Meadows School of the Arts
Caruth Auditorium, a classical concert hall at the heart of Southern Methodist University's Meadows School of the Arts, has benefited from a new stage lighting system from Vari-Lite and Strand.
The system has delivered improved light quality, colour capability and quiet operation, plus major reductions in operational costs.
The new system was specified and installed by leading theater technology consultancy, Schuler Shook. Their team, led by Jack Hagler, with theater specialist Jean Gonzalez-Hill, worked closely with Steve Woods, head of the school's Master of Fine Arts Stage Design program, on the specification.
"We wanted a system that could function for live events, and provide a good, flat field for televised events," said Woods. "We needed a quality white light, but also to transform the stage and auditorium with color when needed. We wanted the auditorium lighting to visually enhance the sonic content and give the audience an immersive experience."
From the outset it was agreed that the replacement fixtures would be LED. However, the venue's finely-tuned acoustics meant that power efficiency and light quality were not the only considerations.
Fixture noise was the project's biggest challenge, said Gonzalez-Hill. "We worked closely with Strand to find solutions that would work with the room's sensitive acoustics, and provide the required lighting levels. The acoustic requirements meant we could not use LED ellipsoidal fixtures currently on the market as front-light."
The solution was to use 25 x Strand 200F LED fresnels for front-light, a choice made viable by Strand's new fanless mode which is 6dB quieter, thus preserving the hall's extremely low noise level. Another 12 x 200F fixtures provide white down-light over the performance area. Here, it was vital to deliver adequate illumination for the orchestra, as their music stands do not carry their own lights.
"The 200F fresnels provide a soft, smooth field of light," said Woods.
Providing a colour changing wash for the performance area, plus additional white light where needed, are 12 convection-cooled Vari-Lite SL Punchlite 220s, chosen for their silent operation. Strand SPX LED WW fixtures, with their locking shutter system, deliver precise down-light on the pipe organ, while Vari-Lite SL BAR 660 colour changing LED fixtures, which offer quiet operation in Studio Mode, give colourful uplight options.
The auditorium now has superior lighting results, with fewer fixtures, a consistent lumen output and lower energy consumption.
Given the projected longevity of the LED equipment, SMU should expect to see even greater savings in maintenance and labour, and the lamp replacement cost has disappeared. The Caruth is engaged for 300 days in the year, and the new LED system removes the daily burden of replacing burned-out lamps and colour.