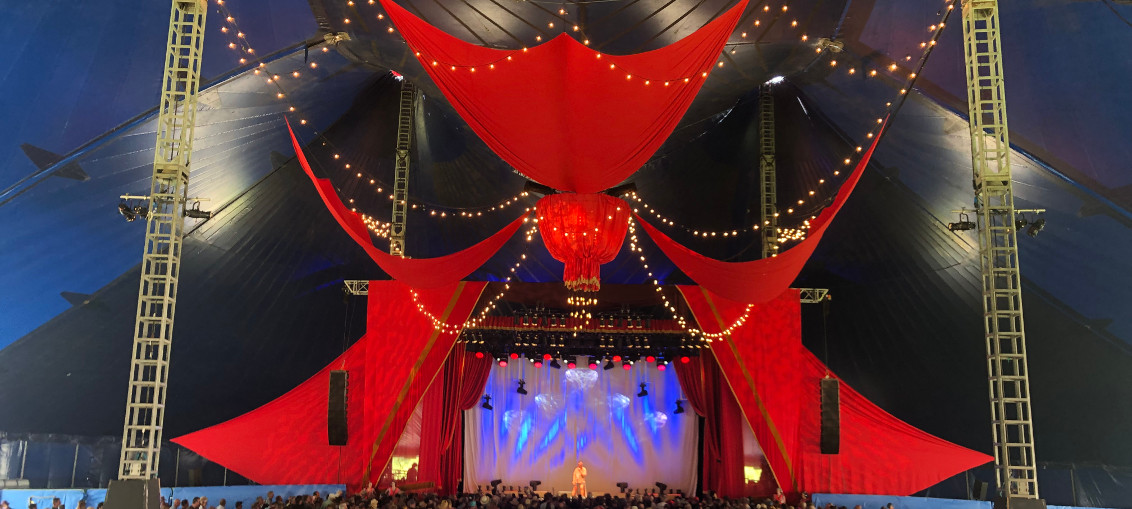 More d&b audiotechnik loudspeakers than ever before delivered the strums, beats and vocals of Glastonbury this year, as KSL made its debut on The Other Stage and Y- and V-Series graced The Acoustic Stage, ramping up the sound for hundreds of thousands of festival goers.
Glastonbury veteran, Skan – which has been providing PA systems for the festival's second stage since 1989 – supplied the d&b KSL System for The Other Stage, where headliners included Tame Impala, Chemical Brothers and Christine and the Queens.
Increasing Demand for Quality Festival Sound
"The stage size and technical demands increase every year, and we have increased the spec and system requirements alongside this growth," said Skan Senior Designer, Matt Vickers. "We beta-tested the GSL System at Glastonbury in 2017 and that experience has contributed to the stunning results we can get from both GSL and KSL Systems.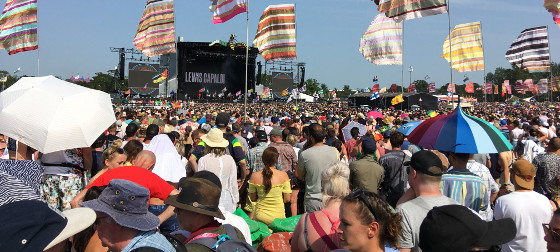 "'Punchy, tight and so clean' were words thrown around by various incoming engineers, and comments overheard backstage and given to our stage team were that the KSL System was generally considered to be the best sounding – and best behaving – rig across the site over the weekend."
Skan specified the KSL System with 20 boxes on each main hang, plus 18 on each side hang, and 20 SL-SUBs arranged vertically (stood on their ends) in a distributed array along the downstage edge. Fills consisted of a single centre flown pod of V-Series, and out fills of J12.
Specific Coverage Areas
"The barrier line of an event of this size is somewhere around 5 metres from the downstage edge, so we can cover this from the flown arrays, and it is far enough away for the perception of the sound to come from the 2.5 metre high stage without the need for infills on the downstage edge," Vickers continued.
"The approximate coverage area we are required to fill is around 120 metres deep, and 120 metres across. It's fairly flat, with only minor undulations as you go back, and only a slight lean from Stage Left down to Stage Right.
"However, there is always a surprise act – this year, it was Lewis Capaldi – that the audience flocks to, filling a much larger area around the sides and into the far camping area, so the system has to behave itself off-axis and in the very far-field as well, even if that is at the cost of SPL to adhere to licence conditions."
Strict Noise Emission Controls
As with most outdoor shows, Glastonbury has strict noise emission controls in place to ensure that sound doesn't impact on other stages, the camping areas or on wider residential areas.
"A few years back, I created a NoizCalc file for this site, because the biggest challenge at this site is weather variations and wind," said Vickers. "The KSL System is remarkably stable, even in the strongest winds and I imagine this has a lot to do with the full range pattern control coming from the arrays. This means that even if the direct sound is blown off course, the indirect sound is so tonally constant and controlled that there is little perceivable difference within the listening area.
"For the first time, the flags in the audience area were more of an indicator of high wind than the sound swishing around."
Over on the Acoustic Stage, Tom De Brabant from De Brabant Sound worked with hire partners Southby Productions to specify and deliver the V-Series solution.
Acoustic Stage Challenges
"One of the main challenges is the tent – it's the second biggest tented stage on site and offers many acoustic issues," said De Brabant. "I worked with Chris Drew from d&b to ensure we minimised negative impacts from the reflective surfaces by implementing a very exact design, utilising ArrayProcessing, which really helped us."
De Brabant and his team rigged d&b V-Series each side, with d&b B22 subwoofers on LF duty. Y-Series was used for front fill, all powered by d&b D80 amplifiers and networked via a DS10 audio network bridge.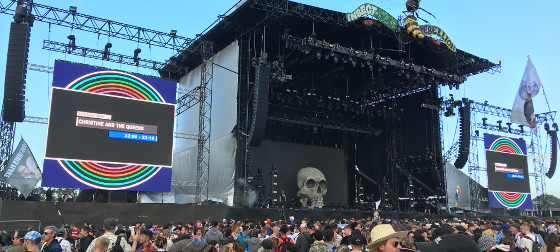 "This is a large show, with very challenging budget constraints and extremely tight turnaround times on changeovers," De Brabant continued, "with some of the changeovers being as little as fifteen minutes for 40-channel-plus headline acts, such as Keane and Marti Pellow.
'Best Ever Sound'
"However, we got really good feedback from touring engineers, bookers and project managers – and from punters. We were complimented on the sound, with many commenting that it was the best that the Acoustic Stage had ever sounded."
Vickers concluded: "It's always difficult to praise yourself without sounding smug, but you know it's good when, despite around seventy percent of all incoming bands bringing in their own control desks with a preset show ready to go, the engineers turn to you as soon as their band starts with a big old smile as they immediately have the results they want from their mix."