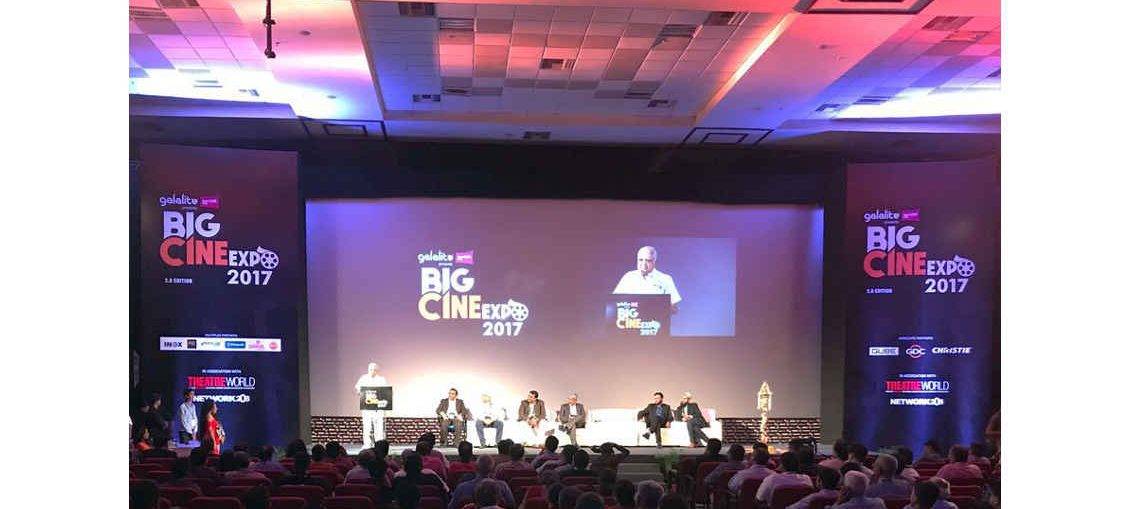 A
s the exclusive projection partner of Big Cine Expo 2017, Christie took the opportunity to showcase its  CP4220 DLP digital cinema projector, which delivers 4K resolution and 22,000 lumens of brightness. UFO Moviez India also showcased a static display of the Christie 6P laser projector, featuring two Christie CP42LH 3DLP 4K RGB laser projector heads.
"There is a huge appetite for technical knowhow and equipment owing to the untapped potential in the cinema theatre market and Big Cine Expo was a viable platform for the cinema industry in India," said Raghavendra T, Director, Big Cine Expo.
"We were thrilled to have Christie, the market leader in cinema projection, as our associate partner, and were to work with Christie and showcase the high-performance Christie CP4220 digital cinema projector for movie screenings."
Rajesh Patkar, Deputy General Manager, Christie India, commented, "We were delighted to serve as the exclusive projection partner of Big Cine Expo by supplying our high-performance and dependable CP4220 cinema projector for movie screenings.
Lin Yu, Vice President, Christie Asia Pacific, added, "India is one of the world's emerging economies with the entertainment sector occupying a dominant position. In fact, India produces the highest number of movies in the world and South India, in particular, has a massive movie industry with 6,000 of the total estimated 9,500 screens in the country. Christie is committed to the cinema market in India, and is well-positioned to leverage on the rapid growth of this industry by supporting our partners and clients in delivering cutting-edge cinema technologies to Indian audiences for an exceptional movie-going experience."
Besides its role as the exclusive projection partner, Christie also participated in a panel discussion titled "The Next Generation Cinema Viewing Experience".
It was also announced that PVR Cinemas, the largest film and retail entertainment company in India, has purchased 14 sets of Christie Duo dual-projection systems to be deployed in its theaters across the country, the first of which will be installed at PVR Mani Square Mall in Kolkata.
Currently in its second year, Big Cine Expo is an interactive and value-added platform targeted at theatre owners, design consultants, equipment manufacturers, system integrators, industry stakeholders and the user community for single-screen and multiplex cinema entertainment in Asia and India. The annual convention is the only expo of its kind in India dedicated to all aspects of cinema exhibition.