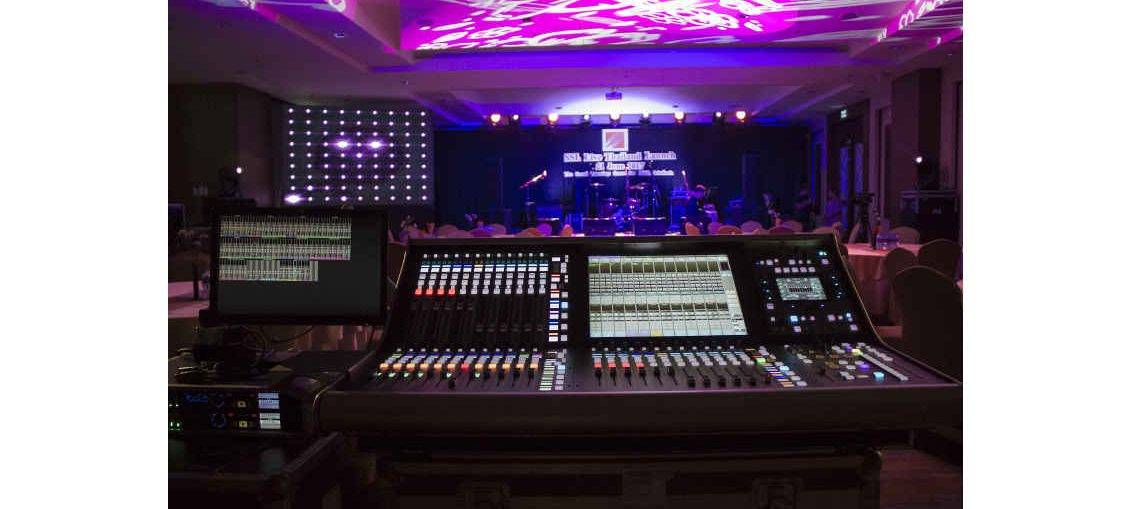 T
he moment many in Thailand awaited finally arrived as Acoustic & Lighting System ("A&L") officially launched Solid State Logic Live ("SSL Live") in Thailand. Organized by A&L and SSL Asia, the event took place in a luxurious hotel convention hall at Srinakarin, Bangkok. "The Grand Fourwings Convention was the right place to launch the SSL event," commented Veera Lee, A&L Thailand Branch Manager. "The event was definitely successful, as many key industry players were presentat the event," continued Veera.
The spotlight for the event was the 2 units of SSL Live L500 that were on display in the event. These 2 units garnered a huge interest among the audience present at the event. "It is an eye opener for me to witness not one unit but two units of SSL Live L500. In the sound industry we often hear the quality and performance of the SSL Live L500 sound console but I never actually experienced the performance until today. It definitely lived up to its name as a digital sound console that is easy to configure," commented one of the audiences in the crowd.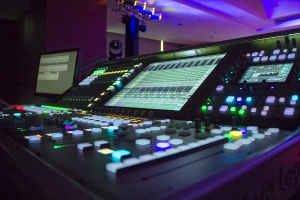 The SSL L500 consists of multiple faders and utilities, with a multi-touch screen that allows sound engineers to freely control sound in their preferred setting. "Digital workflow with a sense of analogue control," commented another. "It will be a game changer in the Thailand audio visual industry," commented Veera. "When we heard that SSL Asia will be officially launching their product in Thailand, it was an exciting news for us. A&L Thailand is more than willing to provide our services to expand the SSL Asia market. Thailand has the potential as we see more and more events and concert being held in this region," continued Veera.
Rental company SMILE Light & Sound System known for providing excellent services were given the opportunity to set up the venue together with A&L Thailand. Having such amazing sound console system, it is only reasonable to provide the best sound output for the audience to experience. "For an event such as this, there is no doubt that the RCF speakers should be used," commented one of the sound technician on duty during the setup. A total of 8 units of RCF speakers were use throughout the event. 2 units of RCF TTL6-A were used as the main speakers while another 2 units of RCF TTS56A for the subwoofers. These were more than enough to cover the event area.
In addition to the 4 speakers, 4 units of RCF ST15-SMA were used for the stage monitoring. For the audience to better experience the performance and the quality SSL Live L500 has, A&L Thailand hired local bands to perform for the audience. "It allowed us to try out the SSL Live L500 in a live setting," responded an audience. As for the lighting console, Avolites Titan Mobile and Titan Mobile Wing were used.
Throughout the event, audience were given hands-on experience with SSL trainers. "I felt these hands-on experience is a plus to the event. I am satisfied that I was able to have a basic understanding on how the SSL Live L500 operates," commented an audience.
"I think the event was very successful, we had a number of key players and key companies that were present in the event. We also saw a large interest in the Live series. Everyone did a great job," commented Malcolm Chan, General Manager for SSL Asia. "As for SSL Asia marketing in Thailand, I would say our marketing efforts will be constant and will be in line with our entire outlook for South East Asia. We will be keeping the region up to date with Live products. Recently in 2015 we did something for Singapore; we brought in a FOH Simon Thomas who did the FOH mixing for Sam Smith. Continuing the strategy we will constantly promote SSL Live as a whole is one of our key marketing strategies," continued Malcolm.
"One of our products we would like to highlight is the Dante Stage Box. It was a slight pity that we could not showcase that product here due to the huge demand for it hence a shortage of stock. It would be a game changer because of the new Dante compatibility and capability of this stage box. This new box will bring versatility to the industry be it in the rental market or fixed installation as this new stage box allows the live console to work with other manufacturer's consoles without reducing the sound quality," Malcolm commented.
"Moving forward, we will work closely with SSL Asia in expanding the SSL market in Thailand as well as coming up with great marketing strategies and awareness campaigns to educate the AV industry on the importance of digital sound console in various installations," ended Veera.