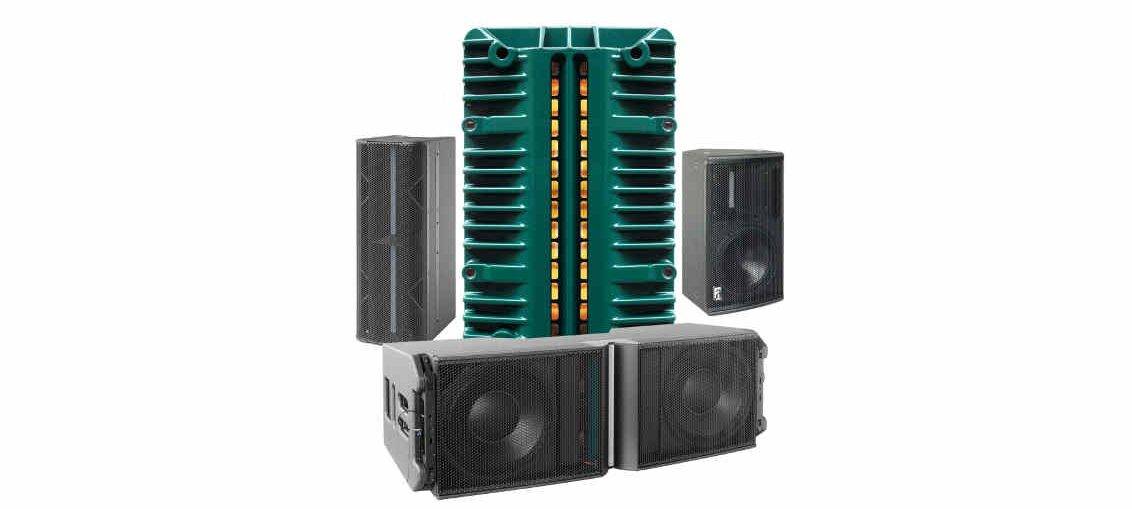 Alcons Audio will be previewing two new products for the first time at Prolight + Sound, as well as hosting an off-side demonstration and showing off its latest development ideas and studies.
The new products that will be previewed during the show are a wide-dispersion version of the LR28 Larger Format Line Array and an extension of the QR24 series, the company's modular high-output line-source column.
The 110º horizontal dispersion LR28/110 is designed as an extension of the existing three-way, 80º dispersion LR28/80, making it better suited for larger live productions and festivals. Featuring the same faceprint downfill and components (two 14" woofers, four 6.5" midrange and a RBN1402rsr pro-ribbon driver) on a 110º waveguide, the LR28/110 is powered and controlled by four channels of the Sentinel10 amplified loudspeaker controller. Like the LR28/80, it has a rigging system that enables angle-setting on the cabinets without lifting the array, resulting in safer and faster set-up with minimal handling.
Alcons will also be showing its new extension of the QR24 series modular high-output line-source column. Designed for acoustically challenging venues, the QR24 delivers high output and razor sharp dispersion control, without the need for active beam steering.
Another highlight will be Alcons' off-site demonstration of the LR18 line array, RR12 point source array and QR24. This demonstration will take place on 5 April (Wednesday), with more details provided to those who register at the booth.
Alcons will also be showing a wider selection of its point source, point source array, line source column and line array solutions as well as new designs on the stand, with staff available to discuss the company's solutions and answer any questions.
"We are looking forward to meeting our Pro-Ribbon Ambassadors and potential new customers from across the world at Prolight+Sound, which is always a very busy show for us," says Alcons co-founder Tom Back. "Our off-site demonstration is always the opportunity for sound professionals to hear the many advantages of our pro-ribbon technology; A fully linear,1:15 dynamic response and crystal-clear reproduction with up-to-90% less distortion at any SPL."
Alcons will be located at stand B50 in Hall 3.0.