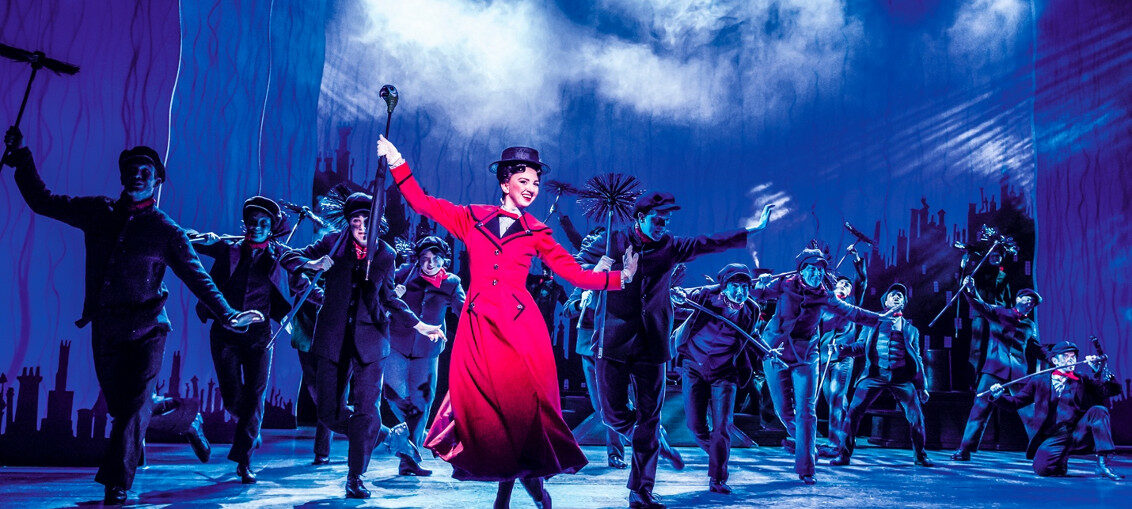 Everyone's favourite supercalifragilisticexpialidocious nanny is back on the West End stage in a reimagined musical version of the enduring PL Travers classic. It landed at Soho's Prince Edward Theatre in the shadow of Disney's big budget, CGI- and SFX-heavy hit 2018 film Mary Poppins Returns, which set something of a precedent for what audiences expect from a Poppins experience.
With this in mind, Cameron Mackintosh's production team were determined to give theatre audiences a thrill, presenting an adventure not only in story, song and dance but also set design, lighting and, crucially, sound.
Word on the cobbled street is that Mackintosh, along with director Richard Eyre, agreed on an all-out audio extravaganza, taking ticket holders to a magical place of utterly accurate, enveloping and immersive sound, enhancing the on-stage, aerial and around-auditorium antics.
Sound designer Paul Gatehouse – who initially designed the sound for the Asian Premiere of Mary Poppins, in Tokyo, along with the recent hit musical SiX, was enlisted. "My first thought was how we could get every ounce of dynamic and detail out of the sound," he said.
"I'd heard about d&b Soundscape and how it had been used on productions such as [Sting's 2018 musical] The Last Ship, with Seb Frost at the helm, and its ability to open up creative options with sound, enabling a direct connection with the audience, stage, orchestra and sound design.
"The word I've been using is 'compelling': Soundscape allows you to get so close to what's going on. Each source has its own focus, space and depth – you buy into the world you're looking at."
For a closer look, Gatehouse visited the UK HQ of d&b audiotechnik in Nailsworth, Gloucestershire, for a hands-on demonstration of the DS100 Signal Engine. The core of the Soundscape processing system, the DS100 is a powerful, Dante-enabled signal matrix which works out and delivers the level and delay required by each loudspeaker to create the desired sound environment. He also got to know the two software toolkits within Soundscape: En-Scene and En-Space.
The former is the sound object positioning tool that accurately depicts stage scenarios so that each sound object corresponds both visually and acoustically, and the latter being the in-line room emulation tool which creates and modifies reverb signatures for the space.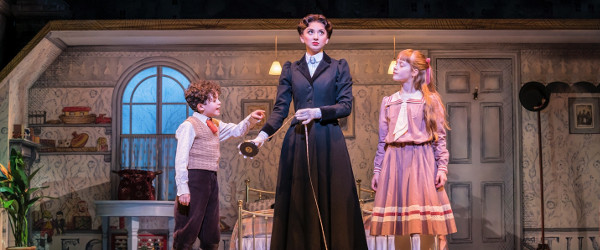 "When I first experienced Soundscape, it was scary and exciting in equal measure," he admitted. "Scary in the way that you need to change your workflow and 'conventional' system design in such a big way. As a sound designer, you trade on your sound and the process you're known for. My taste is big, cinematic, open and transparent; not trying to hide it and not wanting the audience to have it as a barrier."
"I want to pull people into the world that we're in. I want impact when I watch a piece of theatre and sound is so important in delivering that. It's the connection for me, reaching out across that fourth wall. This can make or break a production in terms of establishing that response."
Mary Poppins, thanks to its trippy, big-tune numbers, intimate solos and magical musical interludes presents a serious sonic opportunity for any sound designer.
"Soundscape opens up endless creative possibilities for this production," Gatehouse continued. "We have a twelve-piece orchestra with each instrument coming into the DS100 as a discrete object, localized to where they are placed in the pit."
On stage, we go from a world where it's more 'real', for instance when we present a dark and smoky Edwardian London, to Jolly Holiday big production numbers with a vibrant palette of colour, to Step in Time, a big tap number. We can go from tight localization that you're totally focused on, and we can expand that right up to filling the entire auditorium with sound, with really precise placement of sound effects."
As an audience member, you're not just hearing the speaker you're closest to, you've got a sense of depth, and positioning. It really keeps you engaged throughout the whole piece. Gatehouse and his team utilized the Prince Edward Theatre's surprisingly comprehensive wiring infrastructure to facilitate the loudspeaker arrangement, allowing each cabinet to have its own discrete circuit.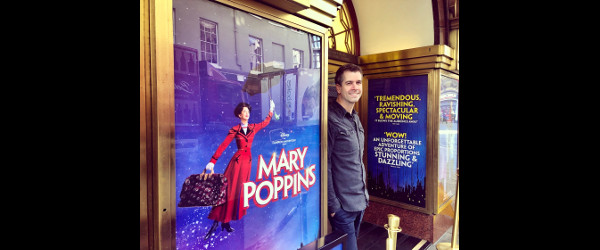 "It has proven to be a very different design process," explained Gatehouse. "Usually, we're trying to cover zones within the auditorium with different parts of the system, but with Soundscape you're covering people with multiple sources. All of the speakers need to be plotted in the space, on an XYZ coordinate, which needs to be accurate so that the DS100 knows where those speakers are and can calculate the wavefront appropriately from the sound object position onstage."
After building the venue in the d&b speaker simulation software, ArrayCalc, Gatehouse collaborated with the d&b team on loudspeaker choice, auditioning cabinets to create a perfect match.
"We have a 360-system here and it's probably one of the largest theatre deployments to date," he said. "The main system in our scenic proscenium is made up of five arrays of 10 Y8 cabinets, and spaced in between those is a sub array of 12 V-SUBS. The audience listening plane is covered by every array, so we have a lot of resolution to localize things in a horizontal plane.
"We cover the seating under the balcony with the d&b 16C small, cardioid, column loudspeakers in two rows. When further back, the audience is out of coverage of the main system, so the 16C provides great directivity [being a column speaker] to ensure the audience feels like they have focused sound in that area. Covering the balcony up on the bridge we have six V10Ps, so a wide dispersion again – everyone's covered by every speaker up there, with a delay sub array up there as well."
"There's a lot of weight, low frequency and headroom, so we can create a really big, warm sound which is detailed at the same time."The 360 element is served by the E0 loudspeaker, approximately 90 of which are dotted around each level – sides, rears and delays, along with another row of E8s on the circle front.
"No matter where you sit," assured Gatehouse, "you're covered by side and rear surround speakers, giving a constant sense of envelopment."
London-based Autograph supplied all of the d&b equipment to the show. Autograph's Adam Broom, whose experience with Soundscape includes its recent installation at Leeds Playhouse, commented, "The development of immersive audio is very much a hot topic for the industry and also many designers – we are seeing a significant interest and engagement in systems like this.
"Paul's decisions on Mary Poppins make perfect sense in the context of the re-imagined production and the opportunity to explore new ways to engage the audience in the audio experience while crucially making the sound even more integral to the overall show.
As one of the leaders in immersive audio, d&b has done a great job of supporting companies such as Autograph as well as offering fantastic application and design services to Paul and the rest of the team."
At the heart of the Poppins Soundscape system are two DS100 Signal Engines, which provide the 128 discrete outputs needed for the loudspeaker system. The DS100s receive a multicast of the same inputs from the Dante network and the same OSC positional data from a TiMax D4 positioning system, along with manual cues from Q-Lab, which boasts integrated control of the DS100 via OSC, for sound object movement, matrix input, output and cross-points.
Gatehouse uses the d&b R1 Remote Control interface to manage the system, driving the loudspeakers through a series of d&b D20 and D80 amplifiers, which are positioned on a raised platform above the stage.
One of the most intimate moments in the production is Petula Clark's rendition of Feed the Birds, where low lighting and a solo performance brings a welcome change of pace from the choreographed, big chorus numbers.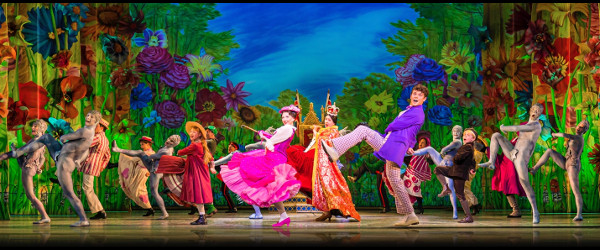 "That's a really nice moment, where we bring it all down and 'zoom in' on her with a very focused, positioned sound, matching her position on the stage," explained Gatehouse. "As the song builds, with a choir joining in, the audio expands out into surround sound, giving the audience the all-important goosebump-moment. It's wonderful."
"There are a few reverbs going on at that time, using En-Space. I use it to enhance the orchestra and sound effects – it dovetails the sound system to the room you're in beautifully. We often switch between a short modern room and a classic hall algorithm to serve the score's ever-changing texture and tempi."
Gatehouse's front-of-house sound hub is like a cockpit of well-designed, simple to use technology. He has added special tags to track the actor movements; these tags send OSC data, via the TiMax D4 system, back into the DS100s. This is most apparent when Charlie Stemp's Bert taps his way up, around and over the top of the proscenium arch (thanks to some well-placed hoists and agile acrobatics), with each tap perfectly mapped and audible with pinpoint accuracy.
"We have seven antennas around the stage and each actor wears a tag in their mic belt – the TiMax is a perfect partner for the DS100," said Gatehouse. "Your ears and brain are constantly attracted to what's going on over there and then over there. That really supports the staging and direction. On a conventional Left-Centre-Right system, you tend have a static vocal image, or an image with a much lower resolution, which can be easy to switch off from.
Using Soundscape, it's impossible for your brain to do that – it's such a natural connection. One of the biggest takeaways for me is how dynamic it makes the performance."
"I need to thank an excellent team of people for being on board with trying something new," Gatehouse concluded. "Not least my Associate – Charlie Smith, d&b Education and Application Specialist – Adam Hockley, Senior Production Engineer – Andy Brown, Head of Sound – Seeta Mistry, Sound Team – Sam Brazier, Frankie Pring and Eleanor Coxall. Also, our brilliant Associate Scenic Designer, Ros Coombes and Production Manager, Helen Guest for helping us build our system into the show's epic scenic design."