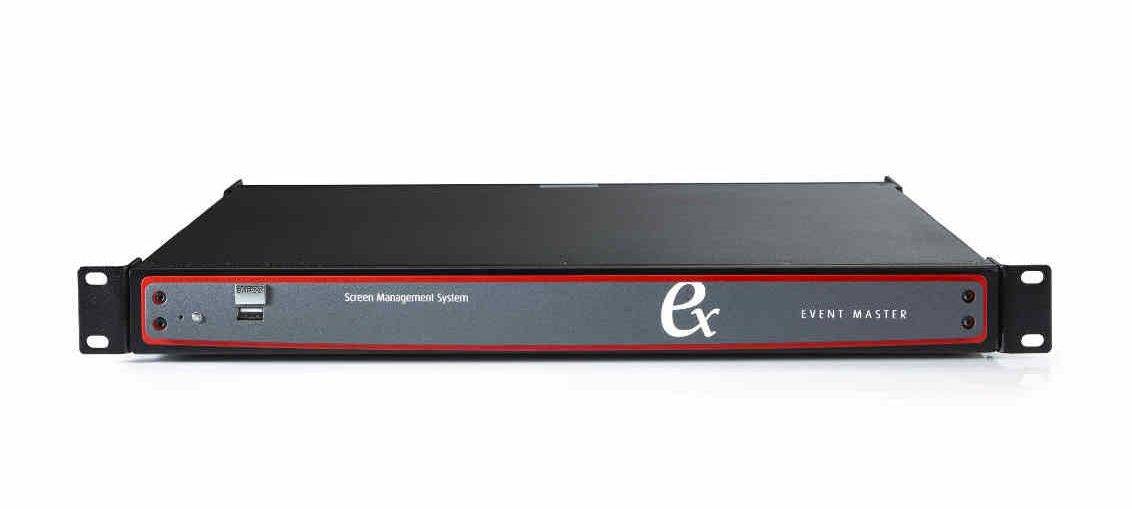 Barco is enhancing its Event Master portfolio of screen management systems with an expansion unit – the Event Master Ex processor links with the Event Master processors (E2 or S3-4K) and extends the Event Master systems to allow users to grow their input and output capacity as well as expand the scaling and switching power of their entire system. When linked with a fibre optic cable, the Ex can be in a different location than the E2 or S3-4K and act as a true stage box up to 100 metres away.
"Our popular Event Master processors excel in versatility and flexibility as they can be tuned to any show size or configuration," comments Chris Colpaert, VP Image Processing at Barco. "With the introduction of the Ex, we offer video professionals a broader choice of configuration options. They can choose from our pre-populated boxes, such as the E2 and S3-4K, custom build-to-order systems, or link additional boxes, like the Ex, when their needs grow."
Two Event Master Ex processors with up to two input cards and two output cards can be connected to each E2/S3-4K link connection, enabling eight inputs and eight outputs per link connection. For the E2, this means up to 32 additional inputs and outputs; and for the S3-4K, this adds up to 16 inputs and outputs without requiring the addition of another full-sized processing chassis.
By acting as a unique stage box application, the Ex allows signals to or from a stage to be concentrated via the Ex processor and transported over a single, bi-directional fibre to the Host unit. The Event Master systems also allows inputs and outputs on the Ex to be visible on the Host unit's multiviewer.
Event Master features modular I/O cards and software that can be used across the entire product family to make for simple cabling and to allow video professionals to configure their systems and service their units in the field. Colpaert explains that the I/O cards also make the Event Master future-proof: "The modular design of the Event Master products allows customers to gradually expand with new software, I/O cards or boxes to support bigger, more complex shows. Each additional Ex adds I/O capacity, allowing users to build their system over time and invest in processing as the need arises."
As a standalone processor, the Event Master Ex has the same processing power as four ImagePROs, and can be configured to provide a 4×4 scaling matrix of HD sources, or scaling and converting to/from 4K@60p. Users can link up to two stand-alone processors for an 8×8 HD or 2×2 4K60p scaling matrix.
The new Ex processor is currently shipping.