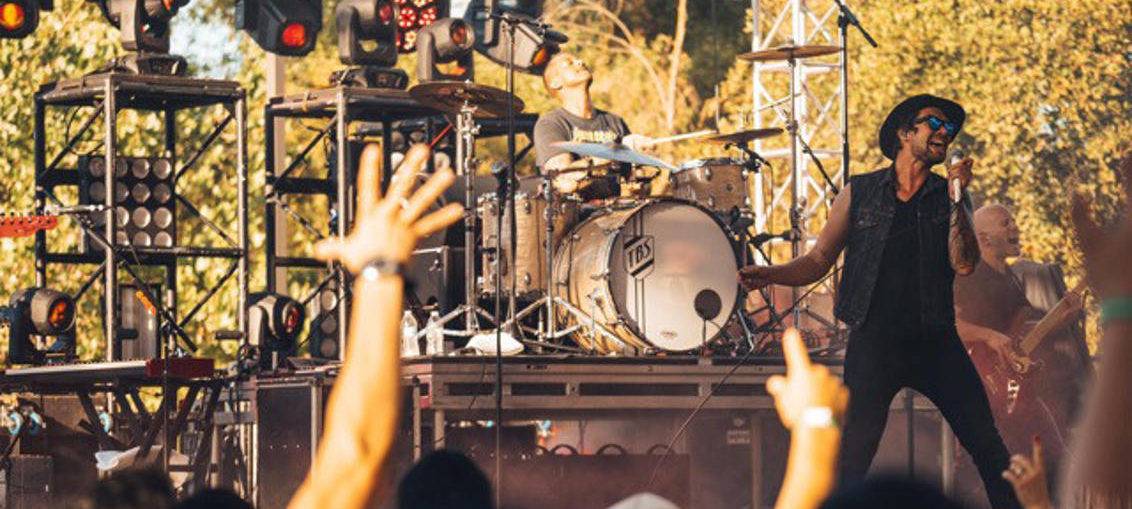 Photography by Nick Siemens @ Visual Grunt Media
The 2016 ROCKSTAR Taste Of Chaos Tour recently wrapped a six week run across the US, giving live music fans high energy festival performances from headliners Dashboard Confessional as well as Taking Back Sunday, Saosin and The Early November.
With lighting and video production supplied by Gemini Light Sound Video, the touring package included a healthy amount of High End Systems equipment, including 16 SHAPESHIFTER C1's, 17 SolaSpot 2000's, Hog 4 control, Catalyst media servers and FQ100 fog generator. Gemini's crew on the tour were Dashboard LD John Johnson, Video Lead/Rigger Josh Jenkins and lighting crew Collin Record and Emil Vuorijarvi.
Gemini LSV's Jason Cain and his team built the rig at their facility, and it was subsequently flown to pre-production rehearsals.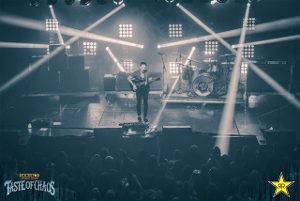 He comments, "All the fixtures were transported in Tyler HUDD truss. In fact, the SHAPESHIFTERs were a bit of a challenge going into the HUDD truss, so we just flipped the truss over, did a few structural additions – as per the manufacturer – and off it went! The SHAPESHIFTERs served as the front / back light for the band, but also as 'eye-candy' for the audience.
"The C1's are just great fixtures, with smooth movement and solid colors, and they offer the LD more options than traditional moving lights. I'm all about a heavy strobe/gate chase, but SHAPESHIFTER gives so many more options to keep the intensity up. John did do some pixel mapping with the HOG4, and it seemed to be a pretty easy process. It was great to not worry about matching color pallets and movement to the video images."
Similarly, the SolaSpot 2000s provided critical illumination and effects to Dashboard's show. Jason says, "We used the SolaSpot 2000s to light band members, and provide textures with the gobos and effects. It's super bright – great light! Lots of output, a good set of stock gobos, killer colors and good white light … and it plays well with the SHAPESHIFTER."
Jason explains the HOG 4 was set up 'Page per Song', with each fader/executer loaded with the needs of each tune. All video and lighting cues were triggered by Johnson on the HOG 4.
"The HOG's Kinds feature is nice, and the ability to make them executers as well is definitely a plus."
Cain also points out that the Catalyst system used with an Elation LED wall has been a real winner for their clients.
"Gemini has several tours out right now using this same combination of gear. Catalyst is a relatively easy and intuitive media server, and the stock content has ALWAYS come in handy. Most of the content for this tour was purchased from Motion Loops and Footage Firm; we also make use of the bands' logos to keep the branding going!
"High End's Sean Hoey was kind enough to put the SHAPESHIFTER in my hands for last year's Mayhem Festival with SLAYER and they worked fabulously. This time around, it was again Sean who introduced me to the SolaSpot 2000's, and again he knocked it out of the park. Both fixtures were used for the Taste Of Chaos Tour, and both performed flawlessly!"