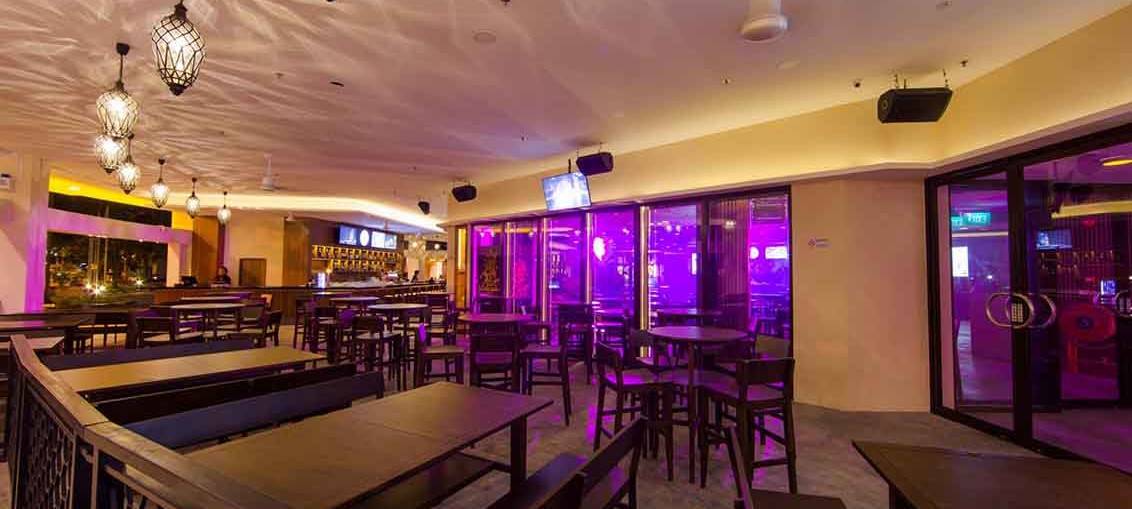 All Photos copyright of Stanley Yeo
Wala Wala Cafe Bar is an institution in the entertainment space within Singapore, having been established for 23 years now at the popular Holland Village area and continues to still rake in the crowd.
The brand recently had the opportunity to expand and took full advantage of a new 13,880 sq.ft space near the Singapore river front, to open its second venue. Called Hive By Wala Wala, the one floor, street level space, is adjoined to the Furama Riverfront Hotel and operates from 12pm.
The huge space has indoor and outdoor seating that caters for 400 patrons. The indoor area features a huge dining area that transforms into a bar in the later part of the night that features live bands and DJ music. The venue has its own kitchen that allows it to serve food all through its operating hours.
A merchandising corner sells "Hive by Wala Wala" merchandise and is adjoined by a wine retail space, that offers specially selected wines for customers to purchase. The merchandising space is shared by a Deli station and cake counter.
A private room, closer to the stage is also available for private dinners or functions. A space has been set aside for a planned Cigar Room, awaiting for official approval.
A rare sight in Singapore, is an "Artist" room just beside the stage for performers, which goes without saying is much appreciated by the performers.
An elongated bar is strategically placed for maximum effect as it can be viewed from wherever you are seating. Display screens at the back and top of the bar run promotional messages to catch the patrons' attention.
The outdoor space features a pool table and strategically placed TV monitors that are hooked up to the cable TV to cater to sports fans.
"We have segregated the space so that customers can enjoy the atmosphere without being distracted or frustrated," said owner, Stanley Yeo. "The indoor space is for those who want to enjoy good music whereas the outdoor space caters to those who want to watch their favourite sports."
The new space allows the brand to extend its food service not only for hotel guests but also for office workers within the area.
"This is a casual space offering local and western food choices and in the evenings even Yakitori options."
Indeed the space is family friendly as well, where there is even a diaper changing room.
"With such a huge space it only made sense for us to maximise the use of the space where we saw the opportunity to offer additional services," said Stanley.
The furnishing is kept simple – cement flooring with wooden chairs and tables. Yet it still feels warm and inviting, without overwhelming the patron. One other item that has been added to the space were iPads for orders.
With Singapore's labour crunch, it is not surprising that the space has locked in iPads placed underneath every table.
The system is easy to use, enables patrons to order their food and drinks comfortably and frees up service staff to serve and clean up the tables – creating a great experience for the patrons.
The Audio Experience
Wala Wala is known for its live music, where the Holland Village venue features different bands on different days. That well worked and accepted concept is continued at Hive By Wala Wala. The music offered is of mixed genre from Pop, Rock to Jazz and Contemporary.
Stanley Yeo has strong interest in music but more importantly has the ears to know a good system set-up. It might surprise many to know that though there was an architect involved, Stanley took personal interest in ensuring the space was "made for music".
"Being part of the hotel meant that we had to pay attention to music sipping out and so the first thing we did was to ensure that we had double glazed doors. We also incorporated triple layers of Rockwool within the ceilings and pillars to help absorb the sound. For the walls behind the stage I designed the multi-layered acoustic wooden panels and the cushions with fabric that would disperse or absorb the feedback from the bands."
Stanley and his team also took time to visit different brand distributors to select the sound system for the space.
"We knew what we wanted to achieve. As the space is huge we needed a system that would offer not only even coverage but clarity, warmth and the oomph for patrons to enjoy the music."
Their search ended at the doorsteps of Consolidated Audio Networks (CAN). The full sound system was supplied, installed and integrated by CAN.
The main dining space indoor, features 6 units of d&b audio Yi10 loudspeakers. The speakers are all ceiling mounted and evenly spaced as left and right configurations across the space, split into three sets. 4 units of d&b audio Yi-Subwoofers are placed under the stage, with all the speakers being driven by 2 units of d&b audio 30D amplifiers.
Though it may seem that there isn't enough speakers to cover the space, it works well.
"Both the bands and the patrons are happy with the sound system. It is crisp, clear and offers sufficient coverage," said a pleased Stanley.
With regards to the choice of the d&b audio Yi10 loudspeakers, Chad Batchelor of CAN added, "When we were approached and saw the venue plans, we knew we needed a system that was able to deliver constant SPL and coverage. On top of that, there are plans by the venue to bring in high profile acts from overseas – that is why we felt that d&b will fit into the main FOH as it is a rider friendly PA and likewise for the Midas Console that is installed."
Stage monitors comprise of 6 units of Turbosound TMW112 Coaxial stage monitors driven by Turbosound 4 channel DP40 amps with DSP. Provision is made for 6 units of Behringer P16 in ear monitoring system for the performers.
Also featured are Shure microphones for vocals and Audio-Technica microphones for the instruments.
The Private room features 2 units of Turbosound Nuq802 8" loudspeakers whereas the outdoor space features 4 units of Turbosound Nuq102 10" loudspeakers. A further 3 units of Turbosound Nuq 102 are featured in the smoking area.
The planned Cigar room features 2 units of Turbosound Nuq 122 12" loudspeakers. 4 units of Eurocom AX 6240 amplifiers drive the Turbosound speakers.
FOH features 1 unit of Midas PROC2C-CC 64 channel digital console with 1 unit of Midas DL 251 48in 16out Channel Fixed I/O for main mixing duties. A Midas M32C Rackmount Mixer handles the P16 in ear monitors.
A Midas Klark Teknik DN9650 Network Bridge ensures that the 96K sample rate signal is downed to 48K for the M32C. A Midas Klark Teknik KT-Dante Card is used to connect the Network Bridge and the M32C Mixer.
The entire space has been divided into 6 Zones for easy manageability of the speakers. 1 unit of Audac R2 Multi-Zone Digital Audio Matrix system in the Rack room handles the zoning functions. The system is complemented with 3 units of Audac Digi AIO Wall panels for easy control by staff.
"As Stanley was particular and wanted to ensure top quality, he had also ensured that cabling and connectors were of high standards. So we used Neutrik connectors and Koltz cables throughout the installation," stated Chad Batchelor from CAN.
"We do not generally see this sort of quality cables in an entertainment venue and so it was pleasing that Stanley was insistent on quality cables," added Chad.
CAN also installed Robe lighting fixtures that are controlled via Sunlight software with a Smoke Factory Haze machine also installed on a pillar for effects. The space also features a projector and screen and has 32 amps phase power outlets in case it is needed.
"The space can easily be used for events and we have even made provisions for Car Launches. Moving a few potted plants, placing a ramp, opening the low railing and our large glass door panels would allow for cars to be brought into the space. Thus the lights, projector and screen together with the audio system would easily accommodate such events," said Stanley who obviously had thought this through.
Colin Oliveiro and Ryan Sofian of CAN were instrumental in providing technical support as well as training for the venue's sound engineers. Colin highlighted that the venue's sound engineers were familiar with the console that was used at Wala Wala in Holland Village and they had to be convinced that the Midas console would enable them to perform perfectly as well.
"Once they got to play with the console, they began to appreciate the features and qualities and now they are comfortable using the console," said Colin.
Hive By Wala Wala certainly seems ready for the next phase of the Brand's growth. For the local bands as well as up and coming talents this is a space that will entertain their ambitions and for the patrons we are certain this will become the next big watering hole for many.