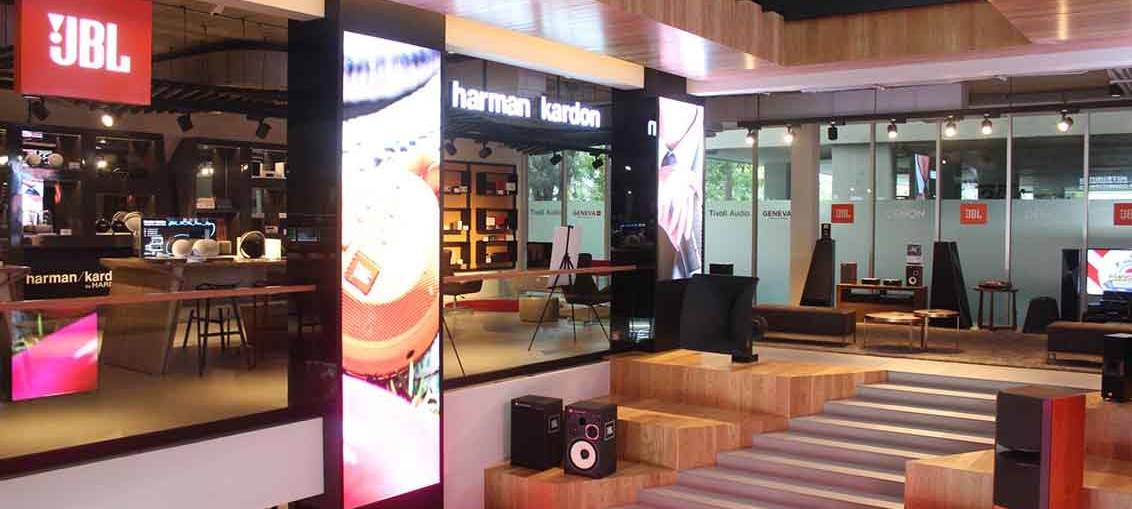 Mahajak is an importer of world class audio and lighting products under the global brands of Harman Group (BSS, CROWN, dbx, JBL, Soundcraft, Martin, Harman/Kardon), as well as DENON, GENEVA, Tivoli, SHURE and an exclusive distributor of Mitsubishi Heavy Duty air conditioners in Thailand.
As the Nana office is the headquarters of Mahajak Development and located in the business area of Bangkok, a large number of customers visit Nana's showroom each day. The old showroom was showing signs of wear and tear and was also too small to showcase the wide variety of products distributed by the company. More importantly, it did not portray Mahajak's vision to be a world class products distributor. Thus, the company decided to move into a new showroom when the opportunity arose, that would enable them to showcase their solutions in a more conducive environment and create a better experience for customers.
The "touch, hear and experience" aspect of their solutions in the new showroom is also expected to help customers make better purchase decisions. The new showroom is located on the first and second floor of the new four-storey office building next to Mahajak's old building at Nana. The third floor is an office while the fourth floor is a multi-functional room called "M Hall".
The new showroom has a luxurious modern interior design that is decorated with wooden furnitures and glass display shelves. Customers are able to reach products and evaluate them more easily in the showroom.
The 1st floor space is 323.9 square meters and displays professional audio products and has a service corner. The 2nd floor space is 354 square meters and showcases consumer products such as home audio products, multimedia products and air conditioners. In addition, there are demonstration rooms for home theater system in order to present Dolby Atmos and DTS:X system.
Furthermore, the multi-functional room or M Hall on the fourth floor is built for any internal events such as seminars including training and workshop. This room has already been used for events such as the Mahajak Pro Open House 2015 in August and Surrender Your Life to Sound which was a new product launch event for JBL and Harman multimedia products in November 2015.
Though the new Showroom has been effectively operating since July 2015, there were still minor improvements being made to ensure that standards were met. 1st February 2016 saw the new showroom being officially announced to the Public with special promotions being held till the end of February.
When ETA visited the new showroom in December last year, we also noticed some real cool gear displayed within the space that can easily be considered as collector's items. Audiophiles for sure will love to check out the items!