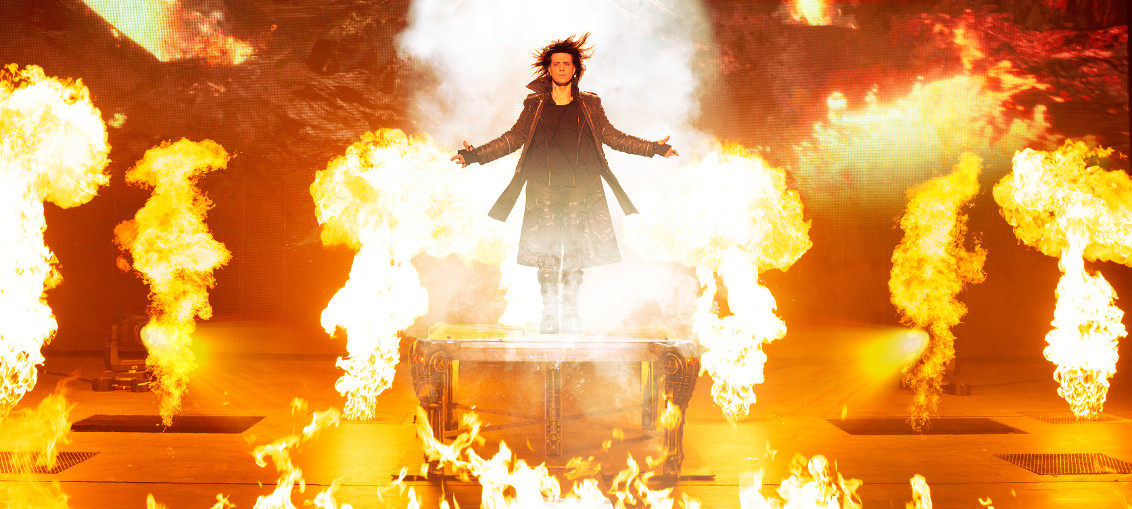 D
AS Audio worked with mind-blowing producer, director, and artist
Criss Angel
– and his sound designer Aaron Beck – to design a state-of-the-art audio system for the brand-new illusion spectacular CRISS ANGEL MINDFREAK at
Planet Hollywood Resort & Casino Las Vegas
.
The aim of the system design was to provide an emotionally stimulating and engaging audio experience for the audience.
Sound Engineer, Jimmy Kwon, pointed out the requirements for the show, "Criss needs a sound system that can handle a diverse spectrum of sound, from EDM to rock while also delivering crisp clarity while he performs close up and speech".
Taking this into account, the project focused on designing a multichannel sound system that would create a consistent, quality, immersive audio experience throughout the show.
According to Kwon, "After fine tuning the time alignment and EQ, the system really proved that the design team would be able to deliver whatever Criss wanted, however he wanted. Criss' vision, supported by Aaron's system design and DJeff's (Music Director) programming, was able to come true because of DAS Audio system's capability."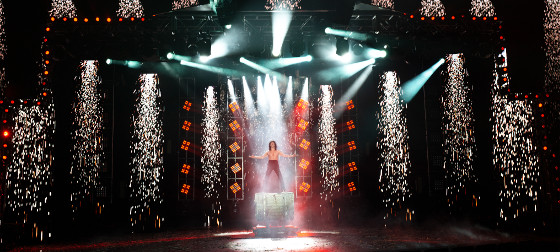 The sound system in this production receives 23 different input signals. System processing is handled
by 3 x DSP 4080 processors controlled by DASnet (watch), and 3 x DAS DX Series amplifiers with built-in processing, controlling 41 independent audio outputs feeding a multichannel system achieving clarity and a truly immersive environment.
The multichannel design consists of a main system of 2 clusters of custom Aero-20A and Aero-20.120A, the UX-218RA flown subwoofer and 2 x Aero-8A central systems, along with Artec-510A and 508A systems for fills.
The installation was reinforced with 6 powerful UX- 30A for the reproduction of very low frequency program material, and Artec-510 and 526 systems along with the Vantec-15 as side and rear reinforcement powered by the DX Series amps that work as part of the sound immersion of the show.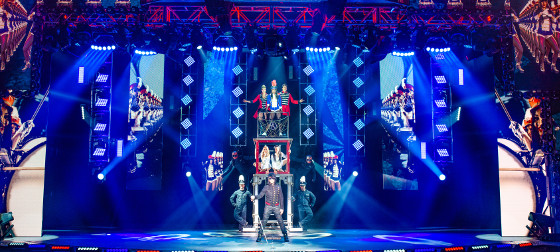 Additionally, the main system used DASaim (watch) optimizing SPL distribution and frequency response
throughout the audience.
Once in action, "we quickly realized the system could do anything we wanted to and provide a very unique experience to the audience," reported Beck.
"Criss and I were really looking to design a system that could reproduce the live elements and work for the multichannel audio playback system. The show is very dynamic and can go from just talking to a full surround, full dynamic level – similar to a nightclub experience. Criss really wanted to create a unique sound environment and DAS Audio really delivered."
Angel, pleased with the result, commented: "It´s truly the first time I've ever felt like I could touch sound – it really is true magic. The system supported my creative vision from the earth-quaking lows to the insane clarity of the highs, and everything in between – second to none."