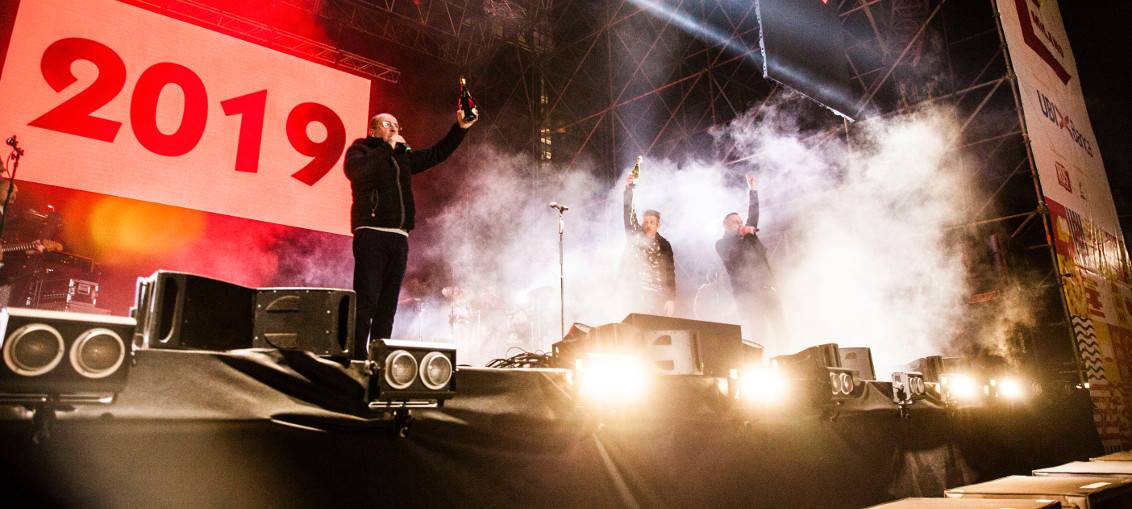 As usual, there was a huge crowd for the traditional concert held in front of Milan cathedral to welcome the new year, animated by singer/songwriter and multi-instrumentalist Francesco Gabbani and his band, the energy of the Bluebeaters, with their infectious ska and rocksteady rhythms, RDS radio personality Paolo Piva, comedian Dario Vergassola and a DJ set.
The big challenge to be faced this year was ensuring acoustic coverage for 20,000 spectators without the use of delay systems, explained Sacha Bozzo, Head of Show Technologies from Recco (Genoa), the event's rental company.
"It was of fundamental importance for us to ensure everybody a great show, and at the same time meet all the security regulations an event of this type involves, so we decided to approach the project without taking delay systems into consideration, as they would have probably ended up blocking sightlines and escape routes. Our system engineer, Giancarlo "Jerry" Paladini, and Giulio Gandini (Outline Tech Support) did a great job on this and, thanks to Outline's OpenArray3D modelling software, we were able to preview several simulations and transform the best on paper into reality."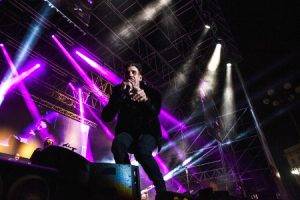 Paladini explained in detail, "For the main Outline rig, as well as 12 GTO C-12 and 2 GTO-DF per side, for spectators at each side of the (14-metre wide) stage, there were 12 Butterfly plus 3 Mantas. 24 DBS 18-2 subs were installed two-up on the ground, with 6 Mantas as front-fill speakers.
This set-up was powered by 12 Powersoft X8 amplifiers and an Outline Newton 16+8 was used as a matrix managing the 2 Digico consoles and as a FOH processor. On stage, there were 2 sidefill systems made up of 3 Mantas and a Subtech 218 each, powered by Outline T5 amplifiers. The monitor set-up was also Outline, with 10 Vegas 12 CX and a V15 system on drum-fill duty, as well as 4 Vegas 24 for comms between the FOH and monitor desks."
Marco Dal Lago, a freelance sound engineer with fifteen years' experience on tours, helmed the FOH console, and his experience also includes studio work as both sound engineer and producer. Dal Lago had already worked with GTO systems on various occasions:
"I've been able to use both the twin 12-inch and twin 18-inch systems, the latter with (top female Italian rocker) Gianna Nannini in Brescia and Prato. Through the years, I've also used other Outline systems – from Butterfly, when it came on the market, through those that followed, I had the possibility of using them all with various artistes and on numerous festivals."
The sound engineer mixed a total of almost 50 channels and, although it was a reasonably standard pop-rock situation musically speaking, the sound was hard-hitting and tight.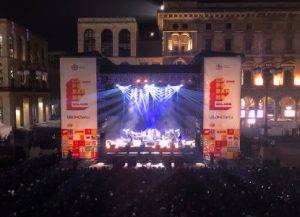 After the event, Dal Lago emphasized some of his favourite features of the Outline C-12, "First and foremost the timbre – really complete, over the entire sound spectrum. Then, as well as the truly remarkable impact, I was impressed by the dynamics – pulling up a guitar solo and having the feeling that the PA has a load of dynamic headroom is a wonderful sensation, that's only possible with a few top-end systems. I also noticed the sensitivity with which the PA responds to even the smallest adjustments, with immediately noticeable results."
Dal Lago also appreciated the Newton processor, based entirely on FPGA technology, describing it as "very interesting and full of potential."
The engineer concluded: "It's a pleasure to see – and hear – an Italian product that is definitely to be included among the most best and most enjoyable I've heard, and, along with a few other foreign brands, certainly the benchmark at international level from which to take tips for beautiful sound and general characteristics."
Bozzo added, "I'm very satisfied with the result achieved, the square was totally covered, as far as both the area closest to the stage was concerned (7,600 spectators in 3,800 square metres), and the outer area (12,200 people in 6,100 square metres)."