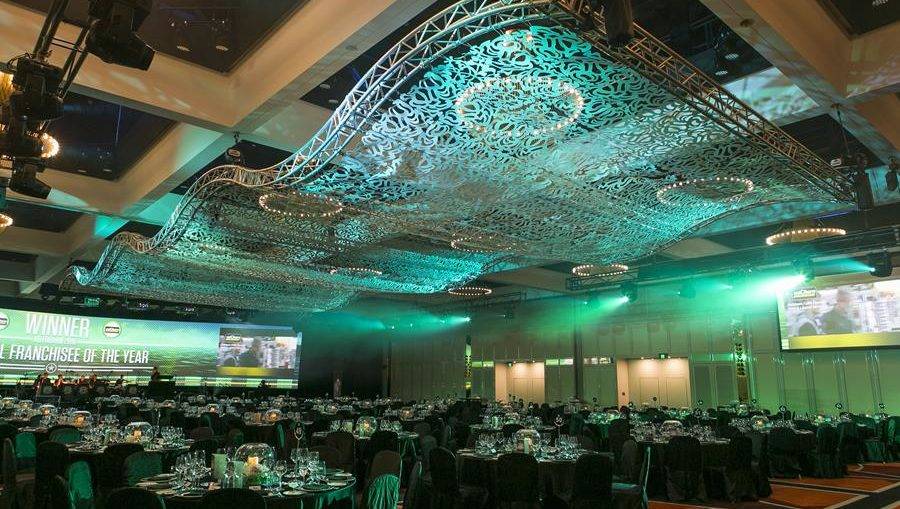 Celebrating suppliers and store owners for the gala awards of the Automotive Brands Convention at Crown Perth on 22 September, Staging Connections designed a vibrant aquatic atmosphere for the 540 guests, complete with a 25m central ocean wave ceiling, 28m curved screen with impactful multimedia, eccentric styling and lighting sequences inspired by the ocean's flora and fauna.
Thirty moving light fixtures created colour and movement throughout the Grand Ballroom, highlighting the brand's colours against the central ocean wave ceiling and celebrating each of the award winners with bold effects. A blend of 4 Panasonic 16k ultra bright projectors displayed panoramic views of Perth's waterscape on the massive curved screen whilst waves of lighting washed through the onscreen images. Large fishbowl centrepieces with coral and shells were offset with pastel coloured florals and black linens, tying the vibrant marine theme together.
Grant Jarrett, Executive General Manager – Operations, Automotive Brands, commented on the success of the gala event.
"Creating a memorable atmosphere is really important for our bi-annual convention, it's an event that our suppliers and store owners look forward to and it's our opportunity to recognise and thank them for all their hard work."
"Staging Connections brought together exciting technology and creative ideas to deliver a truly spectacular event. They developed the marine theme based simply on our event invitation; it was fantastic to provide a cohesive experience for attendees from start to finish and most importantly, to see this exciting theme be brought to life," said Mr Jarrett.
Rob Meek, Project Manager, Staging Connections described how the concept for the awards ceremony came together, as a fitting celebration to conclude the five day convention and exhibition.
"We had the privilege to deliver this imaginative atmosphere for attendees, embracing the marine theme and using custom technology solutions. We blended all forms of multimedia, lighting, styling and décor to create a lively, unique and fun celebration that had the guests all reaching for their cameras!
"Having worked with Automotive Brands for the past six years, we aimed to exceed expectations once again and our team certainly delivered; we were thrilled with the results," said Mr Meek.
Staging Connections provided complete production management for the Automotive Brands Convention Gala Awards with an event manager, event designer, technical director, multimedia designer, stage manager and ten show crew on site.