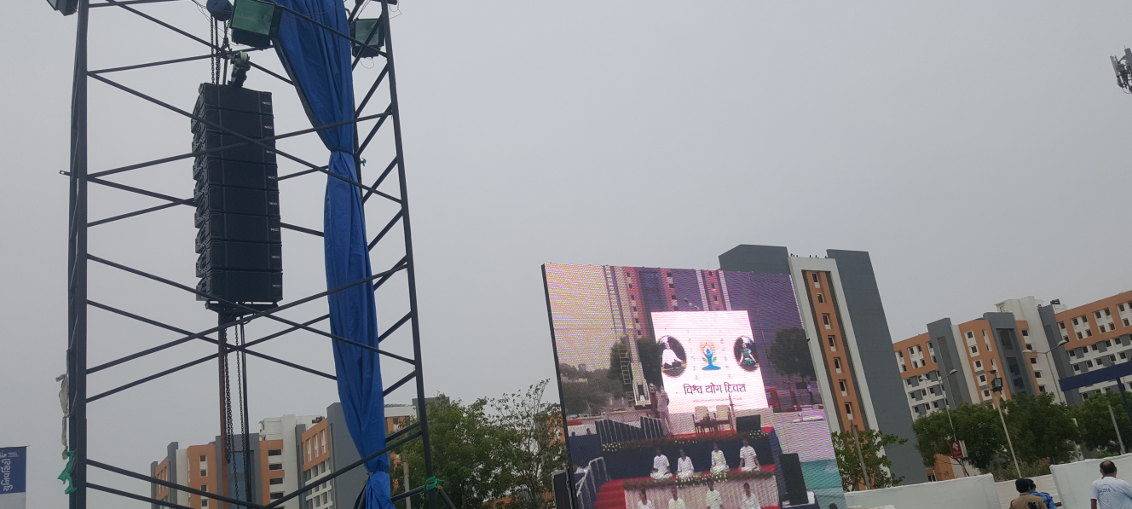 Pictured: Karryman Sound debuting the M28 at International Yoga Day in Ahmedabad
NEXO STM M28 line array systems have been purchased by three rental companies in the Mumbai/Goa region: Just Audio, Karryman Sound and Chakor Sound are out and about with STM systems configured with the M28 as main module.
I
n a country where music can be heard on every corner, NEXO's STM Series modular line arrays are delivering an exciting versatility to India's rental companies, enabing them to design a wide range of systems from just four core modules.
The breakthrough product has been the STM M28 module, the newest and smallest member of the STM family of loudspeakers. This injection-moulded all-purpose 2-way loudspeaker cabinet provides 90°/120° of horizontal dispersion and 0° to 15° splaying angle between modules.
Troy Furtado, owner of Just Audio in Goa has long been an admirer of NEXO and recently added 12x M28s , 6x B112 bass cabinets and 6x S118 subs to his inventory. Just Audio has deployed the system at various events, including the recent Goa Carnival.
In Troy Furtado's words, "I dont compromise with sound quality and now prefer to install M28 for every show. Its versatile features enable me to spread sound to the every corner of the venue."
Raju Naidu, the Mumbai-based owner of Karryman Sound, also invested in M28, adding 16 cabinets to his inventory and debuting the system at International Yoga Day in Ahmedabad.
"I love the tone. This system suits any type of application, whether you fly them or stack them. We are killing it … Jai Ho Nexo!"
And Mumbai-based rental company Chakor Sound has also invested in a compact system with M28s and S118 subs. His verdict, after using the system at the PALM SHOW in the YAMAHA Live Arena, was that the rig is "small but powerful, so easy to rig, just the best of the best."