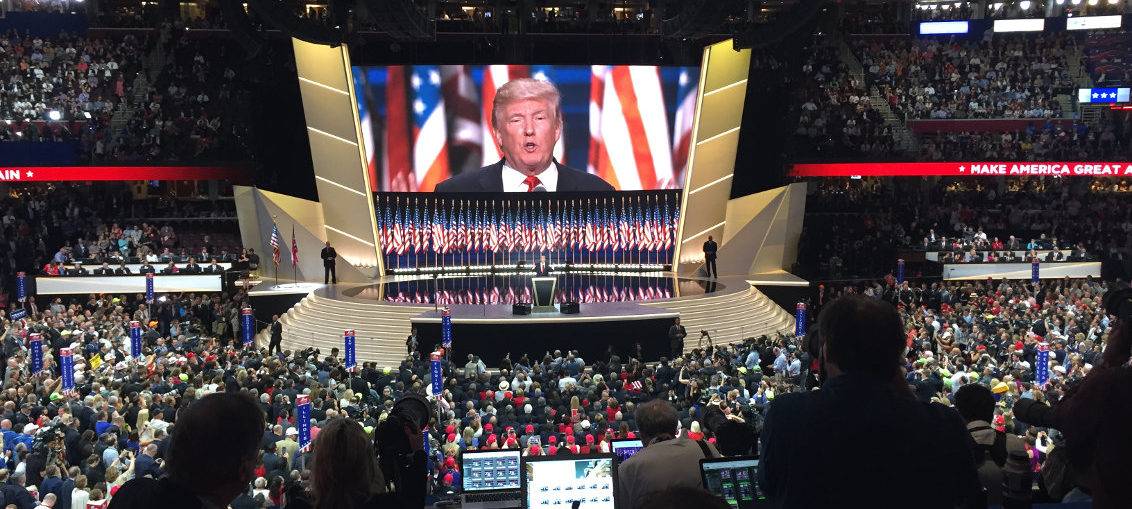 The results are in and Clay Paky Mythos lighting fixtures and grandMA2 consoles got votes of approval from lighting designer David Grill and lighting director Paul Sonnleitner at the Republican National Convention. A.C.T Lighting, Inc. is the exclusive distributor of Clay Paky and MA Lighting in North America.
T
he 2016 RNC at Quicken Loans Arena in Cleveland marked Grill's fifth convention and his first as the sole lighting designer. Grill, who heads David Grill Associates Inc. in Mahwah, New Jersey, utilized some 500 fixtures. All but four followspots were automated, and he believes the convention may have been the first whose rig was comprised entirely of moving lights.
"Moving lights gave us more options in terms of color, especially when we went to a video," he says.
"The producers wanted the large video screen, which was 85 feet off the ground, to play a big part in the convention. All the trussing was at 85 feet with a throw distance of 120 feet, which meant I needed high-powered instruments. That negated using any conventional fixtures, so the rig featured all moving lights."
PRG provided Grill with 68 Clay Paky Mythos for effects lighting during ballyhoos and moments of high emotion and celebration.
"They worked very well. The Mythos were extremely bright and cut through 65 foot candles of white light on the floor," he explains.
"I think Mythos are great lights. They're very versatile: gobos, hard edges, soft edges, beams – they offer a wide range," Grill says.
PRG also supplied three grandMA2 consoles. The show was run on a full-size desk; another full-size provided FOH control and a grandMA2 Light was on hand backstage if needed for back up.
"The grandMA2 is always my console of choice," says Paul Sonnleitner, a freelance lighting director with Broadway, touring, corporate and live TV credits. He has worked with Grill for decades. "It was a logical choice for the RNC as the desk makes it so easy to control a large number of fixtures over a huge area.
"I used the layout feature to help me visualize and organize the rig both by location and by purpose and to give Dave what he was looking for quickly," Sonnleitner explains.
"The plethora of inhibitive submasters, and playback and speed masters, gave me a fully flexible surface on which to mix the television lighting levels. With live television events, reacting quickly to those unanticipated camera moments is crucial, and the grandMA2 let me do so with ease."
He notes that, "from a system standpoint, the MA2 allowed me to ship massive numbers of DMX universes anywhere within the venue. It was reassuring that grandMA2 is able to speak so many different protocols."
Sonnleitner adds that, "via DMX merging, we even shared control of a dozen fixtures in our rig with some of the television studios around the perimeter, while maintaining ultimate control of their intensity."