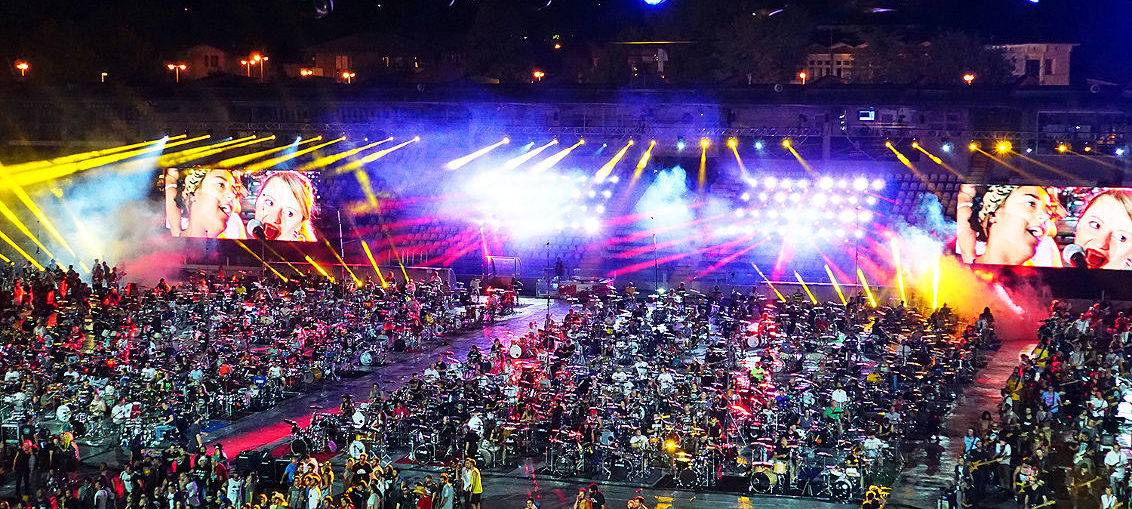 For the first time ever a band of 1,200 musicians performed before an enthusiastic audience in a concert worthy to enter the Guinness Book of Records.
On the lawn of the Manuzzi stadium in Cesena, Italy, the 1200 musicians played a real concert before an audience of 13,000 (the tickets were sold out). The concert kicked off with a thrilling start with Bitter Sweet Symphony of Verve in a continuous crescendo through Beatles, Rolling Stones and Bowie, until a torrid final Led Zeppelin medley.
In short, a great performance, thanks to a perfect technical organization.
DTS was on site with over 400 moving lights, at the very centre of the beautiful light show created by LD Claudio Tappi, who had transformed the event into an extraordinary visual feast, in the best traditions of the great rock concerts.
The EVOs were arranged in backlight on a large matrix; The RAPTORs were positioned along the perimeter around the musicians and on the trusses; while The NRG 1201 units light up the audience.
B-HAPPY was the concert staging and technical sponsor while AMG International supplied the DTS moving heads.