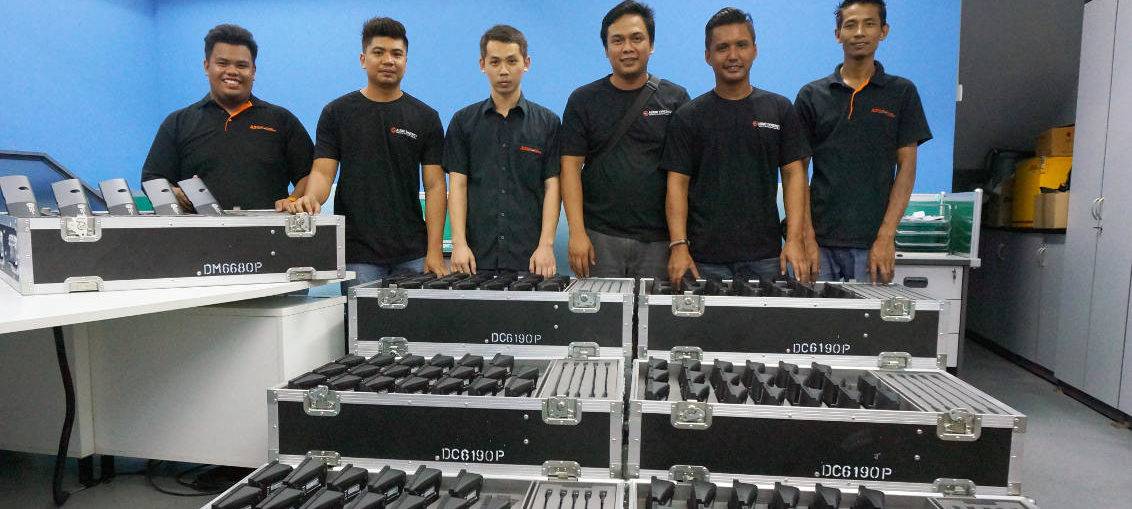 The ASPC team with their acquisition
Adding to their already impressive Shure inventory which includes UHFR, PSM1000, ULXD, the Kuala Lumpur-based audio visual service provider, Audio Synergy Projects & Concepts (ASPC) is now the first Malaysia Shure DIS SCN Partner – bringing Shure Discussion, Conference System to the Malaysia MICE – Meeting, Incentive, Convention, Exhibition & Events scene.
ASPC was conceived in 1998 when Mr. KH Thong, a young entrepreneur, started a small PA system touring kit for corporate events. Thong felt that Malaysia was severely lacking in terms of high-end conference/interpretation system solutions. Instead of renting less than optimal solutions, he decided to team up with Shure and start as the SCN partner.
Shure Conferencing Network (SCN) is a manufacturer-sponsored network of conferencing equipment rental providers serving the global meetings and events segment.
Understanding that the international corporate conference event circuits often demand a particularly high standard across the board, Thong knew exactly what would be required to deliver, and what would be the expectation of the leading corporate events from the production partners.
ASPC acquired an initial full range of few hundred channel DCS6000 & DDS5900 system comprised of DC6990P & DM6680P – Portable Conference Unit, CU6110 – Central Control Unit, IS6132P – Interpreter Set, DT6008 – Digital IR-Transmitter, RA6025 – Infrared High Power Radiator and etc.
Powerful, scalable, and flexible, the DCS 6000 Digital Conference System allows even the largest meetings to be managed with complete control and reliability.
With comprehensive hardware and software options, the DCS 6000 can conform to the specific needs or protocols of any group or organization, from city councils to global enterprises. Choice of touchscreen, portable, flush-mounted, or customized conference units supports up to 3,800 delegates; allows for simultaneous interpretation of up to 31 languages with extensive software options support voting and complete conference management.