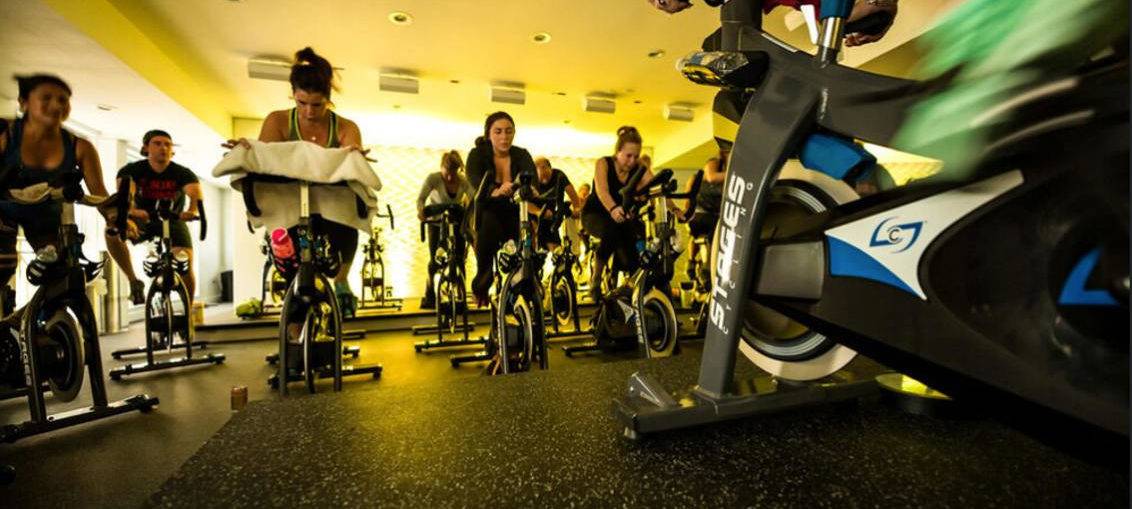 Ride Delray Indoor Cycling Studio is an upscale, low-attitude cycling and fitness studio featuring instructors specifically trained in Stages Power metered bikes. As part of a recent renovation, the facility installed new lighting, video and an audio system centered on i-Class loudspeakers from VUE Audiotechnik.
R
ide Delray's 1,000 square-foot studio previously employed a home-grade hifi-type sound system that had been installed by a home theater AV company. According to Jay Krause, of Sound & Lighting Solution Inc., the VUE system is part of "a complete makeover of the entire facility including audio, lighting and video.
"All of the loudspeakers in the venue are VUE. A total of 14 VUE i-2×4.5 and two is-26a powered subwoofers were used for the installation. The system was spec'd to look sexy and have a small profile because the ceilings are very low (less than 10 feet). There's a speaker focused on every two bikes."
VUE's i-Class Integrator Systems is a line of premium-grade integrator loudspeakers designed for applications ranging from foreground music systems to fill systems for distributed PA.
All i-Class cabinets are constructed from high-density wood composite for increased fidelity when compared to plastic enclosures, and feature purpose-built transducers as well as precision crossovers.
The i-2×4.5 Dual 4.5-inch Surface-Mount Foreground System is a two-way system containing dual 4.5-inch polypropylene low-frequency drivers and a one-inch ferrofluid-cooled silk dome tweeter with a Neodymium magnet structure.
Capable of a maximum long-term output of 115 dB SPL, the i-2×4.5 has a frequency response ranging from 90 Hz to 20 kHz, and a coverage pattern of 70×70 degrees. The angled cabinet design of the i-2×4.5 facilitates installation in corners or on flat surfaces using the included mounting hardware and audio connection is via recessed phoenix input terminals.
VUE's is-26a Compact Surface Mount Subwoofer System is a perfect complement for the i-2×4.5, extending low frequency response of the system down to 48 Hz with a maximum long-term output of 118 dB SPL. The is-26a's onboard amplifier delivers 220 watts to two pro-grade 6.5-inch low-frequency drivers with high-quality rubber surrounds and 1.5-inch voice coils for enhanced bass performance and increased power handling.
A high-density wood enclosure with integrated hang points and optimally tuned ports enables the is-26a to achieve high sensitivity (95 dB 1W/1M). For easy integration with i-Class satellites, the is-26a includes a variable low-pass (80 Hz – 200 Hz) attenuator, articulated gain control and an XLR loop-though output.
The i-Class' unobtrusive cabinet design proved to be a distinct asset in the Ride Delray installation, where the i-2×4.5's white finish enabled it to blend with the ceiling. "We had an issue with the height of the ceilings," explains Krause.
"We wanted to give the client a 'nearfield' experience with the i-Class speakers, which are very low profile and have a nice high-tech look to them. With every couple bikes having their own speaker in front, the end result makes you feel totally immersed in sound. In fact it's difficult to tell where the sound is coming from when you are on the bikes.
"The is-26a subwoofers worked fantastic by being compact enough that we could place both of them under a small 10-inch instructor riser. They literally disappeared in the room and didn't take up any real estate."
Krause says that the reaction to the new sound system at Ride Delray has been extremely positive.
"All of the clients love the new system," he says. "In fact, the owner told me that in the past they'd have earplugs available for people who did not like the prior system. Since the installation of the new VUE system, they've not been asked once for earplugs and they also told me there are no longer any complaints about not being able to understand the instructors who teach the classes."