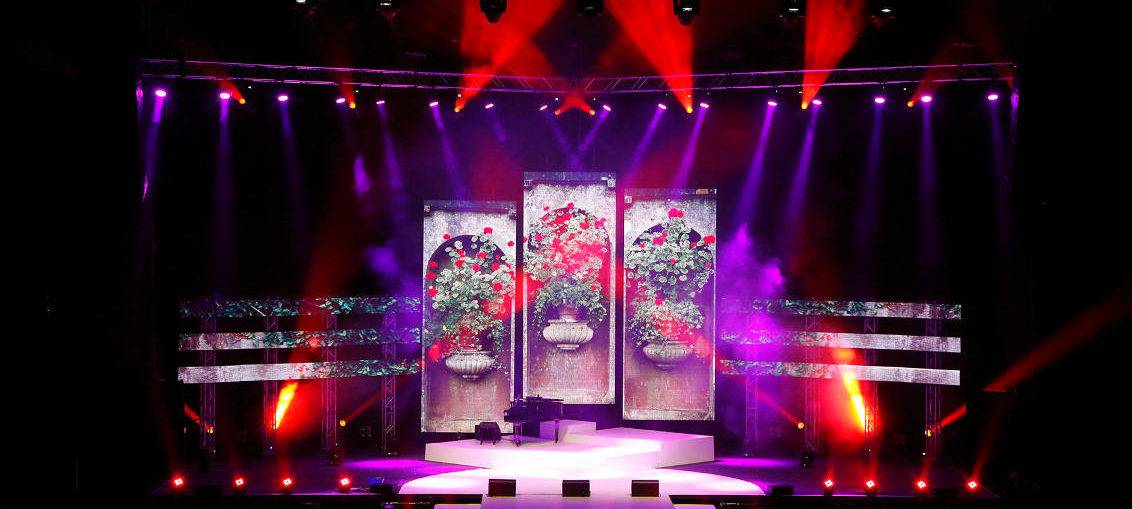 Photos credit: Dean Cohen
Popular New Zealand vocal trio Sol3 Mio recently completed a very successful national tour which was lit by Joel Stanners using 16 x Robe BMFL Spots as the main hard edged fixtures. These were supplied by leading NZ lighting and production rental company Oceania from Auckland.
J
oel has worked with the trio – classically trained brothers Pene and Amital Pati and their cousin Moses MacKay – for the last two years, and this was a completely new design involving a greater LED screen element than previously, together with more lighting. Set and video was designed by Pak Peacock and included a thrust stage that dropped to reveal three different levels plus various height risers onstage to make the environment more off-beat and interesting.
Joel first listened intently to the music to get a feel for the flow and rhythm of the set and then started designing the lighting which also had to complement the video content which was produced by Lotech.
The main design comprised a V-shaped truss that mirrored the layout of the LED screens below. On each side of the V were 5 x BMFL Spots, so a total of 10 in the air. The other six were positioned three per side on the deck behind the side LED screens.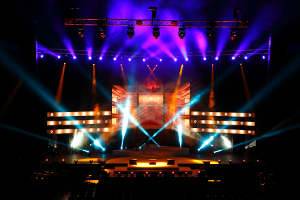 The overhead BMFLs were used for a multiplicity of tasks – anything from backlight specials to aerial beam effects and a couple of times for silhouetting the three singers, particularly effective in the final song which was extremely moody with lots of smoke.
He used the animation wheel to create a flickering flame effect in the same song – Ed Sheeran's "I See Fire", which was also the only time during the show where the screens were completely dark!
The tour played a mix of venues from basketball stadiums to assorted arenas so the rigging weight limits were variable.
Joel chose to work with BMFLs – supplied to Oceania via Robe's Australian & New Zealand distributor, the ULA Group – for several reasons, primarily because "they are technically very versatile and so light in weight!"
He wanted to have to make minimal changes to the rig each day, which wasn't always possible due to the spatial challenges, but in most cases they could fly 90% of the rig, which was "only possible because of the light weight of the BMFLs".
In addition to that "They are BRIGHT!" he declares.
The animation provided some valuable extra creative oomph!
"Just when you think you've done everything possible, you can throw in the animation wheel and bring out something totally new and alternative!"
He also appreciates the fast zoom 'Especially with a full rig of BMFLs this is a great effect," he enthused and one that he's used in many different iterations on TV shows, awards nights, live concerts and corporate functions.
"The luminaires adapt well to any scenario that might happen to lighting."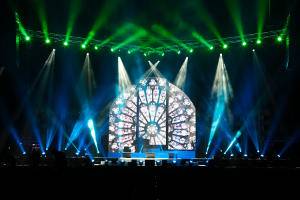 He also likes the three different lamp options, although for his own shows he typically sets them to 1700W as he reckons it's better to have the option of pulling back the intensity on the console. He also triggered all the playback video content via the desk.
The look and feel of the show's lighting encompassed many ambiences embraced by Sol3 Mio's live performance – from popular musical numbers to edgy, tense choral pieces and full-on melodramatic operatic arias.
It started fresh and bright and became darker and more theatrical as the first half of the set unfolded. The second half experience was more up-beat with some classic sing-along moments thrown in, needing plenty of audience lighting, big rolling beamy looks and vibrant party mode colours, all giving Joel a chance to optimise the BMFLs and the other fixtures on the rig.
He thoroughly enjoyed the whole project from start to finish.
"I love seeing the audience reactions and it's amazing how lighting can enhance and impact on people's emotional responses. This show in particular wrapped everyone up in its journey, and to be part of that experience was very special."
Joel Stanners first got into lighting at high school when he was about 15 having been involved with a local theatre company since he was 12, initially as an actor. He became increasingly fascinated by lighting after tech'ing one of the theatre's productions and knew, right from that moment, that he wanted to make it his profession.
He worked for Oceania for around five years broadening his experience of lighting and teching all types of shows and events, and in April 2016 relocated to England to further his career and take on new challenges and horizons.