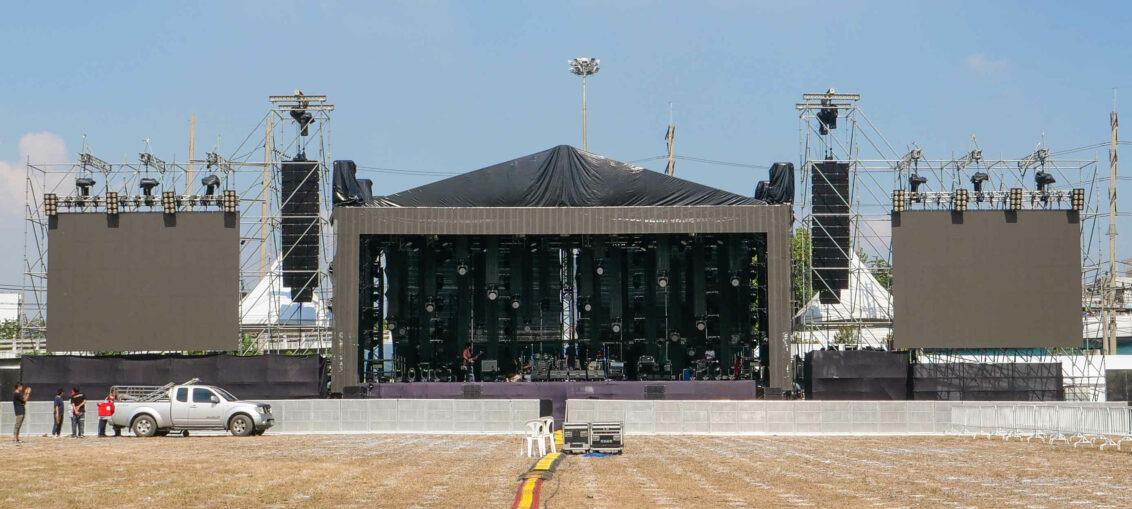 It is music to the ears to hear of equipment sales and proper concerts being held in 2020. The year had ravaged the events and ancillary industries globally. A few countries have managed to control the COVID-19 virus spread and remarkably have returned to almost everyday life in Asia. One of these countries is Thailand. It is undoubtedly a relief to those involved in the audio visual industry.
Sonos Libra, the distributor for Adamson speakers, had recently sold Adamson's flagship speakers, the E15 Line Array to rental company Live 4 Viva. The company is familiar with Adamson speakers' quality as they had purchased the S10 line arrays and E119 subs three years ago. In total 24 units of Adamson E15 line array modules, 12 units of E219 subwoofers, four E-Rack Amplification units featuring Processing and Signal Distribution modules, 12 units of Lab.Gruppen PLM20k44 and Lake Processing units, Klotz ready-made cables and rigging and hardware factory accessories were sold by Sonos Libra to Live 4 Viva.
The E15s were put to immediate use by Live 4 Viva at the recent 7th edition of the CAT Expo music festival. CAT Expo promotes alternative music as well as new upcoming talented bands and artists. The Expo features five stages set up for the different performances complemented with booths for alternative record labels to sell swag, food and beverage outlets, and fan meeting areas. The concept has certainly resonated with the audience as this year saw the festival's largest gathering of 60,000 fans over the two-day event.
Live 4 Viva was responsible for the entire audio-visual-lighting system at Stage 1. Sonos Libra provided its engineering team to ensure the speakers' correct and safe deployment as it was the first time Live 4 Viva was using the system.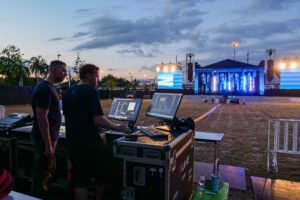 "There were some challenges that needed our initial input, and we decided to be fully involved in it. Sonos Libra also wanted to ensure correct sonic fingerprint of the E15 as there was a lot of anticipation to listen to it for the first time in Thailand," said Sonos Libra's Chief, Alfonso Martín.
The stage comprised all the 24 units of the Adamson E15 Line arrays that the company had purchased as main PA with four of the previously purchased S10 Line Arrays used as down-fills. Providing low frequency reinforcement were 12 units of Adamson E219 and eight units of Adamson E119 Subs in a centred line array electronic arc configuration. Eight units of Adamson S10 split into four stacks of two units were used as front-fill and out-fills stack on top of the E Series subs. Seventeen units of Lab.Gruppen PLM20k44 amplifiers drove the speakers within the Adamson E-Rack turn-key packages, using Lake Processing units.
Mixing for the performance was done via an Allen & Heath dLive S5000 complemented with DM64 Stage Rack fitted with Dante Card and DX32 Stage Box with Prime 32-bit Inputs/Output Modules. Another Allen & Heath dLive S5000 was used in dual surface mode to provide Stage Monitoring control. Signal distribution featured Audinate DANTE @96kHz Primary/Secondary, with AES and Analog providing automatic fall-back ensuring redundancy.
Smaart V8 software was used to help tuning and align the system and verify the coverage and SPL results obtained in the Adamson Blueprint simulation software prior to rigging . Four units of IsemCon EMX-7150 Measurement mics helped in setting up the speakers configuration. These were connected wirelessly via MiPro TX580 to the System Engineering rack from Sonos Libra where a MiPro ACT-848 Dante system was receiving the signal. Further processing and control for the measurement rig was provided by a Xilica FR1 modular processor.
As expected, the E15 line arrays together with the the supporting ensemble of equipment performed remarkably.
Live 4 Viva General Manager commented, "We had chosen Adamson for several reasons, including sound quality, easy deployment, compact yet powerful format and increase demand for E series in international riders. Live 4 Viva is adding more and more high profile concerts and events to its portfolio of jobs. When we added Adamson S10 3 years ago, we discovered how flexible and reliable the system is. This gave not only further confidence to our customers but also increased demand for the system. Our move to the E Series is scaling up this concept to a much higher level".