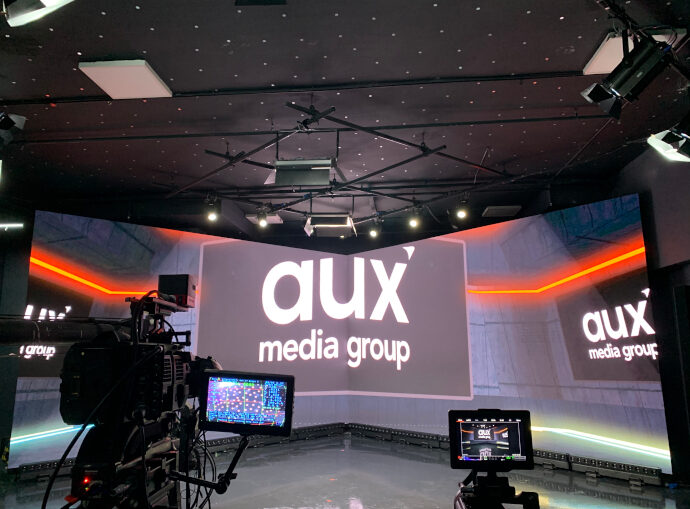 Singapore's creative content development agency in events and media production, Aux Media Group, unveils its newest facility – Aux Immersive Studio, an immersive environment that merges physical and virtual events, through Extended Reality (XR) technology and game engine systems, to bring brands and content to life.
A first of its kind in Singapore, Aux Immersive Studio allows marketers and content creators to connect with their audiences in a refreshing, and more immersive way by bringing elements of their presentations to life through XR. Viewers watching behind their screen will be able to see CGI animations and lifelike set side-by-side with the actor or presenter, delivering a seamless 360- degree visual experience that is three-dimensional.
In the new normal, where more events are held online, brands, organisations and content creators are constantly looking for innovative ways to engage their audience through online events and webinars beyond archaic green-screen technology or static LED backdrops. Marrying the physicality of in-person event and virtual event experience, Aux Immersive Studio creates new possibilities for immersive learning, virtual merchandising and events, audience interaction and brand activation.
"Traditional digital experiences don't cut it any more. To allow brands to engage better and share their messages, we need to push the boundaries of storytelling in the digital realm. With Aux Immersive Studio, we are bringing XR technology to Singapore and integrating it with our capabilities in existing technologies, to widen the scope of what is creatively possible. This will allow for new opportunities and tailored solutions to bridge brands and organisations with their communities," said Choong Chyi Kei, Chief Executive of Aux Media Group.
Aux Immersive Studio is a 4000 square-foot space, equipped with state-of-the-art XR equipment, motion trackers, multi-cameras, as well as modern live streaming capabilities. This smart set-up allows immersive environments and graphics (for example lifelike animations or data overlays) to be rendered in real-time around the presenter. Unlike traditional formats of presentation where the presenter needs to memorise tracking patterns, XR creates graphics that are also visible and interactable on the live-set by the presenter, allowing for more engaging visual content and more dynamic storytelling.
The new technology introduced by Aux Immersive Studio is applicable for a wide range of fields. From education and training, to retail and marketing, to entertainment, brands and organisations can utilise XR in a myriad of ways to present their content or live-streaming events to audiences.
Creating immersive experiences has been a focus of Aux Media Group's mandate to bridge brands to people. The team behind the Marina Bay Singapore Countdown and the Singapore Night Festival has been pushing for new ways to excite and involve the audiences in its campaigns. As it commemorates its 20th year in 2020, the introduction of the Aux Immersive Studio marks the next stage of growth for the homegrown experiential and events stalwart.
Aux Immersive Studio is powered by Aux Media Group's partnership with UK-based creative technology company disguise, and Japanese audio-visual industry kingpins Yamaha and Panasonic. disguise has helped create global concert tours for artists including U2 and Ed Sheeran, and theatre productions such as Frozen and Harry Potter. Its ground-breaking technology made headlines recently with XR Studios using it for Katy Perry's "Daisies" performance during the American Idol 2020 finale. Subsequently, more and more major events have selected disguise xR as the Virtual technology platform, most notably the recent MTV Video Music Awards, on America's Got Talent and various Kpop performance in Korea. Apart from live events, disguise xR is now being deployed beyond broadcast to film productions and commercial shootings, which makes it one of the most versatile virtual production platforms in the market.
This partnership makes Aux Media Group the first to deploy this truly collaborative digital experience in Singapore and the region.
"Housing all these next-generation digital tools in a single facility under Aux is in line with our goal to be a one-stop agency partner that delivers great outcomes in the most cost-effective manner." said Choong. "From the most spectacular and imaginative showcase to the most intimate and detailed dialogues, Aux Immersive Studio will create bold and better experiential solutions for outreach and engagement, and literally help you realise your vision."