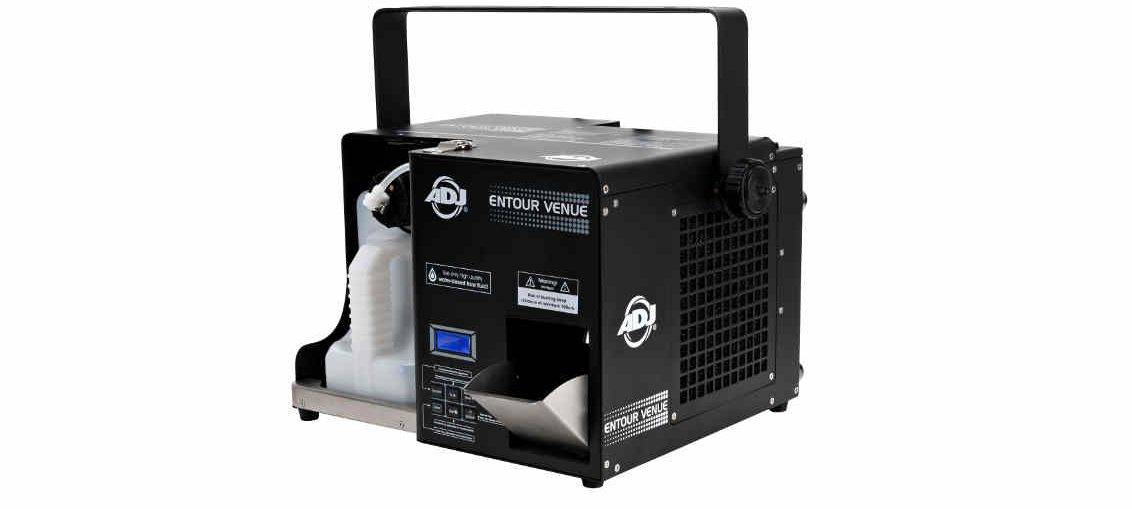 Following the success of its Entourage professional-grade touring faze machine, ADJ has introduced a new addition to its range of atmosphere-generating effects units. The Entour Venue is a flexible, high-output, water-based professional faze machine featuring an integrated hanging bracket that is designed for both mobile use and permanent fixed installations.
Despite its compact form, the Entour Venue offers an output of up to 15,000 cubic ft. per minute due to a high-speed fan and 1500W heating element. The Entour Venue is fitted with both rubber feet and an adjustable hanging bracket for flexibility, which means that it can either sit on the floor or hang from a truss or lighting rig, as well as operate on its back.
Just like the Entourage touring unit, the Entour Venue offers a hybrid between a conventional fog machine and a haze machine. It uses economical water-based fog fluid, but disperses it thinly over a much wider area to create the perfect atmosphere for vibrant mid-air beam effects. It also features variable output volume, an adjustable speed fan, and a multi-angle output vent, which means that it is capable of generating just the right amount of faze in exactly the right place for any given application.
The Entour Venue offers easy setup and operation with a quick warm-up time of 45 seconds, and is capable of continuous operation. It also incorporates a built-in 5.6 litre fluid tank, which makes it suitable for use in big venues and on large-scale productions when a significant amount of atmospheric faze is required over a prolonged period of time. The machine's maximum fluid consumption is 9ml/min, which equates to over 10 hours of continuous output at full power.
The unit offers four different operating modes, which are easily accessible using the controls located on the front panel. A blue back-lit LCD screen is also situated on the front of the unit, displaying information relating to the various options offered within each mode. For quick and easy operation, the Manual mode has its own dedicated button. Simply pressing the button will start the machine outputting faze at maximum capacity, while releasing the button de-activates the mode.
Using a menu-driven interface facilitated by the LCD screen, the Entour Venue can also be set up for standalone operation. Continuous mode allows the fog Output Volume to be set between 5% and 100%, while the Fan Speed can be independently configured to between 5% and 100%. The machine will then continue to output faze constantly, using the selected settings, for as long as required. Alternatively, the Timer mode can be used to set a Duration (between 3 and 250 seconds) as well as an Interval (also between 3 and 250 seconds), offering an alternative method for continuous standalone operation.
Fitted with both 3-pin and 5-pin XLR DMX input and output sockets, for maximum flexibility, the unit can also be integrated into a fully-controlled lighting and effects system. A choice of three different operating modes are provided, requiring 1, 2 or 4 DMX channels respectively, depending on the level of control required by the user. The basic 1-channel option offers combined variable control of the fog Output Volume and Fan Speed, while the 2-channel mode separates out control of these two functions. The full 4-channel option, meanwhile, not only offers variable independent control of Output Volume and Fan Speed but also remote control of the unit's timer Interval and Duration settings.
Considering its large output potential and substantial fluid tank capacity, the Entour Venue is a relatively compact and light-weight fixture. It measures 21" x 15.25" x 9.75" / 533 x 387 x 249mm (LxWxH) and weighs 47 lbs. / 21.3 kg, making it equally suited to large mobile light shows as it is for permanent installation in venues such as nightclubs, theatres, and churches.
The ADJ Entour Venue is now available from ADJ USA, and will be available in March 2017 from ADJ Europe.