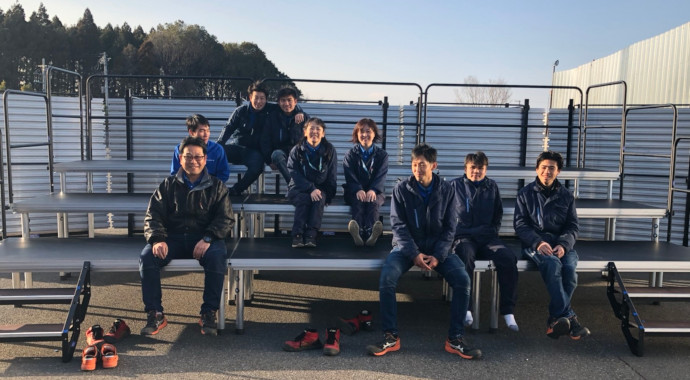 The kick-off order for the Chiba based branch, Duskin Rental Chiba Event Center, containing over 400m2 of STAGE82 Hexa decks, large amounts of legs, railings, stairs and accessories, was recently delivered.
Mr. Kishira, Managing Director of the Chiba branch commented; "Key points in why our organisation decided to choose SIXTY82 over other brands are the high loading capacity of 750Kg per m2, the unique RFID traceability and the options such as modular stairs increasing simplicity for users as well as decreasing our investment while increasing our returns. Having SDJ nearby also makes communications easier, while also allowing fast service and having stock available quickly from their Tokyo warehouse."
With over 300 outlets throughout the country, Duskin is one of the largest rental franchises in Japan.
Spearheaded from their headquarters in Osaka, the Duskin chain of rental outlets are known for their expansive and diverse product inventory suitable for a broad range of purposes. Triggered by a growing demand for staging in general and some large events, the organisation decided to venture into staging as well.
Due to the nature of their business, the criteria for choosing the right brand were: safety, user friendliness and versatility, as each branch not only offers complete set-up for its customers, but also to simply pick up stages and handling the set-up by themselves. Based on this and of course economics, an extensive internal survey was initiated which eventually resulted in SIXTY82 Doughty Japan being selected to become the supplier for Duskin rental across all of their 300 branches, with the STAGE82 staging series.
While the impressive Duskin STAGE82 fleet has seen some use, during the COVID19 outbreak events in Japan have suffered as well. While Duskin is waiting for the industry to recover they are investing considerable resources into simulations used to train and educate their personnel in the use of their new STAGE82 decks. As soon as the first big events hit Japan, Duskin will be completely ready and they will have the equipment and expertise to back them up.
Owning the largest quantity of STAGE82 in all of Japan, Duskin are on their way to becoming true specialists when it comes to stagedecks and can handle events of nearly any size.