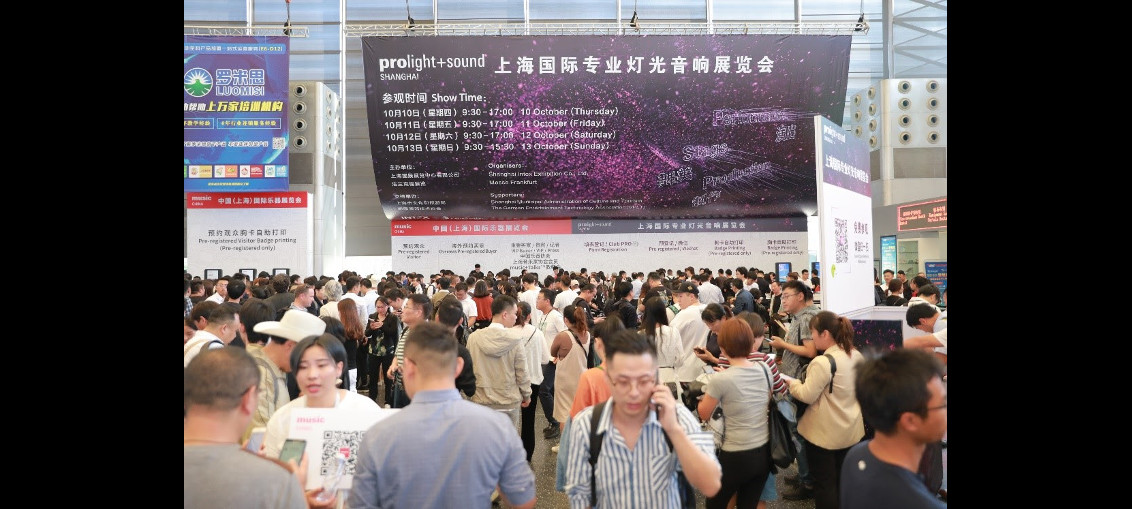 W
ith 30,011 visitors from around the world gathering at the Shanghai New International Expo Centre, the 17th edition of Prolight + Sound Shanghai (PLSS) was positioned  as a crucial event for the professional light and sound entertainment sector in Asia.
PLSS took place from in October and had over 600 participating brands and companies from 22 countries and regions filling up its booths.
The fair closed its doors after four successful days, receiving positive feedback from different corners of the entertainment industry.
Michael Smith, President of Goldsmith, noted, "This is my second time at the fair and you can see that the product categories have expanded, and the quality of the exhibitors has gone up. Being here gives me the opportunity to find out what is new in the market, and the show is a great platform to connect to other industry professionals. I found a few good suppliers already and they are all local brands. More and more products are made in China nowadays, although they belong to overseas brands. That is also why I come here: to explore the origin of those products."
The organisers strategically put a major focus on technology and innovation: besides the increased number of exhibitors showcasing their products and technologies, the fringe programme gave visitors an elaborate overview of the latest industry trends, with the IMSTA Audio Software Zone and A3E Summit @ Prolight + Sound Shanghai as absolute highlights.
Johnson Han, Marketing Manager of China, Native Instruments said, "It's our first time at the IMSTA Audio Software Zone and we're taking this opportunity to promote licensed software. China is an emerging market and there's still a lot of work to do when it comes to copyright awareness. We hope that by being here, we can make people understand the value behind purchasing licensed software and why it's so important. We've met professionals, students and music lovers at the booth, and each and every one of them showed interest in what we have to offer. We also benefit from the many potential customers from China that come and talk to us. We will return next year, for sure!"
With a product range covering the full industry supply chain across four exhibition halls, PLSS offered more exhibition content than ever before.
The show had something in store for every professional and amateur interested in production, performance, staging, software, hardware, pro light and audio, engineering and other related topics.
Some of the leading brands this year included AVID, Audiocenter, Boray, Choseal, Fane, Greatwall, Harman International, IK-Multimedia, ITC, Kling & Freitag, Laserworld, Lightlink, Midas, Minuit Une, Mode, Plustruss, Omarte, Ruisheng, RME, Rupert Neve, SAE, Sennheiser, Showtex, Shure, Soundking, Superlux, Waves, Wincomm, Yamaha and many more.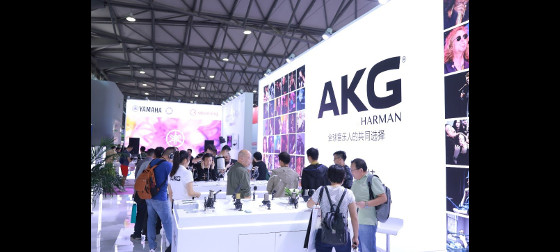 Technological advancements have always had a major influence on the market and they will continue to do so. And while those innovations bring about a great deal of opportunities, they also pose challenges for many companies and brands.
PLSS provided its audience with the opportunity to immerse itself in the latest technologies, while connecting to industry professionals from different areas of expertise.
Technology and innovation went hand in hand during the many fringe programme events and the organisers' efforts were acknowledged, because the overall atmosphere and general feedback were positive across the board. The fringe programme reflected the most current topics and trends in the entertainment industry.
Visitors showed great interest in the A3E Summit @ Prolight + Sound Shanghai and many audio production professionals checked out the IMSTA Audio Software Zone to connect with industry peers and participating brands.
John Feng, Vice Chairman of Longjoin Group, acknowledged, "We value this platform and also chose to hold a press conference with the international renowned software brand Waves to announce our cooperation. In the future, the application range of audio and video will become wider and wider, and customers will tend to choose products and systems with a higher cost performance. Therefore, software will impact the hardware market. On the other hand, there will be more excellent software carriers.
"It will be a major trend in the future development of the industry. The show can help us to strengthen our corporate image and build a new network of new and old customers."
Professionals, hobbyists and amateurs lined up to find out more about the latest tools for mixing/mastering and tracking, audio production and processing and audio analysis, but also to discover the latest developments in hard- and software.
Brands like Krotos and Native Instruments gave in-depth insight into vocal effects, digital music creation, post production and other industry related topics, and visitors had ample choice between workshops covering different fields of expertise.
The China Culture and Tourism Innovation Development Summit was dedicated to a topic that will boost the industry in the upcoming years.
The summit was co-organised by PLSS and the China Institute of Stage Design and gave participants a clear vision on how the Chinese government is supporting the industry by bringing together the cultural and technological sectors.
Judy Cheung, Deputy General Manager of Messe Frankfurt (HK) Ltd, elaborated: "Our industry will benefit immensely from the government support that we are receiving, and especially from the guidelines that aim to bring the technology and cultural tourism sectors closer together. We already see a clear increase in the number of big events that require a professional light and audio installation and production, and I expect this segment to grow even more in the near future.
"Next to that, there's an increase in demand for flexible and portable outdoor line array systems for medium and small size events. And these types of productions, big or small, all have one thing in common: they want to offer their audience the best possible experience. That's why our sector is looking into new ways to captivate and engage the people that attend entertainment shows.
"PLSS wants its exhibiting brands and fringe programme events to reflect this industry trend. By doing so, we can contribute in bringing the technology and culture sectors closer together, in favour of the whole industry."
The Concert Sound Arena was the ideal opportunity to discover the importance of a professional production for touring and installations. This CSA was built up at the outdoor area of the fairground, and had 17 domestic and international brands showcasing their line array systems under realistic conditions. Visitors were able to see and hear how an increased sound quality influences the overall experience of the audience.
Fringe speakers also sang praises for the show, among them was Doug DeAngelis, Conference Chair of A3E: "Prolight + Sound Shanghai brings together all the crucial elements that define the industry and gathers the right people to facilitate a convergence like this. The panel discussion was interesting and there was great chemistry between the different companies. Having this kind of summit at the show is important, because it allows us to show the audience our perspective and how we've done things in the US. But it also gives us the opportunity to learn from local experts.
"This is what truly makes Prolight + Sound Shanghai a platform to exchange information and facilitate industry growth."
Shoujin Hou, Manager of Hui Gu Niang Chuan Mei summarised the show, adding, "Of course, Prolight + Sound Shanghai is well-known in the industry and the scale is also one of the things that attracts me. The China Culture and Tourism Innovation Development Summit gave me a lot of inspiration. The speaker impressed me a lot and his creative explanation of the concept of culture has brought new ideas to our equipment manufacturers and will help me stay creative."
The next edition of Prolight + Sound Shanghai will take place from 28 to 30 October 2020.