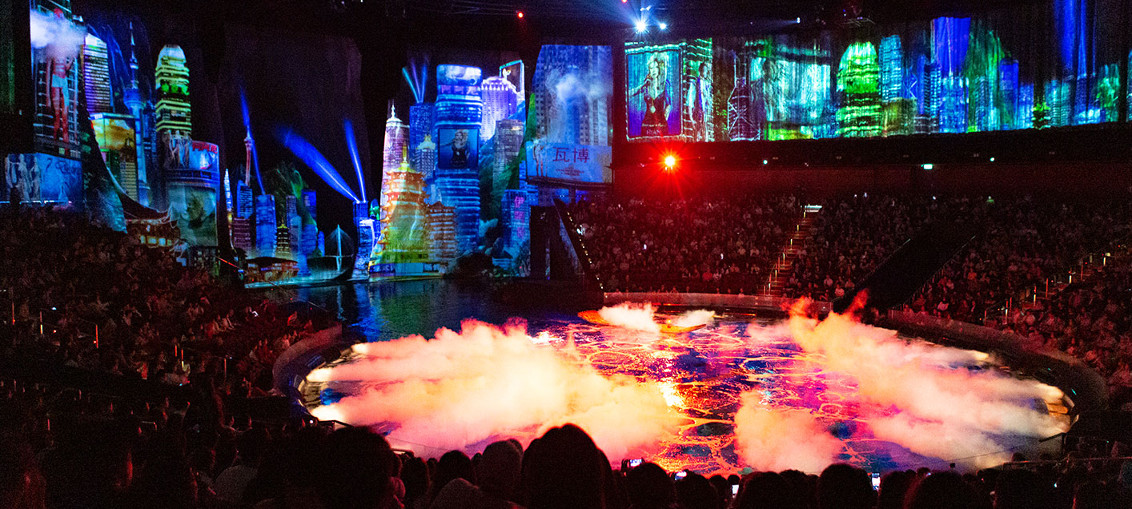 T
he
House of Dancing Water
is the world's largest water-based theatre production, with the team at
Franco Dragone
behind the production. The show combines water, stunts, acrobatics, aerial arts and theatre.
The show is performed in a tailor made 2,000 seat theatre and the performance is set across a multi-level stage that is part of a 3.7 million gallon pool.
Different projector positions, zoom and focus values are used for multiple screens, including flat stage surfaces, floating fabric being tracked through the air, uneven curtains and water fountains, delivering a
captivating and truly unique water stage production.
The production recently overhauled its entire production workflow, investing in new fixed technology infrastructure, powered by disguise. Dragone, in connection with disguise partner OpticShock, implemented several disguise solutions that now sit at the heart of the show's production.
They utilised a combination of 4x4pro and gx 1 servers to drive the shows impressive visuals, as well as implementing OmniCal, disguise's projector calibration system that allows for fast and accurate calibration of the installs' projectors.
"The decision to go with disguise was multi-layered," said David Eversfield, from OpticShock. "The hardware provides a solid, industry-proven platform with a clear growth path for the future, combined with software that's powerful and flexible enough to deal with a demanding timeline composited show."
"The support teams available internationally and locally are knowledgeable and sensitive to production environments, all while the growing user community provides a rich pool of future crew for the show."