T
he 64th edition of Eurovision Song Contest ended among the enthusiastic applause of the public and the whole organization. This year the contest took place in Tel Aviv, Israel, following Israel's victory at the 2018 contest; it consisted of two semi-finals on May 14th and 16th, and the final on May 18th 2019.
The three live shows were held at Expo Tel Aviv and hosted by Erez Tal, Bar Refaeli, Assi Azar and Lucy Ayoub with 41 countries taking part into the contest.
For the first time DTS fixtures were chosen for the lighting plot: 376 Katana led bars were shining in the main hall with their "blade of light" and 48 Synergy 5 Profile were installed in the Greenroom.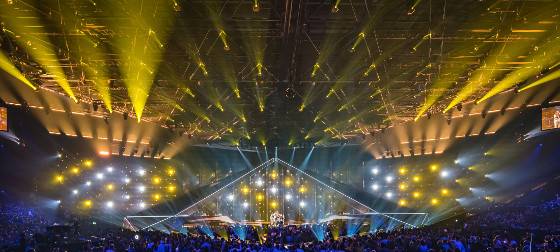 Katana, thanks to its 3.5° – 30° linear zoom, is able to project in the air an extremely bright lighting cut.
They were installed above the audience and all around the main hall and, with the single pixel, adapted to each performance with dynamic multicolour effects.
The extreme versatility and brightness made Synergy 5 Profile perfect to light up the multilevel scenography of the Greenroom, where the singers were interviewed during the show and were waiting for the on-air light with their delegation.
Synergy 5 Profile, thanks to its rotating framing system, allows to direct the light and shape the beam without losing brightness.
Lighting Designer Ronen Najar said of the DTS products, "We hung the Katana around the stage and above the crowd. Katana was the perfect fixture for continuing the triangle ceiling design and completing the lines from the triangle video strip."
"With the new module designed for us we used the Katana all the time. Synergy was hung in the Green Room and helped us to duplicate the feeling from the main venue. We were very happy and all units worked without problems."
Raffaella Scaccia, DTS Sales Director: "Eurovision Song Contest is with no doubt an important event for people and companies who work in the entertainment industry. We are really proud for this new challenge that made us better known throughout Europe, showed our energy and focus on growth and improvement. According to the contest lighting crew, our products have proved to be very reliable and we are happy that the Made in Italy concept is once again confirmed as an added value."