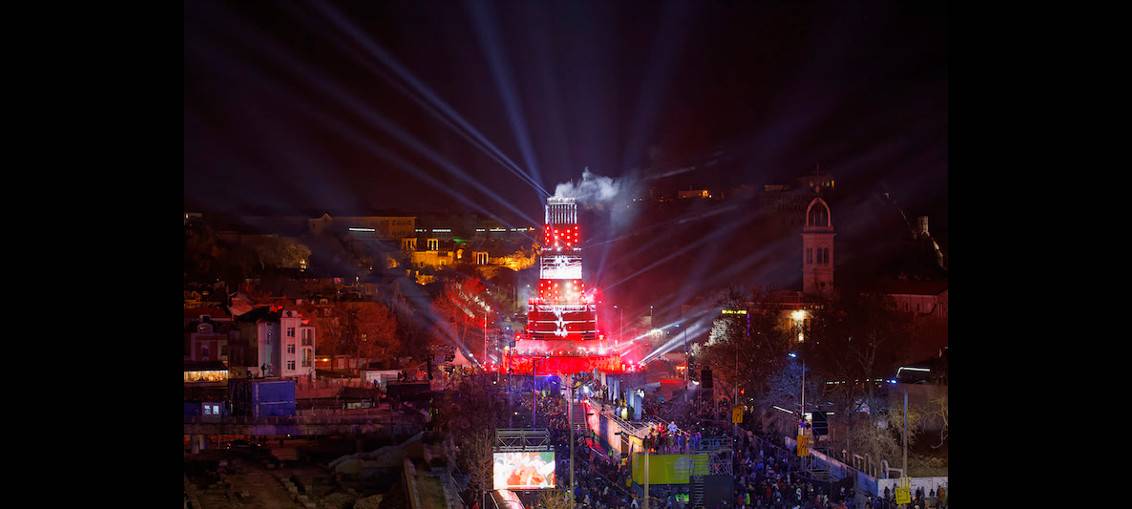 O
n 12 January 2019, the Bulgarian city of Plovdiv began its year as one of the two
European Capitals of Culture
for 2019. The opening ceremony was again under the artistic direction of Sven Sören Beyer of
phase7 performing.arts
. For the third time, the Berlin artist collective took over the artistic design of the opening ceremony of a European Capital of Culture, and the opening show titled
"WE ARE ALL COLORS"
attracted over  50,000 viewers.
The central element of the show was a 30m-high media tower in the form of a regular octagon, which had been designed and built specifically for the event. Running in a north-south direction, a 100m  catwalk linked to the tower.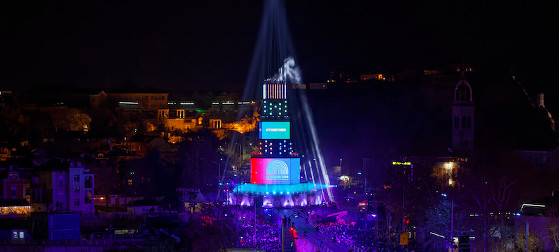 The 360-degree light show spanned across all five levels of the entire tower, 1,500 show participants performed on five levels. The spectacular performance combined traditional Bulgarian show acts with futuristic performances as well as state-of-the-art media technology and a dramatic light design conceived by Björn Hermann.
After using GLP's modular KNV LED system for the first time at the christening of the AIDAnova cruise ship in the summer of last year, Björn Hermann immediately realised that this solution could be deployed at this follow-up assignment in Plovdiv:
"The tremendous brightness and special effects that can be realised with the KNV make the system unique, and without alternative. At the christening of AIDAnova, I knew immediately that we needed the KNV in Plovdiv as well."
As in the previous year, Oliver Schwendke and Michael Feldmann from GLP also supported phase7 performing.arts during the preliminary discussions for the KNV deployment in Plovdiv.
Consequently, in Plovdiv 100 GLP KNV Cubes were specified and installed in the scenic tower. Thanks to their IP54 rating, the use of the fixtures outdoors was no problem either. The tower contained numerous LED screens, with five-metre gaps between each. The KNV Cube not only bridged the gaps, but also allowed phase7 to run content via pixel mapping, and flash lighting cues ten times brighter than the adjacent LED walls.
"The KNV Cubes are simply made for this project," enthused Björn Hermann. "When I let the modules light up in white, half of the city was brightly lit! It was a real gigantic look!"
And certainly the opening ceremony in Plovdiv will not have been the last project in which Hermann trusts he power and flexibility of GLP's KNV. "The KNV system offers me 25 powerful individual LEDs, each extremely bright. In addition, there are the LED rings, with the result that 100 KNV looked like several hundred individual stroboscopes. I cannot produce that with any other lamp on the market. Quite apart from that, there is currently no other strobe with such performance that you can use it without hesitation outside."
All in all, the successful show was produced entirely in the artistic language of phase7 performing.arts, which is uniquely dedicated to the fusion of technology and performance.
The project team consisted of Sven Sören Beyer (director), Björn Hermann (lighting designer), Steffen Fuchs (technical director), Christian Steinhäuser and Maximilian Trieder (musical direction and arrangement), Frieder Weiss (interactive software art) and Hajo Rehm and Daniel Bandke (video design).
Photos by Petko Popadiyski, Manfred H Vogel