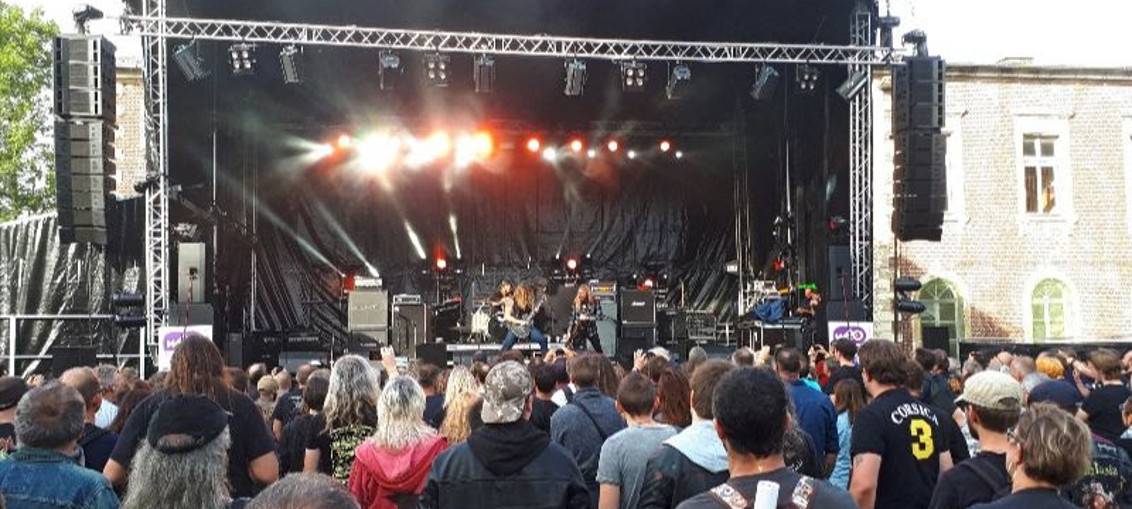 A
PG's versatile
Uniline
series lent its power and precision to the 20th anniversary edition of
Raismes Fest
, which is held every year in the town of Raismes near Valenciennes, in the North of France. The event has been organised by the Raismoise Association of Culture since 1998 and returned once again to the park of the
Château de la Princesse d'Arenberg
for another weekend of hard rock and metal.
This year saw a variety of international acts such as Rose Tattoo, L.A. Guns and prog metal supergroup Sons Of Apollo bring a wall of noise to the festival's dedicated fanbase.
Established French rental supplier ACS Sonorisation has provided the festival's full AVL and trussing package for the last 10 years – and enjoys a relationship with APG that spans 20.
Whilst the audio requirements for Raismes Fest tend to stay the year-on-year; with the number one priority being a main stage system that is capable of stacking up against the powerful array of bands on the line-up, the site and music genre offers some challenges that keep ACS busy.
For the main stage this year, ACS provided 7 x APG UL210's and 3 x UL115B subs per side, with another 8 x TB218S subs aligned against the downstage edge in order to achieve unidirectional cover. Stage sound technician, ACS' Ugo Sanna, explained: "We used to have a central sub layout in the past already, but we changed it for an arc configuration this year to efficiently manage the subs directivity and avoid any noise pollution in the surrounding 'village' area where the merch shops are situated. Furthermore, with a higher stage this year, we quickly decided to rig the UL115B on top of the UL210. The Uniline system is modular enough to allow changes and evolution in line with stage requirements."
ACS also included 4 x DS15S speakers as front fill to cover the pit area, as well as 12 x SMX15's ground stacked on stage. Sanna added:
"As well as the excellent acoustic precision and pressure, the SMX15 offer plenty of flexibility in the medium and low ends, which is particularly useful and efficient for this kid of gig: It's metal, sound levels are very high, with a huge guitar, bass and drum presence, and the APG on-stage speakers deliver great intelligibility, allowing to get the voice above all of the instruments."
Combining power and intelligibility is a difficult balancing act for any system designer or FOH engineer – particularly when the genre of music in question is as idiosyncratic as hard rock or metal.
ACS Company Director Christophe Sireuil agreed: "It's a challenge, but there are a lot of foreign artists playing at this festival, from the US, Germany, and so on, and it's quite refreshing because they come with an open mind on the type of system used. We know APG offers products that aren't limited by the style of music, without any 'colouring', and comfortable at any audio extreme. This is a massive advantage for a company like ACS, as we have a solution that is modular and flexible enough to be used for all types of events, from metal to classical, pop and corporate."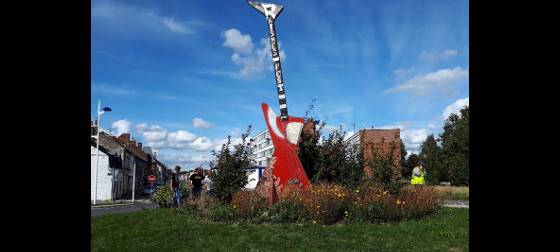 As well as bringing the desired sonic impact, the APG system also had to behave in relation to on- and off-site noise restrictions. Sireuil, who took charge of FOH during the festival, commented: "This event comes with a number of acoustic challenges: Around the stage there is a village area with bars, merch stalls and so on, and the organisers don't want the music to be too loud there. The area we had to cover was approximately 40m long by 20m wide, while the stage has a castle to its back and a few houses in the vicinity; but between the system and the experienced, professional team we have on site, this hasn't been an issue."
"We love APG for their R&D, their products and their service. Our fleet is mostly APG – one of the largest in France – which is a testament to the close relationship we've had with them over the years. They are very open-minded and listen to users' feedback, which is a massive difference when compared to the 'big' brands. We believe that APG products are acoustically as good as any other leading brands in the market."
Sireuil's final thoughts came back to the quality of the Uniline system, which was a major factor in helping to facilitate another successful outing for the festival: "The APG sound is pure and comprehensive, enabling sound professionals to really decide what they want from the system. There is no limit to how much you can tailor the sound with APG, which makes them stand out from the competition because they don't have compressors that overdo everything. Right now, most manufacturers push their products in the market with a heavily processed sound, but not APG: they keep the sound clean and neutral. It does require a bit of knowledge and expertise, but then again, it's worth it!"