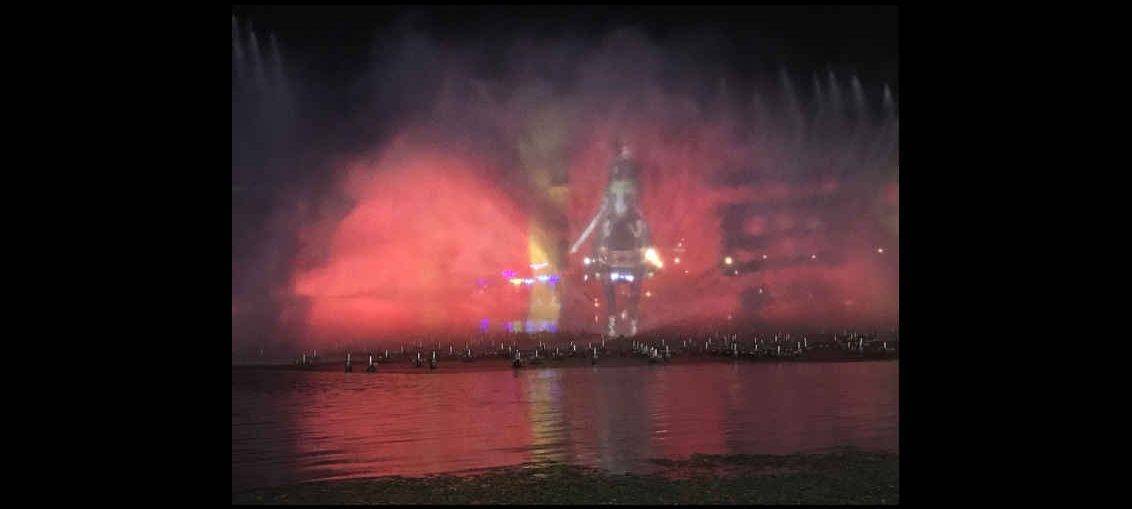 C
hristie's longstanding Chinese partner Wincomn Technology has delivered a mesmerizing light and water screen show using Christie visual solutions at the picturesque Nanhu Park in Bozhou, Anhui Province, China.
Known as the Nanhu Park Light and Water Dance Show, it is located in the core area of Bozhou's economic development zone, a massive project by the provincial government aimed at injecting new life to the city, which is also recognized as the capital of the Chinese medicinal herb industry. This includes a cultural asset development component in the form of a light and water show to highlight the city's illustrious history and future aspirations.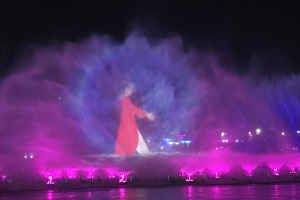 With its wealth of experience in accomplishing world-class cultural asset development projects across China, Wincomn Technology was chosen to install and commission this ambitious light and water show at Nanhu Park. This requires a tremendous amount of planning due to its massive scale – the total water area of Nanhu Park covers 178,000 square meters, while the area used for the light and water show measures 180 meters long and 40 meters high. This requires the deployment of a high-brightness and reliable projection system. After much deliberation, eight Christie CP2230 3DLP projectors were chosen for the water screen projections.
"We're honored to be involved in this massive light and sound show in Bozhou to highlight the region's rich history and contributions to the Chinese medicinal herb industry," said Tony Chen, general manager, Wincomn Technology. "We decided that Christie's large venue projectors are best suited for this project as they are reliable, easy to install, and able to deliver ultra-bright and high resolution images for a spectacular visual presentation."
In order to achieve the optimal visual effects and protect the equipment from inclement weather conditions, all eight projectors had to be installed in a specially-built projection room located in the middle of the lake. This brought about challenges in terms of the transportation of equipment, installation and cable layout. At the same time, the water curtain for this performance also covered a huge area, with a total width of 120 meters, and a maximum spray height of 30 meters.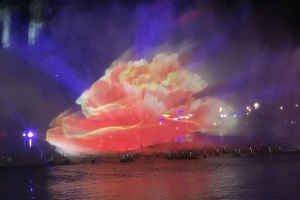 "The end user has very strict requirements with regard to the projection colors and overall visuals. Moreover, with the constantly changing shape of the water curtain, the task of commissioning the equipment becomes even more challenging. We have to stack the eight projectors vertically so that visuals can be projected concurrently on the water curtain for the performances. Thankfully, with the experience and knowledge that we have accumulated through previous large-scale projects, we are able to overcome the challenges and deliver the visuals on the water curtain smoothly and brilliantly, to the satisfaction of the end user," Chen added.
Bryan Boehme, Executive Director, Global Sales & Business Development, Entertainment, Christie, commented, "Christie's strong heritage in cinema has provided us with the technological capabilities and a deep understanding of the entertainment business. We also work very closely with our partners such as Wincomn to deliver the best outcomes for our customers in China. The deployment of digital projections for the display of cultural assets continues to augment the showcase of Chinese history and cultural heritage. It's wonderful to see Wincomn deploying Christie solutions in an innovative way at large-scale venues like this, which enable visitors to remember the past and look forward to the future through these captivating visuals."
With a brightness of up to 33,000 lumens, resolution of up to 4K, and 3D support, Christie's high-brightness 3DLP projectors are ideally suited for large screen applications and the most demanding 3D installations. With a unique optics design and superior image processing, they delivers crisp, clean images with perfect color saturation and spectacular video.
The Nanhu Park Light and Water Dance Show is the perfect combination of advanced technologies and arts such as music, water dance, full-color laser, 3D imagery, and fireworks to deliver a world-class large-scale fountain cross-media live performance in China. This light and water show is now open to the public, and they can personally experience the magnificent effects of the combination of fountain and water screen projection.
Photos courtesy of Wincomn Technology.