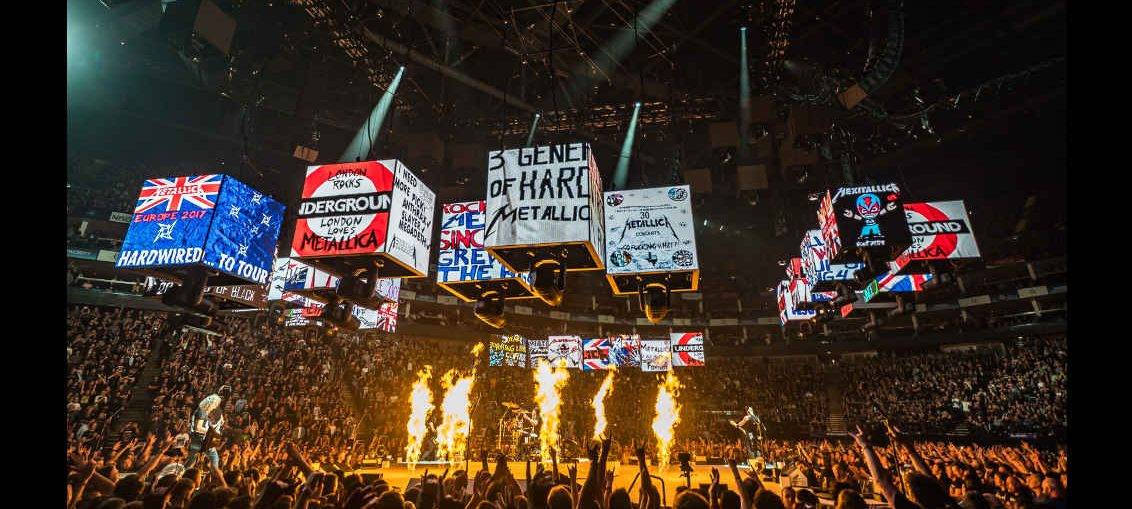 d
isguise gx 2 media servers are at the heart of Metallica's current WorldWired Tour where they have been used to sketch ideas, preview and run the dynamic show. The gx 2's integration with Notch plays a key role in the production, being extensively used for IMAG, post and real-time effects, including virtual lights.
Metallica's 2018 WorldWired Tour is currently in Europe, and will kick off a North American leg in September. The tour, which began last year, follows the band's tenth studio album, 'Hardwired…to Self-Destruct.'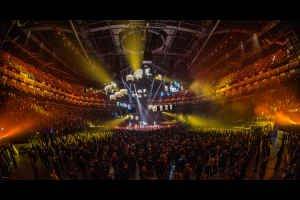 "Set Designer and Show Director Dan Braun came up with an ambitious idea that pushed the boundaries of creativity. For me pretty much everything about this project has been a challenge, starting with the scale and complexity of the design through to automation and IMAG" says Andrea Cuius, Founder and Director of Nocte Studio Ltd.. Andrea, with Marcus Lyall, is the Content Director for the show; he also serves as the disguise/Notch programmer. PRG Nocturne LA, account by Mark O'Herlihy, provided the gx 2 systems.
"The stage design comprises 52 moving LED cubes with screens on all sides. We had to work 208 screens on a 360º moving stage, so it was necessary to find clever ways to put content on the screens and make sure it could be seen from almost every corner of the venue," he explains. "One of the reasons we decided to go with disguise was its Notch integration." Andrea adds; we can quickly experiment and create real-time effects. The IMAG always has an important place in the show so being flexible and quick, but also being able to create something special, is crucial."
"Another reason to go with disguise is their state-of-the-art media servers, the gx 2 has plenty of power and the disguise software provides a very streamlined workflow," Andrea points out. "Moreover the disguise development team was willing to support us from start to finish," he says. "They didn't just help us troubleshoot issues, but also gave us access to experimental features that simply made this project possible."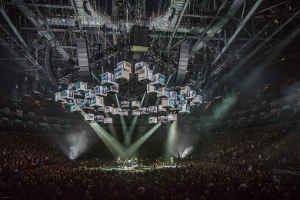 The cubes' automation is controlled via TAIT Navigator. "The system is great, but we couldn't get one during pre-production," says Andrea. "Our solution was to develop a bespoke workflow to bridge Cinema4D and disguise in real-time using Python scripts and custom software. Even though the automation for the show was eventually programmed from the TAIT Navigator and the grandMA desk, this workflow allowed us to quickly design and experiment with different ideas."
He notes that the data was sent in real-time via OSC from Cinema4D to the custom software that acted as an Art-Net bridge broadcasting to the disguise gx 2 in the same format as TAIT Navigator. As Andrea explains, "this workflow not only allowed us to explore ideas, but also get the system ready for integration. Because the workflow was already set up and tested, the switch to the actual TAIT Navigator system was flawless."
Andrea began working as an associate developer with disguise (formerly known as d3 Technologies) in 2011 while working with United Visual Artists. "Over the years I've been involved in upscale commercial projects, art exhibitions and events, always with disguise as a solid foundation."
Dan Braun is the show's Set Designer and Show Director, Rob Koenig the Lighting Designer, Gene McAuliffe the Video Director, Scott Holthaus the Show Art Director, Andrea Cuius and Marcus Lyall are the Content Directors and Cameron Pigou the disguise Operator. Lighting programmers: Joe Cabrera and Troy Eckerman.