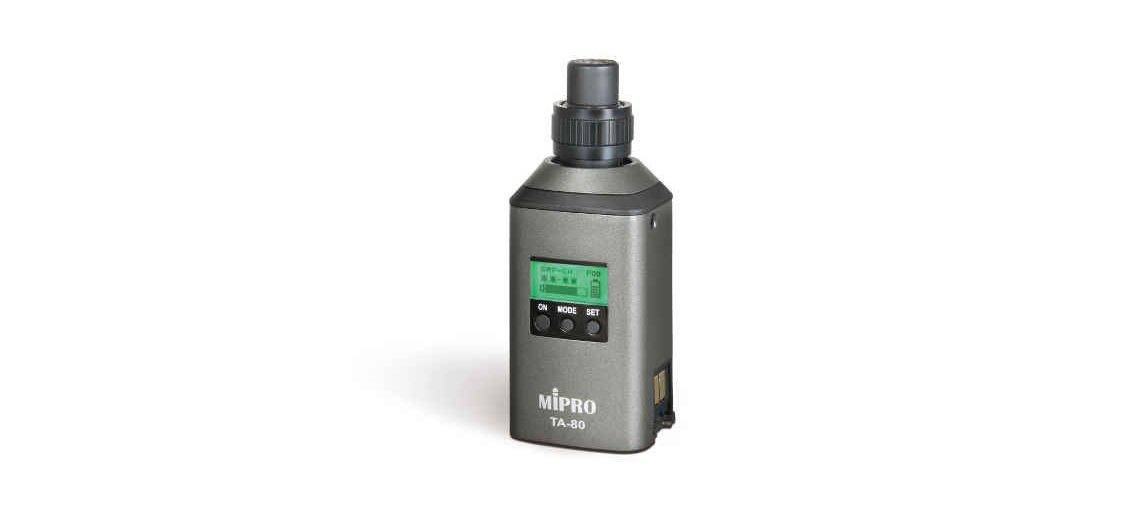 M
IPRO's TA-80 is a true digital miniature wideband wireless plug-on transmitter with balanced XLR mic input jack, designed for measurement microphones, condenser / dynamic wired microphones, recording microphones and musical instrument microphones. It is compatible with all ACT-8 Series receivers.
The TA-80 has a flat and wide frequency response, ultra-low THD and noise floor, fast transient response, strong anti-interference, and high S/N ratio. The TA-80 has 8 gain levels and is switchable between 12 and 48 V, up to 10 mA current load, to provide phantom power for condenser microphones. The phantom power can be switched off for dynamic microphones.
A built-in high-capacity lithium battery enables continuous 5 to 8 hours of use per charge. TA-80 can be recharged by dropping it into an intelligent MP-80 charger or by removing the single battery cell from the TA-80 and placing it into the charger. MIPRO's TA-80 has reverse polarity protection and battery replacement is fast and easy.
The TA-80 is compact, lightweight and ruggedly built. The aluminum housing is splash-proof and encloses a high efficiency transmitting antenna. The TA-80 has excellent isolation of spurious and external noise interference. The green backlit LCD clearly displays all operation parameters.
The TA-80 turns any microphone into a true digital wireless system producing the full frequency response and natural sound of any premium wired microphone surpassing the traditional characteristics of analogue systems.
MIPRO is also proud to share that the TA-80 recently won an iF Design Award 2018 due to its compact, rugged design, superb features and high compatibility with various premium professional microphones.
MIPRO will be exhibiting at Booth G11 in Hall 3.1.