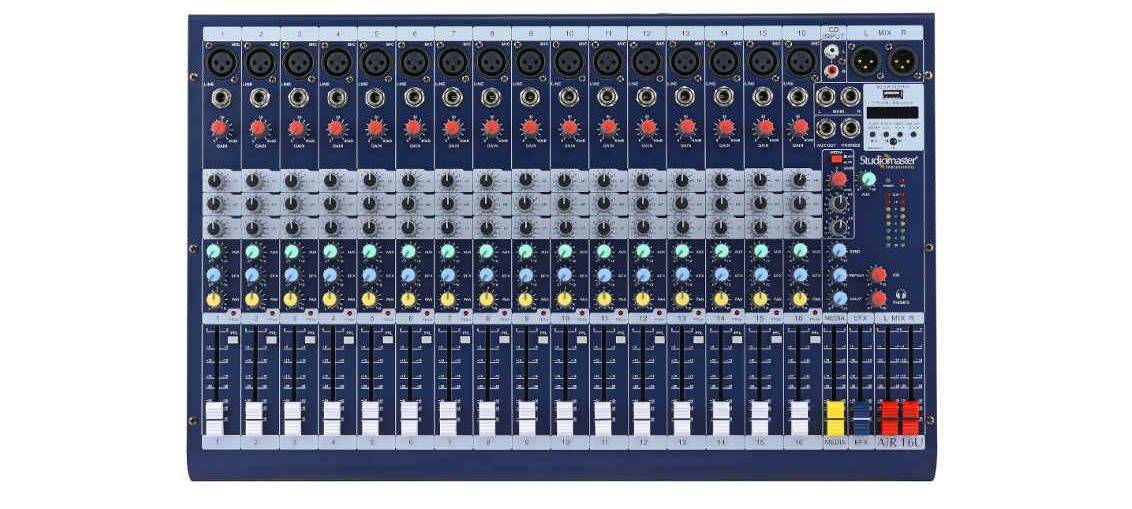 T
he Air U is the latest addition to Studiomaster Professional's acclaimed AIR series mixing consoles, and furthers its legacy of delivering a simple and efficient package to mix live shows, studio recordings, band rehearsals, podcasts, and much more. Available in 6, 8, 12 & 16- channel configurations; the lightweight, compact and road-ready AIR U mixing consoles are loaded with analog connections and digital tools, making it a truly dexterous and feature-rich package.
The mixers sport high quality USB, an AUX Send, and balanced XLR and unbalanced 1/4″ Jack master output; the mixer features on-board Delay EFX & FX send along with 3 band EQ on each channel, allowing for great sound in all kinds of live environments. They also feature PFL (Cue) switch with individual channel control along with a dedicated headphone out with level control. There's also dedicated L/R pan pot and clip with LED per channel.
Comprising an RCA line-in with control for external sources like a CD player, the consoles also feature a high quality built-in MP3 player that allows you to play music and media directly from a USB stick or SD card as a separate channel. The MP3 player displays track numbers and is controlled by a remote which is supplied with the mixer thereby making it even more convenient to control media playback through the mixer.