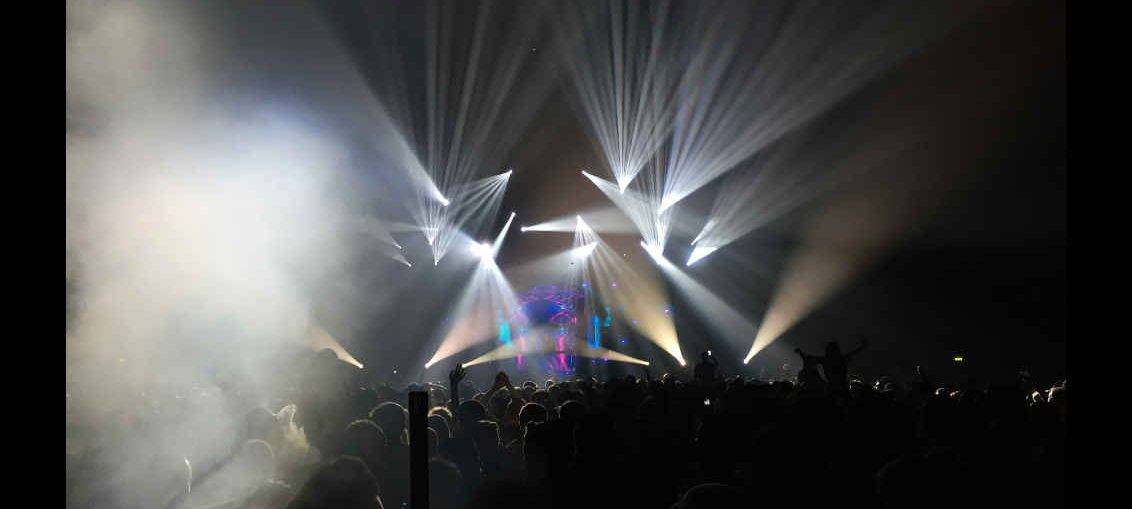 As one of the fastest rising stars of the international touring DJ circuit, trance DJ and producer Ben Nicky captured headlines when he announced his first large-scale solo headline show at Northern Ireland's biggest venue, the Belfast SSE Arena.
Selling out almost immediately, the event was described by Nicky himself as "the biggest moment of my career". For the technical crew, meanwhile, the pressure was on to deliver a sound reinforcement system capable of meeting everyone's high expectations. For Belfast-based rental company PSI and leading technical supplier Sonalyst UK, the clear choice was K-array Firenze.
Taking place on October 28th, the Belfast show has been hailed in the press and across social media as a triumph for Ben Nicky, already one of the world's most respected trance and progressive house DJs. For the technical crew, however, the challenges were clear: Firstly, load-in and load-out both had to take place on the day of the show; secondly, the front of house solution needed to cover 5,000 audience members with extremely hard-hitting, highly dynamic content.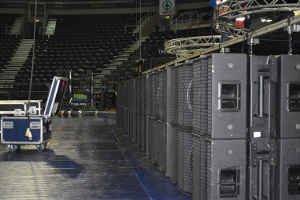 The first challenge was immediately dealt with courtesy of the extraordinary speed of rigging and set-up that K-array Firenze offers – from unpacking the system from the single truck in which it shipped, to having it flown and ready to perform, was a matter of just two hours. The need for a suitably impressive sonic performance, meanwhile, was taken care of in style with a remarkably compact but powerful design comprising flagship KH8 enclosures and KS8 subwoofers.
A total of 24 KH8 flat panel speakers were flown 12 per-side, supported by a mono distributed subwoofer set-up of just 12 KS8 subs. Control and equalisation were handled via Firenze's on-board DSP-based Armonia software, while EASE Focus was used for design and optimisation with accurate control of FIR steering.
"It was a sold out show and everyone knew that only the best was good enough," explains Dave Wooster of 2B Heard, the exclusive K-array representative in the UK and Ireland. "Load in commenced at 9am and they had the entire system flown and operating in less than two hours – that's a true testament to the speed and efficiency that Firenze brings to every live production. More than that, the entire Firenze rig shipped to Belfast in a single 17-tonne truck, along with the majority of the show's lighting. That's just not possible with a conventional solution."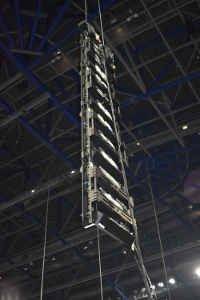 The Firenze KH8 dismisses the limitations of older, larger touring solutions. Based on an innovative flat panel design that enables optimum directivity via digital acoustic steering, each self-powered IP45-rated enclosure houses 16 neodymium transducers (eight 8-inch for LF, eight 4-inch for MF and four 1.4-inch high frequency compression drivers). Panels are anchored in pre-cabled groups of three for extremely fast rigging and deployment, while entire systems are flown in a straight line, with the option to precisely tilt panels as required.
On-board each panel is an IP65-rated electronics module delivering eight channels of Powersoft DSP and amplification, utilising the Armonia platform for system EQ and control, and providing 2,000W of power on each output. System optimisation to suit the venue can be achieved in minutes using AFMG's EASE Focus software, which also forms the control interface for the creation of all required FIR algorithms, ensuring quick and simple operation over a single, trusted platform. Additionally, all of the Powersoft amplifier modules are IP addressable, enabling quick and seamless configuration updates.
The combination of all of the above is named Slim Array Technology (SAT) – quick to deploy, virtually invisible when flown, yet powerful enough to meet even the most challenging of environments.
"The show ran from 7pm until midnight with average sound pressure levels of over 108db, plus a fairly punishing mix of music, and once again Firenze performed flawlessly," says Wooster. "It provided a dynamic and precise balance from the source material, generating a full spectrum of frequencies from 30Hz all the way up to 20kHz with ease. Afterwards, load-out commenced at midnight and the entire rig was being loaded by 12.45am. From the reaction of the crowd and the crew alike, this was yet another extremely successful outing for K-array Firenze."