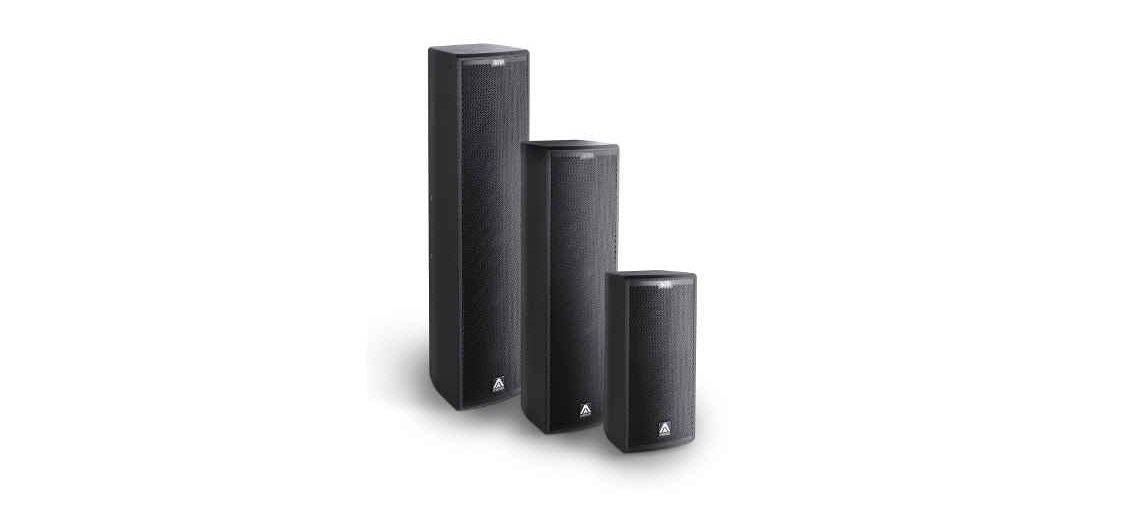 NÍTID, the new active system series from Amate Audio, employs the very latest digital amplification and processing technologies in symbiosis with advanced electroacoustic research to achieve exceptional performance levels from ultra compact speaker cabinet designs.
The name NÍTID – from the Latin nitidus, meaning bright, glistening or lustrous, and nitēre, to shine – is the inspiration for this new loudspeaker series that celebrates 45 years of Amate Audio engineering. The forthcoming range of self-powered, DSP enabled speaker systems is dedicated for mid-sized installation and live event production.
Following up from the launch of the new N12SM stage monitor, Amate Audio has launched the first complete NÍTID speaker series, with the introduction of three 2-way full range compact column systems; comprising the N26, N36 and N46; 2x6dz, 3x6dz and 4x6dz models respectively. These models build on the heritage and popular success of previous Amate Audio 6dz woofer based designs, and include, for the first time, a 3x6dz design.
With evolutionary developments in cabinet configuration, DSP control and user interface, these systems comprise a complete high performance column array series, providing full range, high-fidelity signal reproduction with exceptional LF response and power handling, offering sonically cohesive, scalable sound solutions for a full range of fixed and portable applications.
The oversized 6dz full-range custom driver features a carbon fibre cone, specially developed rubber suspension and neodymium magnets. The powerful yet lightweight drivers provide near audiophile signal reproduction, extended LF response, and high SPLs. In the N26 they are matched with a 1dz titanium diaphragm neodymium tweeter, for high-fidelity reproduction in close proximity music applications.
In the N36 and N46, a compression driver is combined with a rotatable asymmetrical horn, for highly consistent performance in wide short throw and narrow long throw coverage. Incredibly easy to handle and rapidly deploy or install, the integrated plug & play active power and control system includes DSP presets for setup and system configuration in the minimum amount of time.
Amate Audio's universal switch mode power supply enables operation with any mains condition between 85 and 265 V AC. Distinguishing details include the exclusively designed 1.5 mm thick speaker grilles, providing both robust protection and improved sound quality with the best perforation coefficient in the market. The Polyurea finish provides durable protection for the birch-ply cabinet, while electronic circuits and controls are smartly protected against moisture. The backlit NÍTID logo can be switched off or switched to indicate when the system is limiting.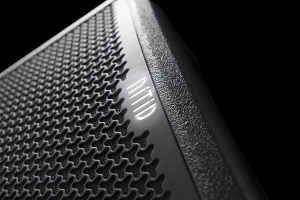 Amate Audio's latest digital signal processing is integrated with 3rd generation Class D amplification, control of which is accessed via proprietary SensitiveTouch keypad technology. With no mechanical components or moving parts, the SensitiveTouch capacitive sensor is highly responsive, weatherproof and durable compared with conventional mechanical controls. The user-friendly interface enables setup of multiple parameters including 5-band EQ with fixed Q (Low, Low-Mid Mid, Mid-High and High), factory presets, independent limiters for low and high frequency channels, delay, ALC (Automatic Loudness Compensation) and many others.
Vice President and Chief Technical Officer Joan Amate, says: "The launch of NÍTID marks our 45th anniversary, with a new product series developed with the objective of defining new standards of power and performance in ultra-compact sound reinforcement. NÍTID is the culmination of our current development work in DSP, electroacoustic engineering and cabinet design; a project that we have been researching, designing and developing during the last two years. Throughout the coming months, the NÍTID series will be extended to a comprehensive range of models, for a complete breadth of applications and production environments."