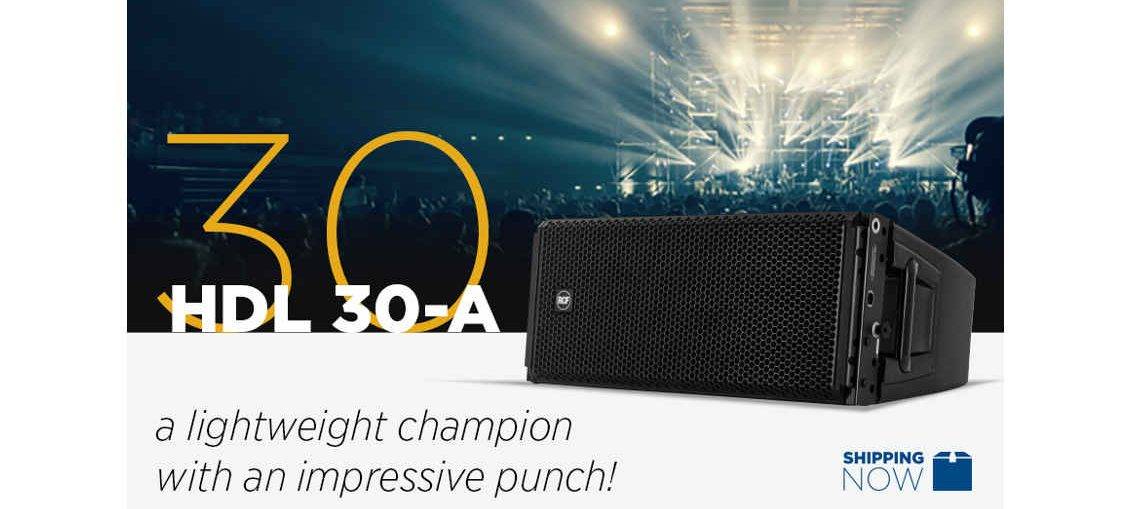 R
CF is proud to announce the HDL 30-A: a highly anticipated addition to the successful HDL family, the HDL 30-A is positioned to deliver a new standard in pro audio production. Following the success of the bestseller RCF HDL 50-A, the HDL 30-A expands the HDL family with mechanical, network and phase compatibility. HDL line arrays on RDNet network are now the HDL System.
The HDL 30-A features new transducers, real-time control and monitoring with RCF RDNet, a brand-new class-D amplifier with on-board DSP, RCF FiRPHASE technology, and a revolutionary hassle-free rigging design.
The RCF HDL 30-A is a compact bi-amped two-way active touring system for medium to large events, both indoors and outdoors. It features two 10-inch woofers and an impressive 4-inch titanium compression driver. The time coherent 4 PATH waveguide is the result of in-depth research and design. The HDL 30-A is the first line array in a composite cabinet with zero-degree phase and ultra-linear amplitude response.
The built-in 2200 watt class-D amplifier delivers excellent playback clarity and up to 137 decibels max SPL with frequency response from 50 Hz to 20000 Hz. The RCF HDL30-A features state of the art RCF transducers with neodymium magnets.
Considering its acoustical power, it is remarkably lightweight for easy handling and flying. The revolutionary new rigging concept takes inspiration from its big brother – the RCF HDL 50-A. An optional link-bar allows the system to be rigged under an HDL 50-A array for short throw applications or to hang a complete HDL 30-A array with triple 12 inch HDL 53-AS flyable subwoofer array. The symmetrical design of the cabinet produces identical left and right coverage.
The HDL System features RDNet technology, giving real-time remote control and monitoring of all components from the front of house location. RDNet is a 'daisy chain' network based on the stable RS485 protocol. An RDNet Control8 allows to link up to 32 devices to each port (max 256 speakers with a single Control8 controller). When using Ethernet through a dedicated switch, it is possible to link up to 20 Control8 per computer: max 5120 devices. Even extremely large systems can be easily organized and managed by RDNet.
RCF speakers are designed by using FiRPHASE, an advanced FIR filtering technology conceived for delivering transparent sound, absolute clarity and perfect stereo images to the listener. The FiRPHASE algorithm optimizes dynamics, amplitude and phase patterns, ensuring at the same time minimum system latency. Up to three FiRPHASE filters are available for each module on RDNET to manually shape the high frequency response.
Features include:
2200W Peak Power
137 dB Max SPL
100° x 15° Coverage
1.4" Titanium Compression Driver, 4.0" voice coil
2 x 10" Neodymium Woofers, 2.5" voice coil
Exclusive FiRPHASE technology
RDNet Control and Management
680 Hz Crossover Point
293/11.54 x 705/27.76 x 502/19.76 (mm/inches)
only 25/55.12 kg/lbs
The low-frequency companion designed for the HDL 30-A is the high-performance active subwoofer RCF SUB 9006-AS. It features two ultra-powerful hyper-vented 18-inch neodymium woofers with 4-inch inside-outside voice coils in a Baltic birch cabinet with amplifier and DSP on board.