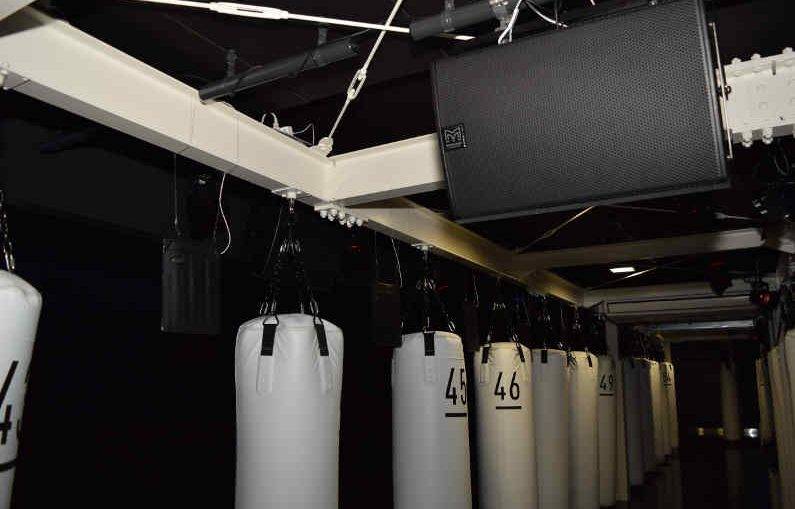 There's a new monster in town: b-monster, that is.
L
ocated in the fashionable Aoyama district of Tokyo, 'b-monster' is a new form of dynamic exercise which combines nightclub dancing with full-scale boxing fitness training, while at the same time promoting fun. The 'fitness after dark' concept has travelled across to Japan from New York, and the luxury brand first settled in Ginza before the latest opening.
With a desire to build on the energy created at the first club, state-of–the-art CDD and CSX loudspeakers from Martin Audio were supplied by installers, Martin Audio Japan to meet the specification. 12 CDD12 and four CSX118 subwoofers were used to provide even coverage across the entire area for fitness fans, and Martin Audio's DX0.5 management system was adopted to control the dynamics and ensure a clean signal to the Powersoft amplifiers.
ENTER SANDMAN LTD. Director Shintarou Dobashi says he tested several products from other manufacturers before designing the sound system. "My priorities were to establish which would produce the most consistent acoustic sound over a long period without causing fatigue, and secondly to create a real club sound environment with a thick low bass beat. I found that the performance of CDD was acoustically extremely natural — not only its coaxial qualities but the fact that it is a well-tuned box."
According to b-monster's Programme Director Mr Hiro, the system's most remarkable feature is during the club's high-intensity interval training, when the studio is filled with consistent sound due to the system's set parameters.