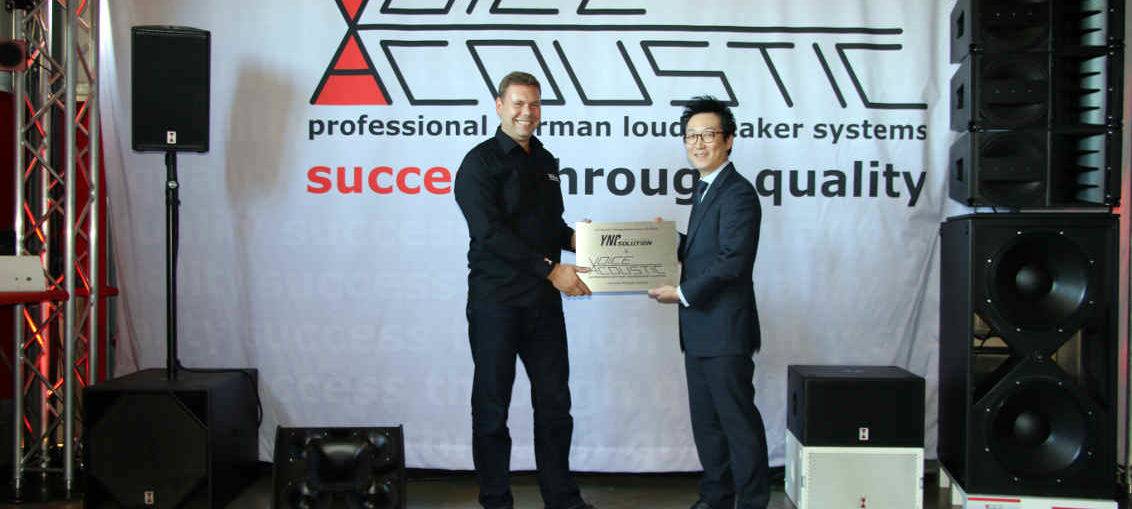 Stefan Rast with Terrie Lee
VOICE ACOUSTIC has signed an agreement with YNC Solution for the distribution of its German made high end products to the Korean market.
Y
NC Solution, though a new player in Korea, has been set up around a well experienced team that understands the business of SI companies in Korea.
Terrie Lee, Representative Director of YNC states: "We at YNC Solution are well familiar with the business of System Integrators and our team takes on the challenge on a highly competitive market like Korea."
Also following an intense product demo at the factory in early October, YNC decided to promote the entire range of VOICE ACOUSTIC high end products.
Stefan Rast, sole owner of VOICE ACOUSTIC and himself an entrepreneur who started his first business in the early age of 18, states: "We've waited for the right partners who understand our product philosophy and spirit of the company and we're very happy to have YNC in our team. They're a perfect match to our existing distributors from other areas ."
VOICE ACOUSTIC builds total systems with loudspeaker, amplifier and their associated electronics, including integrated DSP controllers, with remote control and monitoring functions. Their speakers have active separate bi-amping systems with separate amplifier and control channels for each speaker. The company and the owner prescribe to the philosophy that one can only generate and experience the best sound if the signal chain is well matched and the associated electronics are adjusted properly. This is possible with VOICE ACOUSTIC solutions as every part of the signal chain is manufactured in-house to offer a seamless solution.
www.voice-acoustic.de