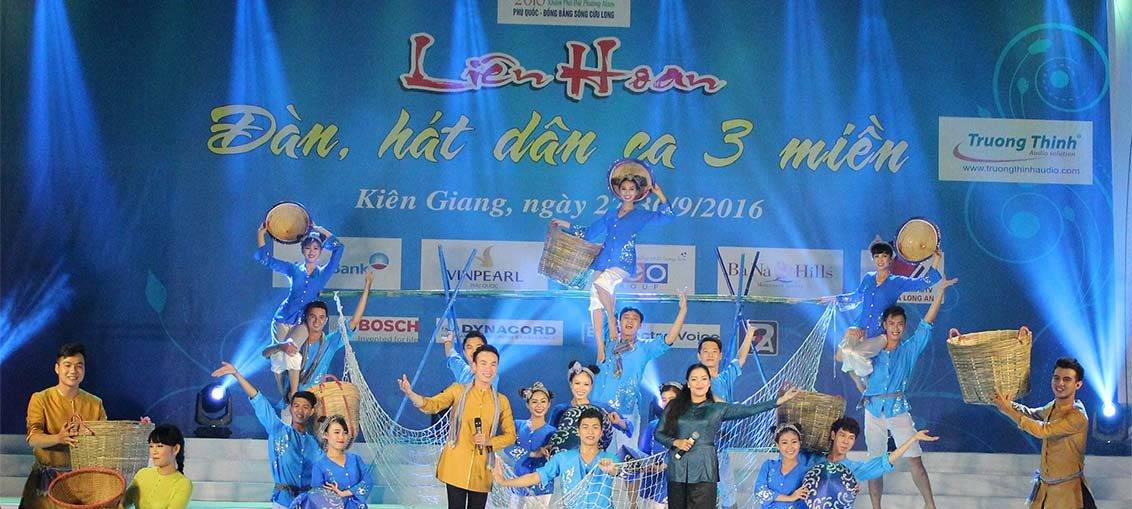 Truong Thinh Audio Solution, a Bosch Security Certified Partner (BSCP), recently sponsored the Electro-Voice (EV) X-Line Advance system for Vietnamese Traditional Music Festival 2016. The event took place between September 27 – 30, 2016 at the Cultural Center in Kien Giang province, attracting more than 1,000 performers and musical groups from all over the country, with the finale being broadcasted live on national channels.
EV deployment for the FOH included 9 units of X2-212/90 on each side of the stage over a total of 6 units of X12-128 subwoofers which helped to produce extremely high output and acoustically matched seamlessly for wide coverage with fidelity and clarity.
The system was powered by 10 TG7 amplifiers equipped with RCM-28 Remote Control Module that allowed integration of the amplifiers into an OMNEO network and connected to a NetMax N8000 system controller for control and monitoring of the entire sound system using IRIS-NET software. The whole system was also boosted by Dante technology, which raised the bar in delivering excellent sound quality for the festival.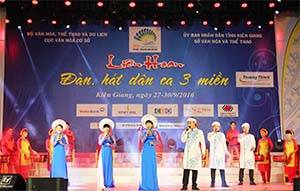 The new features of the X2 such as the DVN3125 12 neodymium woofer and the enhanced Hydra plane-wave generators delivered outstanding audio performance, intelligibility, and control. Most importantly, at the Vietnamese Traditional Music Festival, the X2 provided incredibly powerful output. The brand's breakthrough innovation surpassed expectations of audiences, performers, and audio professionals.
The event was equipped with a full range of Electro-Voice systems that guaranteed the delivery of superior sound quality and excellent coverage to truly show the diverse nuances of Vietnamese traditional music, created by instruments made from wood, stone, rocks and animal skins.
Terence Ng, General Manager of EV parent company Bosch Security Systems (Vietnam, Cambodia, and Myanmar), shared, "Vietnam is a marvellous country. Each province and ethnic all have their own style of music created with a unique instrument, which altogether contribute to a rich and diverse music culture. The Vietnamese Traditional Musical Festival 2016 has become a meaningful event for artists to further promote their heritage and for people to appreciate the beauty of Vietnam."
Ng continued: "Sponsoring for this wonderful event with EV's cutting-edge sound products and systems is a way for us to show our commitment in making a better Vietnam for the people, both in their work and spiritual life."