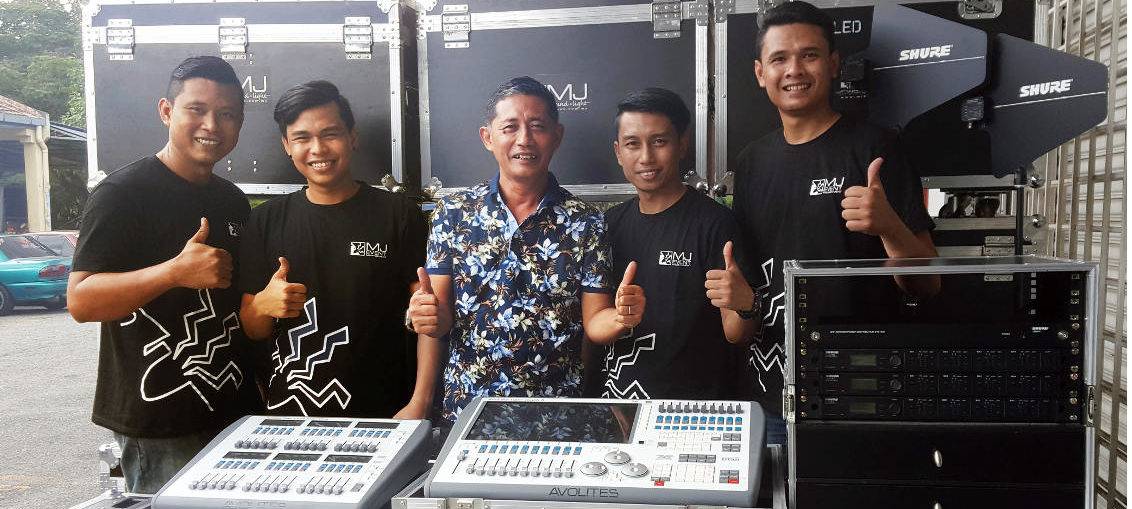 The MJ Event team with their new "toys"
Happy with the previous purchase of Avolites Sapphire Touch through its local vendor – Concept Audio, the KL-based Event Management Company, MJ Event Management (formerly known as MJ Event & Management Services) has once again selected Avolites as its lighting control console brand of choice. The company also opted to add Shure microphone equipment to its inventory.
M
J Event invested on Avolites Tiger Touch II console and 3 channels of Shure ULX-D Wireless system with 12 units of Handheld Beta58A wireless microphone, to cope with its in-coming shows and events.
The company was established since Year 1995, in order to provide a high degree of service and professionalism to its clients, it developed a strong workforce with many range of equipment, and hence, it has developed progressively to become the current full-service event management company with sound, visuals, lights and etc. MJ Events Management provides full-fledged event management services from conceptualizing, planning and execution.
Abdul Rahman (Manja), the owner of MJ Event Management understands that to satisfy those international events and corporate shows with high demand of the quality result, the appropriate equipment is needed for the fulfilment, he expressed that they believe the company will have much tighter schedule than previous, and this inventory investment is absolutely the right decision they made.
Avolites Tiger Touch II
Now boasting a 100% brighter screen, increased processing power, and faster graphics engine, the Tiger Touch II is the most specified Titan console.
The Avolites Tiger Touch II represents the perfect features combination of power and portability. This third-generation console is packed with enough power for complex shows, yet small and light enough to fly in standard hold luggage. The console SMPTE time code support and a redesigned button layout to match the entire Titan range.
Shure ULX-D Wireless system
ULX-D® Digital Wireless offers extremely efficient RF performance, networked control, Dante™ digital audio (available only on Dual and Quad receivers), and AES-256 encryption for professional sound reinforcement.
Transmitter form factors include handheld and bodypack; receiver options include single-, dual- and quad-channel
Power options include Shure SB900 Lithium-Ion Rechargeable Battery and AA batteries
Up to 64 MHz overall tuning bandwidth (region dependent)
Up to 47 active transmitters in one 6 MHz TV channel (63 in one 8 MHz TV channel) in High Density mode